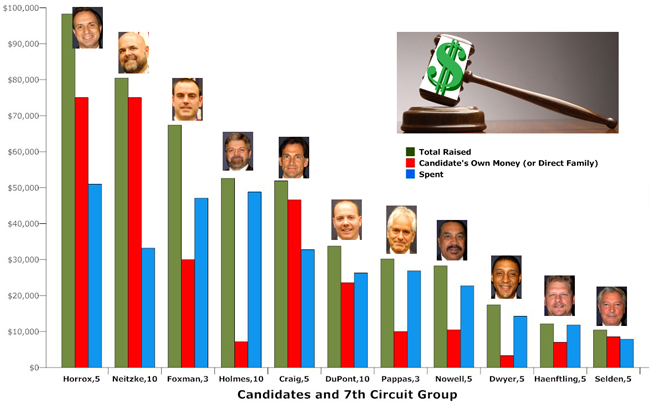 It happens in no other country. In the United States, it's the norm in 39 states, where at least some or all state court judges are elected by popular vote, in some cases including judges for the state supreme court. Candidates for the bench chase after money and votes, pandering to voters and pressure groups, including some of the same voters and groups that would appear before them in court. Yet campaigning candidates ride circuit preaching the virtues of judicial independence and their own while throwing in the obligatory bow to "the best system in the world." On rare occasions, judicial candidates pledge not to take contributions. They win even more rarely, leaving candidates little choice but to play the cash-and-parry game.
The 7th Judicial Circuit, which includes Flagler, St. Johns, Putnam and Volusia counties, is no different. Three judges are retiring. Three seats are up for election. Flagler voters get to cast ballots in all three, one of them the Flagler-based seat of Circuit Court Judge Kim C. Hammond, who'll retire on Jan. 3 after 32 years on the bench. That's the Group 5 seat. Group 3 is a Volusia County seat. Group 10 is a Putnam County seat. Voters in all four counties in the circuit vote in all three races because cases can be moved from one county to another for a variety of reasons.
The 7th Circuit races have drawn 11 candidates—11 lawyers who, among them, so far have raised $483,000, more than 60 percent of it from their own relatively rich pockets: candidates running for county commission, school board or other county-based races don't usually have that kind of money to spend. The 7th Circuit judicial candidates have so far spent a collective $323,000, with two weeks to go.
Campaign Finance: The 7th Judicial Circuit Docket
Candidate
Group
Raised
Candidate's Own Money*
Spent
Contri-
butors
Joe Horrox
5
$98,259
$75,000 (45%)
50,984
114
Eric Neitzke
10
80,450
75,000 (93%)
33,175
17
Matt Foxman
3
67,385
30,000 (45%)
47,047
171
Don Holmes
10
52,596
7,200 (14%)
48,804
213
Dennis Craig
5
51,881
46,600 (90%)
32,746
27
Scott DuPont
10
33,745
23,575 (70%)
26,290
74
George Pappas
3
30,171
10,000 (33%)
26,880
144
Sid Nowell
5
28,242
10,466 (37%)
22,715
117
Marc Dwyer
5
17,395
3,283 (19%)
14,240
129
Ed Haenftling, Jr.
5
12,124
7,000 (58%)
11,833
19
John Selden
5
10,450
8,550 (82%)
7,849
16
Totals
482,698
296,674
322,563
1,041
Averages
43,882
26,970
29,324
95
(*) Includes candidate's and immediate family loans or contributions.
Numbers are as of July 31, 2010. Source: Florida Division of Elections/Department of State.
---
Joe Horrox, a Group 5 contender, leads the pack in money raised,  with $98,259, but $75,000 of that is his own money. His is not the highest proportion of personal money swelling the contribution bin. That distinction goes to Eric Neitzke in Group 10. He raised just $5,450 from the total of $80,450 listed in his contribution bin so far. In other words 93 percent of his fund-raising amount is his own checking account. Candidates haven't pledged not to take money from sources other than their own, though some may be actively seeking contributions more or less than others.
Other candidates who rely mostly on their own money include Dennis Craig (90 percent of his $51,881), John Selden (82 percent of his $10,450) and Scott DuPont (70 percent of his $33,740).
The Group 5 race has drawn the most attention locally. It is the closest to home. It's drawn the largest number of candidates (six). And two of them are old colleagues, current rivals, and the only black (or non-white) candidates in the entire circuit: Sid Nowell and Marc Dwyer. They're 8th and 9th in the money race. Nowell has raised $28,242, 37 percent of it his or his immediate family's contributions. Dwyer has raised $17,400, about 19 percent from his own money. They're not far from each other in the number of contributors: 129 for Dyer, 117 for Nowell (not including their own). That suggests that the two are likely to split the Flagler County vote, making it easier for one of the other candidates, with the larger Volusia County base, to take advantage of the split.
If the number of actual donors each candidate has tallied is an indicator of broader support, Neitzke has just 17 (some of whom may have donated twice, counting as two donors). The lowest number of contributors is recorded by John Selden, running in Group 5, with just 16 contributors (not counting his own). The 11 candidates have drawn an average of 95 contributors, with Don Holmes, running in Group 10 for the Putnam County seat, drawing the most—213 contributors.
Numerous lawyers appear on the donor lists of candidates–the same lawyers, presumably, who will be appearing before three of the eleven candidates once they're seated as judges. Holmes, for example, whose law-firm donors are particularly numerous, also boasts of having several sheriffs' endorsements: sheriff's deputies and other law enforcement agency personnel routinely appear in the courtroom to testify, usually for the prosecution.
In all other countries, as in the federal court system in the United States and most of the appellate system in state courts (including Florida's), judges are not elected. They're appointed by various means, ranging from executive appointments without review to executive appointments with legislative review (the way federal judges, including Supreme Court justices, are appointed) to executive appointments based on judicial commissions' recommendations (the way Florida Supreme Court judges are appointed). In several European countries, including Germany, Italy, Spain and France, neither the executive nor the legislative branches have a say. Appointments are based on an extremely rigorous testing system that weeds out all but the most professional judges.
Sandra Day O'Connor, the former Supreme Court Justice and the first woman appointed to the court (by President Reagan) is among the harshest critics of elections to the bench. "No other nation in the world does that because they realize you're not going to get fair and impartial judges that way," O'Connor said at a conference on judicial independence at Fordham Law School two years ago.
The debate is nowhere near settled, however. Electing judges in the United States goes back to Jacksonian-era beliefs in populist democracy and accountability at every level. Elected judges do feel more accountable, though also less independent, from popular will.
A University of Chicago Law School paper in 2007 attempted to quantify the difference between elected and appointed judges by undercutting O'Connor's argument. "The conventional wisdom reflects a deeply rooted conviction that voters are too unsophisticated to evaluate judges and candidates for judicial office. When judges use campaign contributions to finance simple-minded television commercials, conflict of interest is layered on public confusion. However, this conviction is hardly self-evident."
Developing criteria based on productivity, "opinion quality" (a subjective criteria) and independence, the three authors of the paper concluded that "electoral judgeships attract and reward politically savvy people, while appointed judgeships attract more professionally able people. However, the politically savvy people might give the public what it wants—adequate rather than great opinions, issued in greater quantity and therefore (given the time constraint) average speed." Other legal scholars, however, cast doubt on quantifying methods applied to legal opinions.
Then again, there is no more prevalent method of quantifying judges' quality, fairly or not, than requiring them to stand for elections.

Candidates for Circuit Court Judge (Click on the Name to Go to the Candidate's Page)