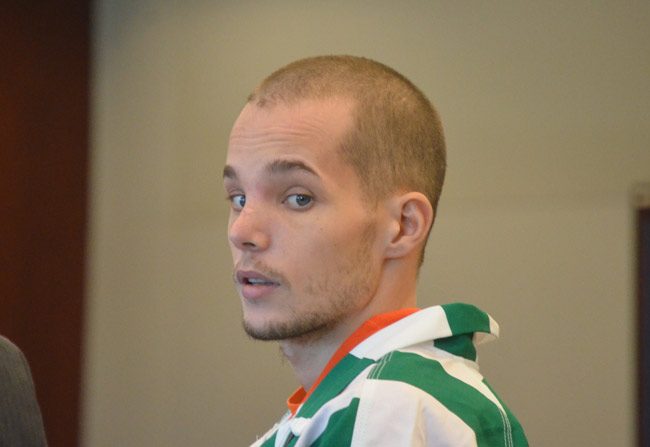 As matters stand today, there's no telling when Joseph Bova may stand for trial in the alleged murder of store clerk Zuheili Roman Rosado at the Mobil convenience store on State Road 100 in 2013.
Even if he repeatedly says he's guilty, as he has in the past year.
Bova faces a first-degree murder charge in the execution-style shooting, to which he had previously pleaded not guilty. According to a separate and still-ongoing lawsuit the victim's family filed against the store owner, the family believes-that Bova had threatened Rosado's life a week before the killing, and returned to make good on the promise.
Bova was arrested seven months after the February 2013 murder. He has since spent about half his time at the Flagler County jail, the other half at a state hospital: the court has found him incompetent to stand trial.
It did so again today, based on findings in the latest report from the hospital. "I find that Mr. Bova is incompetent to proceed, continues to be incompetent to proceed," Circuit Judge Terence Perkins, the fourth judge to sit on the case, said today. Bova continues to meet criteria for treatment. He was not in court today. His previous court appearances have usually been unnerving to those present.
"He's in very bad shape," his public defender said today.
Thirteen months ago, Bova started communicating with the court in writing, first with a petition for a writ of habeas corpus: he was claiming to be held illegally, for invalid reasons, that he wasn't read his rights at the time of arrest, and that "lawyers and others have engaged in unorthodox and inappropriate behaviors."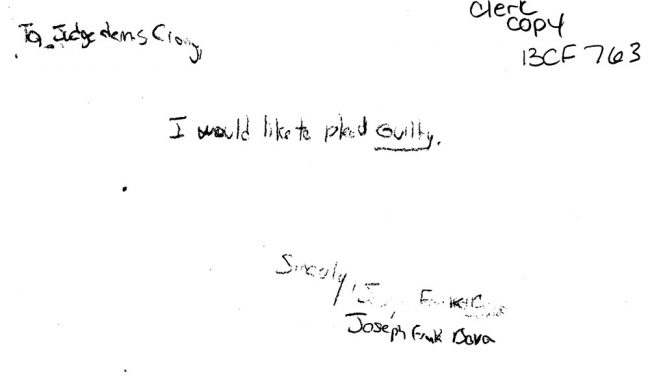 The writ followed an April appearance in court by Bova that went the way of some previous and subsequent appearances, with Bova explicitly threatening the judge ("Sir I'm threatening your life"), telling the court he would refuse to see a doctor, and insisting that he should be released "immediately." The prosecutor explained to the judge that Bova had been refusing to take his medication.
He was committed to a state psychiatric hospital, officially in the custody of the Department of Children and Families, where the correspondence began.
A week after mailing the writ, Circuit Judge Dennis Craig denied the petition, found to be "facially and legally insufficient."
A few weeks later, Bova wrote Craig a single, hand-written line, in a barely legible scrawl: "I would like to plead guilty." It was the first time he did so in documented fashion, though given his mental state, the document is irrelevant, though it's part of the court file. What would come next would indicate why.
In early December, the court extended his commitment in the psychiatric hospital. A week later, Bova sent another one-liner to Craig: "I made a mistake," he wrote. "I would like to plead not guilty." He underlined the last two words. And six days after that, another letter again changing course: "I would like to plead guilty to the crime and 2 other crimes." He did not specify what two additional crimes he was pleading guilty to.
In a P.S., Bova added: "I apologize that I was rude to you."
That Dec. 19 letter was his last. The court held its last hearing on the case (before today's) on May 5, when Craig reaffirmed the involuntary commitment order and scheduled today's hearing. (Craig has since been reassigned to the felony bench in Volusia County.)
His next status hearing is scheduled for April. There are no indications yet that it will go differently than it did today, though it is extremely rare that defendants committed to a state hospital aren't at some point found competent to proceed to trial. Bova himself was found to have reached that point in 2015, but relapsed.