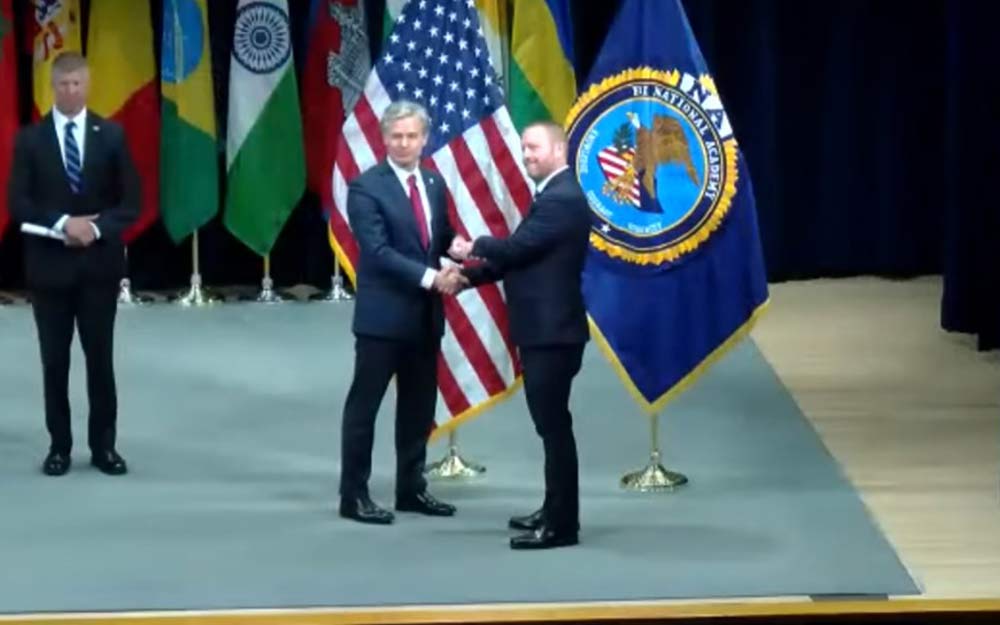 FCSO Community Policing Division Chief Jonathan Welker graduated from the 286th session of the FBI National Academy (FBINA) in Quantico, Virginia on June 8th. Sheriff Rick Staly attended the graduation along with Chief Welker's wife and youngest sons. Less than 1% of all law enforcement officers receive an invitation from the FBI to attend this prestigious academy during their career.
"This is a great honor for Chief Welker and the Flagler County Sheriff's Office," Sheriff Rick Staly said. "The FBI National Academy is considered the 'West Point' of law enforcement. This type of training continues my mission to provide opportunities and mentor employees and our leadership team, so the Sheriff's Office remains on the cutting edge of our profession."




FBINA Session 286 included 238 law enforcement officers from 47 states, the District of Columbia, and 25 countries, five military organizations, and six federal civilian organizations. Participants must have 21 years of experience and a proven track record of professional accomplishments to be considered. During the 10-week-long course, attendees are taught advanced communication, leadership, and fitness. They also network and create lifelong professional relationships.
Chief Welker started his FCSO career in 2007 as a Deputy Sheriff. While working at the Sheriff's Office, Chief Welker has been dedicated to providing true leadership to those under his command. Chief Welker is responsible for the Community Policing Division, or uniform patrol, which is the largest and most visible division of the Sheriff's Office. The deputies under his leadership patrol local neighborhoods and businesses and are often the first deputies to respond to calls for service. The division also consists of the Special Operations Unit which encompasses the Traffic Unit, K-9 Unit, Marine Unit, Agriculture/Ranch Unit, Traffic Enforcement Unit, and the Citizen Observer Patrol program.
The FBI National Academy was established in July of 1935 by FBI Director Hurbert Hoover to standardize and professionalize law enforcement agencies throughout the United States through centralized training. The International Association of Chiefs of Police, as well as Congress and the Department of Justice, supported the creation of the academy, originally named "FBI Police Training School." Since 1935 54,366 law enforcement professionals from around the world have graduated from the National Academy.




The FBI National Academy is a professional course of study for U.S. and international law enforcement leaders nominated by their agency heads because of demonstrated leadership qualities. The 10-week program serves to improve the administration of justice in law enforcement agencies in the United States and abroad and to raise law enforcement standards, knowledge, and cooperation worldwide (www.fbi.gov). The training is provided at no local cost with the FBI paying for the travel, training, meals, and lodging costs, and is held at the FBI Training Academy in Quantico, VA.
Sheriff Staly is the only other Sheriff's Office employee that has graduated from the FBI National Academy. Sheriff Staly attended the 177th Session of the FBI National Academy.
The 286th FBINA Graduation Ceremony can be viewed at the following link. Welker walks on stage at the 1:17:45 mark, where the video has been set to start. You may rewind to see the full ceremony: https://youtu.be/p8_91jUWzsM?t=4665