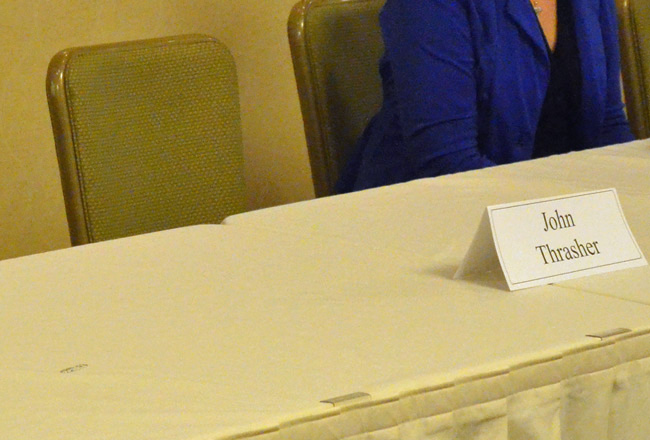 State Sen. John Thrasher, who is up for re-election in three weeks, could move into the President's House at Florida State University less than a week after the ballots are counted.
A draft of a proposed $430,000-a-year, five-year contract released Tuesday has the St. Augustine Republican taking over as the university's new president Nov. 10. (The university paid $160,000 to consultants in the lead-up to the Thrasher appointment.)
The FSU Board of Trustees is scheduled to hold a conference call Monday to discuss the eight-page contract.
The state university system's Board of Governors is expected to sign off on Thrasher's appointment during meetings Nov. 5 and Nov. 6 at Florida Atlantic University in Boca Raton.
Thrasher's Senate district includes all of Flagler County, one of four counties that will be on the hook for a special election to fill Thrasher's seat. Shortly after his FSU appointment, Thrasher told FlaglerLive that he preferred to stay on the ballot and have his seat filled by a special election after the Nov. 4 election.
"Given the late date we're at in terms of that process and going through the replacement process," Thrasher said, "I frankly would rather go through the election. I believe I'd be successful, and then if I'm confirmed by the Board of Governors, allow the governor to call a special election. That gives the voters an opportunity to really vet their candidates."
---
The last time Kimberle Weeks ran a special election she asked for $258,000 more than proved necessary.
---
Board of Governors Chairman Mori Hosseini could have called a special meeting to deal with the Thrasher matter, thus enabling the election for his seat to take place in tandem with the Nov. 4 election, significantly reducing whatever additional cost it might have incurred. As it is, the board will keep its regular schedule. A special election may now cost around $1 million, if it also entails a primary, as is likely.
Thrasher says he's running, but he was a last-minute no-show at Wednesday evening's  candidate forum hosted by the Flagler County Chamber of Commerce, Flagler Realtors and the local builders association at the Hilton Garden Inn. Democratic candidate Kathleen Trued and Independent Greg Feldman held the floor for 25 minutes, with Feldman suggesting to voters in the audience to elect him and save taxpayers $1 million. If either candidate is elected, no special election would be necessary, of course (and Feldman's statement would come true). Nevertheless, Thrasher's no-show confidence is such that he doe not think he can lose.
The Flagler County Commission is not relishing a special election for a reason entirely unrelated to Thrasher: a special election means commissioners will have to contend with a supplemental budget request from Supervisor of Elections Kimberle Weeks, whose relationship with the commission–among other local government agencies–is at an all-time low: she has been at war with the county attorney and the Chairman of the County Commission, and attempted to publicly embarrass another commissioner and the attorney at a canvassing board meeting in mid-September, though that maneuver backfired: Weeks is currently under investigation by the Florida Department of Law Enforcement.
Long before matters got that difficult between Weeks and the county commission, the two sides got mired in bitter and public conflict in the fall of 2009, after Sen. Jim King, who represented most of Flagler County, died, and a special election was called. That was the election that eventually got Thrasher elected. Along the way, Weeks requested an astounding $358,000 from the commission for the primary and the general elections–a sum larger than had been budgeted for the general election of 2008, the highest-turnout election in 16 years. The special election ended up costing  Flagler less than $100,000. In other words, Weeks had asked for 258 percent more money than was necessary.
Commissioners are not looking for ward to what is likely to be yet another confrontation with the supervisor over the special election to replace Thrasher.
Thrasher, 70, is a controversial selection for president, as he was vigorously opposed by some students and members of the faculty who questioned his conservative political leanings and lack of academic credentials.
Trustees voted Sept. 23 to select Thrasher to become FSU's 15th president. A day later, he said he wouldn't be a hard negotiator on the contract.
Asked about the proposed contract Tuesday, Thrasher responded in a text, "I'm good."
Thrasher, an avowed FSU "homer" who received his undergraduate and law degrees from the Tallahassee school, has been a key in getting funding for the school while a state lawmaker. As House speaker, Thrasher was able to advance the creation of the university's medical school.
Thrasher will succeed Eric Barron, who left earlier this year to become president of Penn State University. Barron's FSU contract had a base salary of $395,000 a year, with a bonus of $100,000 for each $100 million reached in fundraising. Thrasher's contract offers an annual performance bonus of $100,000 for meeting goals and a 15 percent annual contribution into a retirement plan.
He will also be granted a tenured faculty appointment as a professor in the College of Law.
Thrasher, who has a downtown Tallahassee condominium in addition to his home in St. Augustine and property in Orange Park, Orlando, Green Cove Springs and Sky Valley, Ga., will be required to reside at the university-owned President's House, which will be staffed for grounds keeping, repairs and general maintenance.
The school is offering to cover "reasonable" moving expenses, as the contract says trustees want Thrasher on campus "in order for him to be immediately available to properly perform his duties and responsibilities."
He can also receive $250,000 for completing the five-year deal.
Money for Thrasher's base pay would come from the school, the University Foundation, and the Seminole Boosters, which will also cover his business expenses and dues for The Governors Club and University Center Club in Tallahassee. The school, foundation and boosters will also cover the "reasonable" expenses of Thrasher's wife, Jean, on university-related business trips.
The school is also offering $900 a month for car costs or an automobile fitted with an FSU license plate for his official use.
After receiving the long-expected presidential selection, Thrasher resigned as chairman of Gov. Rick Scott's re-election campaign. However, he kept his re-election bid alive noting the state Board of Governors isn't expected to review the contract until a day after the Nov. 4 election.
–Jim Turner, News Service of Florida, and FlaglerLive