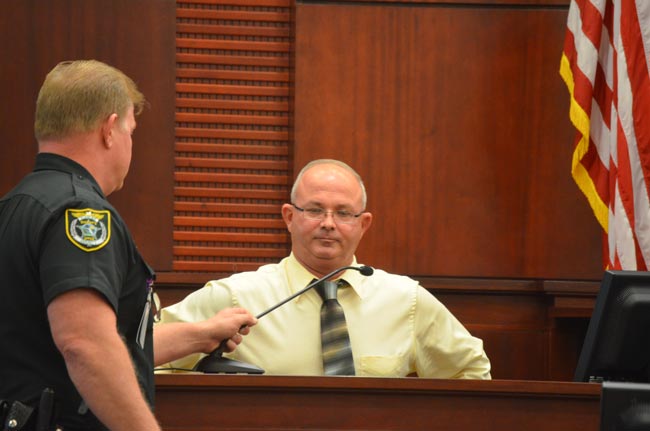 Last Updated: 5:25 p.m.
John Murray, the ex-Bunnell cop fired in 2010 and facing six felony charges, including three drug charges and tampering with evidence, is on trial today before Flagler County Circuit Judge Raul Zambrano. The non-jury trial is expected to take all day.
Murray's ex-girlfriend, Dawn Davis, was on the stand, testifying to Murray bringing her opiates on a near-daily basis, opiates she said Murray would collect from various drug busts and bring to her instead of taking them to the police department's evidence room. The pair had lived together for about a year. Then Davis broke up with Murray, but he continued to bring her pills and leave them in an envelope at her door, Davis said.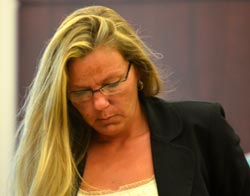 Murray, 48, was fired, along with his wife, Lisa Murray, also a Bunnell cop at the time, in June 2010, when John was second in command at the Bunnell Police Department. The couple was arrested that month. Both face official misconduct charges in addition to Murray's cocaine possession and tampering charges. They're being tried separately, but John Murray's eight charges have been combined into one trial.
Lisa Murray sat in the first row in the courtroom, awaiting her turn: her non-jury trial will follow John's. Michael Lambert is the Murrays' attorney. Assistant State Attorney Jason Lewis is prosecuting the case.
The eight charges against John Murray include two charges of tampering with evidence, charges of cocaine possession, Xanax possession (without a prescription) and marijuana possession, and official misconduct. The charges stemmed from a State Attorney's investigation into what started as an altercation between Lisa Murray and a Bunnell Merchant who allegedly owed money to then-Bunnell City Commissioner Jimmy Flynt. Flynt this morning was waiting his turn at the witness stand, sitting in a hallway outside the courtroom. He was chatting with Arthur Jones, the outgoing Bunnell police chief, and who is also on the witness list.
The Murray cases embroiled the Bunnell Police Department in the latest of a series of scandals dating back to the last decade. The Murray case extends beyond the Murrays' own alleged criminal behavior, because, as a state attorney's investigation revealed in 2010, it raised questions about the police department's procedures and the favoritism some of its officers, including the Murrays, showed Flynt. The investigation was conducted by Jim Parker, who followed Davis on the stand.
Davis's testimony included an explosive charge, until then not publicly heard: that John Murray had acquired some drugs one time after burglarizing a home that was occupied at the time. The resident was asleep. Davis testified that had the resident woken up, Murray had told her he would have "taken care of it." Lambert asked Davis specifically if Murray said he would have murdered the resident. Davis did not use those words, however. Later, Lambert asked Parker if Davis had told him the same story. She had, Parker said. Lambert asked him if Parker had checked to see if there were records of a burglary at that residence. He had, and there were no such records.
The assistant state attorney asked Parker: "Is it common that when drug dealers are involved, they don't report their burglaries?"
"Yes," Parker said.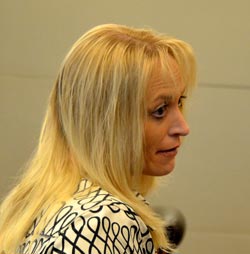 During his testimony, Parker described inappropriate "packaging" of drug-related evidence at the Bunnell Police Department. Lambert attempted to cast doubt on the exact series of events that led to the finding of a glove in John Murray's vehicle, containing cocaine.
The questions centered on Parker's inventory of Murray's vehicle, which Parker summarized in his investigation report as follows: "Investigators Bisland, Peper and I then assisted Sgt. Gamarra and Mrs. Hatfield with the search and inventory of John Murray's issued police SUV. We observed the search and Mrs. Hatfield and Sgt. Gamarra discovered, what appeared to be a partial cookie of crack cocaine, placed inside of a green latex evidence glove (box of similar gloves also recovered from Murray's police SUV). An unmarked bottle of pills was also discovered in the same area. Neither item was packaged or sealed consistent with seized evidence and appeared to be hidden in the rear cage area behind the back seat of the SUV. There were other properly sealed evidence items also discovered in the rear cage area along with Murray's issue police equipment. Both Chief Jones and Bunnell City Manager Armando Martinez witnessed the discovery of the contraband from Murray's issued vehicle. All items were inventoried and secured by Sgt. Gamarra and Mrs. Hatfield and photographed by Investigator Peper."
Next on the stand was Arlene M. Smith of Palm Coast, who previously lived on Stone Street in Bunnell, and was there in 2009 when she called the Bunnell Police Department about something she saw at her abandoned neighbor's house. "I saw what appeared to be marijuana plants on the edge of where there had been, the neighbors had had an above-grown pool, and before they removed it, there was a big hole there," where she noticed, on the edge of the hole, "some plants." She described "one big one and then three or four smaller ones." By big, she meant 9 to 12 inches. Bunnell cops showed up, walked around, picked up the plants, and put them in a police SUV. Smith was not asked to fill out a written statement.
Smith's testimony goes to the marijuana possession charge against John Murray.
Lambert asked Smith if she had any knowledge of plants beyond planting her own garden. Smith said she hadn't. He raised questions about the distance between Smith and the plants, which she placed at 8 to 10 feet.
Smith was followed by Christopher Wolfle on the stand. Wolfle, still a Bunnell police officer, was among the cops who responded to Smith's marijuana complaint at 201 Stone Street. According to Parker's investigative report, "Wolfle said there was no question they were marijuana plants and he was told to place them in the rear of John Murray's police SUV. Officer Wolfle said he was told by Murray that he would take care of the plants and for Wolfle not to write a report." On the stand, Lambert tried to also cast doubt on Wolfle's expertise in marijuana plants.
"Judge, I don't think that he was capable of testifying as to what marijuana is," Lambert said, ending his questions.
Lewis, the assistant state attorney, redirected to stress Wolfle's long-standing experience with marijuana plants. But again Lambert asked Wolfle if he knew how many plants looked like marijuana: Wolfle knew that such plants existed, but could not name or number them, nor had he researched them. His experience, when Zambrano asked to define it, amounted to having seen the plant going back to high school–friends growing it and smoking it. But Lambert won a concession: that neither Wolfle nor Lewis refer to the plants as marijuana, but as "plants."
Questioned by Lewis, Wolfle described the plants as 3 to 6 feet high (Smith had described them as much shorter) and said he was ordered to place them in Murray's SUV, and was also told not to write a report. He does not remember what Murray said he'd do with the plants, but said in such circumstances, "we were instructed to put it into evidence so it would later be destroyed."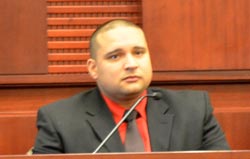 Court adjourned for lunch until 1:40 p.m. (The Murrays, accompanied by family, went to Wendy's.) The afternoon session began with testimonies from the past and present records custodian at the Bunnell Police Department. Angela Hatfield, who worked in that post after Murray had to relinquish it until late 2011, described an evidence room in a mess when she took it over (after Murray was placed on administrative leave), with evidence improperly stored and improperly mixed together. She also testified to seeing evidence laying in Murray's office, improperly, including "quite a few bags under his desk." The marijuana plants uprooted on that day in April on Stone Street were never in evidence, Hatfield said–in the evidence room or in Murray's office.
Present and former Bunnell Police Department officers then took the stand, including ex-Sgt. Frank Gamarra, who was at the Stone Street incident. Gamarra was a central witness in Jim Parker's investigative report, buttressing criticism of procedures at the department. Months after the report was publicized, Gamarra was "laid off" from the department, a move Gamarra to this day says was politically motivated. After leaving the department, he was also accused by his ex-boss of forgery when a fake $20 bill was allegedly found in a jacket in a police car he'd driven. That charge was thrown out for lack of evidence.
Again and again, Lambert sought to undermine Gamarra's reliability (as he had sought to undermine other officers' reliability), regarding his "opinion" about what is and isn't marijuana, raising objections to Gamarra's reference to the plants as marijuana. Lambert called such references prejudicial. Zambrano overruled the objections. In essence, Lambert's attempt to diminish police officers' judgments regarding the nature of marijuana would, if carried to its logical conclusion, eliminate the validity of most officers' testimonies about the plant, though prosecutors rely on just such testimony to convict marijuana dealers or users. The difference in this case, which Lambert was taking advantage to the fullest, was this: there no evidence of marijuana, aside from what the officers determined to be such in 2009. If Murray had, in fact–as the state alleges–destroyed the marijuana plants (or used them in any way), he in effect destroyed evidence that the state now lacks to prove that he had that evidence in the first place. There is a degree of circularity to the argument–and to Lambert's defense, which is what's complicating the case at this point, because one of the charges Murray faces is tampering with evidence.
In sum, he's charged with tampering with marijuana evidence by destroying it, and now Lambert is arguing that absent evidence of the marijuana, officers' testimony about whether there was marijuana in the first place is unreliable. It's a clever strategy. Whether it works with a relatively pro-prosecution judge such as Zambrano is another question.
Lambert then sought to undermine Gamarra's reliability: he asked him several questions about allegations that Gamarra was taking to the State Attorney's office (Gamarra described himself as a "liaison" to the office) regarding derogatory comments Murray was making about the state attorney's investigation. But Gamarra could not answer Lambert about the specific nature of those allegations. Lambert then asked Gamarra about a bag of evidence that mysteriously appeared in the evidence room, even though Gamarra said hadn't put it there, Police Chief Arthur Jones hadn't put it there, and no one other than Jones and Gamarra had a key to that office.
At 4:45 p.m., John Murray took the stand. It was immediately clear what Lambert's strategy would be: he was going to build a case around Murray's need for pain medication: he suffers from kidney stones, and he needed medication, but was not an abuser of drugs. He said he never committed an armed burglary to get Dawn Davis drugs, nor, he said, did he ever run drugs to her.
He then addressed the incident on Stone Street: Gamarra, he said, was never there–flatly contradicting Gamarra's earlier testimony. Murray said there were plants there, he photographed them, and had them taken to the back of his SUV. He said he'd print out the pictures and place them in the mailbox of the officers in charge of doing whatever report was necessary. That officer would have been Wolfle. Murray then blamed Wolfle for not writing the report on the incident, and said he'd never told Wolfle not to do a report.
"The plants themselves, whet did you believe they were?" Lambert asked Murray.
"Well, any time I see it, unless I test it, I won't say it's marijuana," Murray said. "All I can tell you is that that was a green leafy plant that may have resembled marijuana." It wasn't field-tested, he said, because it wasn't worth spending the money on something that was going to be destroyed.
When asked about the cocaine and Xanax pills found in the back of his vehicle, Murray said he knew nothing about them.
At 5:07 p.m., Lewis, the assistant state attorney, began asking Murray questions–going straight to how Murray had described the plants at Stone Street when speaking of them to an investigator in 2010: as marijuana plants, not as a "green leafy substance." Lewis was immediately signaling that he was not going to buy the earlier line of denials. Lewis took on murray so aggressively that it drew an objection from Lambert, and Zambrano's request to Lewis to tone it down.
Lewis then asked Murray if he'd been concerned when, as the evidence custodian, he never saw the big bags of evidence collected the day before by officer Wolfle. Murray said there was a lot of evidence in the room, and its lockers, he didn't go looking for it. "I just find it incredibly unbelievable that you–" Lewis began, when he was again interrupted with an objection by Lambert and told to tone it down by the judge.
But Murray conceded that he knew how the marijuana was packaged. He said he put six plants into one package. "It's mysterious that we can't find pictures, correct?" Lewis asked. Murray asked for the question to be rephrased, then said he'd handed off the pictures to the officer completing the report. He also denied being the primary officer on the case–and did so even as Lewis showed him an internal police document listing Murray as the primary officer on the case.
"And you can't be in here admitting that you gave drugs to Dawn Davis, because that would be a violation of law, correct?" Lewis asked. Lambert jumped in: "Argumentative, your honor." Zambrano sustained.
The line of questioning carried on in that tone minute after minute, and was briefly interrupted by Zambrano, at 5:20, saying that in 10 minutes, he'd be gone. So this trial will be continued Friday.