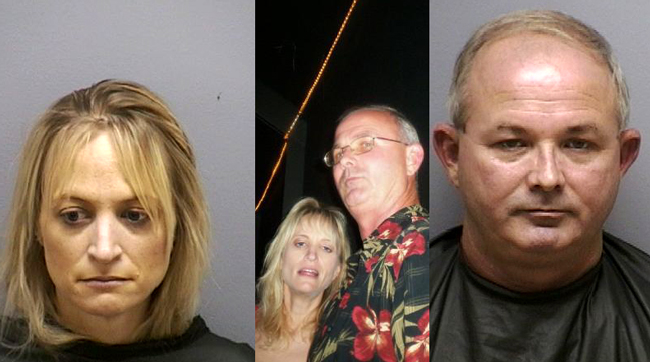 Should their cases go to trial–an increasingly unlikely possibility–Lisa and John Murray, the former Bunnell Police Department cops and married couple, will be tried separately for each of the six separate felony counts they face. John Murray faces four counts, Lisa two.
John and Lisa Murray were arrested on June 16. John, the second in command at the Bunnell Police Department, had been in that department for eight years. He was charged with four felonies–official misconduct, crack cocaine possession,tampering with evidence and grand theft related to the withholding of $1,380 confiscated from a suspect. Lisa Murray was with the department two years. She was charged with two counts of official misconduct. Their arrests were the latest in a string of scandals–including firings, rehirings and suits–that have wracked the Bunnell Police Department with little let-up for a decade.
Those charges stemmed in part from her intervention on behalf of Bunnell City Commissioner Jimmy Flynt during a confrontation between Flynt and a man whom Flynt said owed him money. A State Attorney's investigation showed that Murray forced the man to pay Flynt or face arrest. That confrontation was the starting point of a long investigation that showed the Murrays and the Bunnell Police Department involved in a series of irregularities, intimidation tactics and favoritism that benefited Flynt and his towing service.
The Murrays' Mike Lambert on Monday won a motion to separate his client's charges into six separate trials. Assistant State Attorney Jacquelyn Roys did not object. It's not an uncommon tactic, though if the cases do go to trial, it's also risky: rather than have all charges dealt with at one blow, the defense, by exposing itself to a series of juries, also risks getting different results each time. More likely, the move is a prelude to a settlement out of court, such as pleas that would result in the Murrays forfeiting their eligibility to be police officers again, at least in Florida, and pleading down to some kind of probation. Those details are speculative, however.
What's not speculation is Roys' update to Circuit Judge Kim C. Hammond, who is hearing the case so far. Several depositions were taken Nov. 18. "There was some other developments that have come out that once I get a final report that will be sent over to Mr. Lambert," Roys told Hammond. "We did discuss some potential resolutions or at least one or two results short of trial, both sides have expressed interest in that."
Hammond is retiring at the end of the year. Should the case go to trial, it would happen in 2011. The case would likely be shifted to Judge Raul Zambrano, who is taking over most of Hammond's criminal caseload.
After summarizing the charges John Murray face, Lambert told Hammond: "There is no connection between any of them judge, other than the fact that he was a police officer at the time, and I think that the prejudice that would result—as a result of the four-count information against him, on allegations that are not connected with one another, would far exceed any need to try them together. I don't even believe that there is a connector other than the fact that he was a law enforcement officer."
Regarding Lisa Murray's two felony counts, Lambert said: "Again, each should be presented to a jury separate and distinct of the other so that a jury is not thinking that, well she's charged with two offenses, she must have at least committed one of them. She as well as John Murray in his separate case is entitled to have a jury determine facts as it relates to each separate allegation in the information."
When Roys said, without raising a question, that she had no objection, Hammond said: All you had to do is ask."
The Murrays were not in the courtroom. Roys inquired about their absence, only to be told that it had been agreed, at a previous motion, that they would not be present.