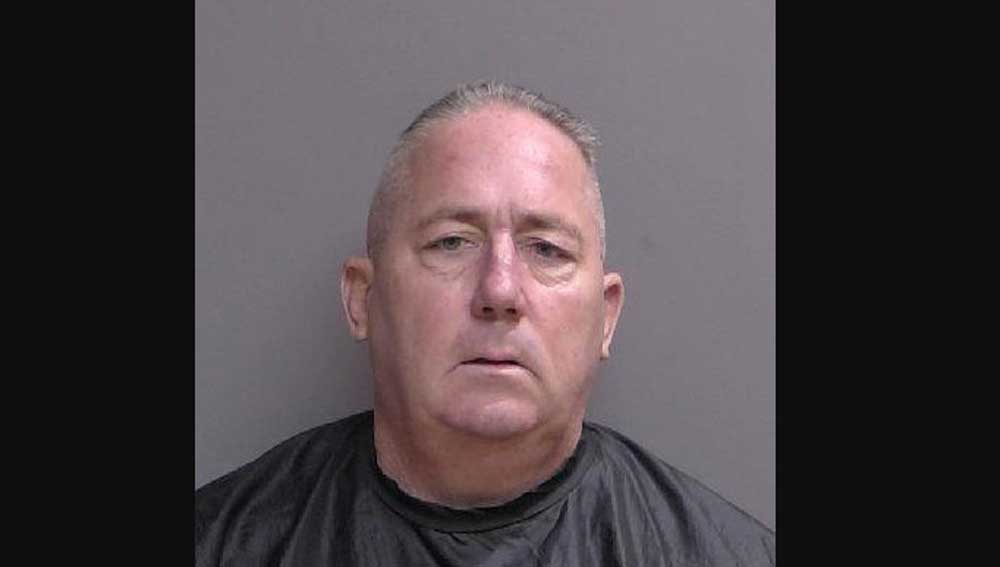 John Benning, a 56-year-old resident of Tangerine Avenue in Daytona North, was booked at the Flagler County jail for the second time in a month over the weekend, this time on a felony animal abuse charge after allegedly throwing a paver at a puppy out of anger, injuring the dog.
Four weeks ago Benning, who has a significant history of criminal charges, was booked at the jail on charges of making a false crime report and misusing the 911 system. He had been arrested on a similar charge last year. (See: "Mondex Man Calls 911 Screaming for Help Then Allegedly Assaults Paramedics Who Responded.")
Benning was on the porch of the family home with a woman and her son Saturday, with dogs playing in the yard, when the woman's 10-month-old German Shepherd grabbed an old ball and played with it. Benning inexplicably got angry at the dog, according to the woman, yelled and screamed at the puppy, then grabbed a paver and threw it at the dog, according to his arrest report. Benning and the woman have a history of conflicts.
Ring video recorded part of the incident, but not the dog getting struck. It did, however, record the dog "whimpering in pain," according to the sheriff's report. The woman is also heard yelling at Benning, who replies with insults and threatens to kill all the dogs, using an expletive. The dog was limping when the woman brought him into the house.




The woman had posted bond for Benning when he was arrested in December, after calling 911 and describing a man with a bulletproof vest wielding a sword in his yard. He told the dispatcher "we better step it up and bring a lot of help," and that he himself had a firearm. The call prompted five sheriff's deputies from four patrol zones to converge on the property.
But when they arrived, Benning was "casually standing at the end of the driveway," according to a sheriff's report, with another man standing nearby, in a leather vest. Benning pointed at the man in the leather vest as if he was the threat he'd referred to in the 911 call. When questioned about it, Benning said he had no gun on himself.
The man in the leather vest told deputies he had no idea what Benning was talking about. The only reason he was there was to check out an ongoing yard sale. None of the four people who were at the yard sale saw anything like a sword, they told deputies. A motion-activated surveillance camera on the property indicated likewise: people milling about at the yard sale, moving in and out of the frame casually, but no one with anything like a sword, nothing indicating an argument.
When a deputy asked Benning why he shouldn't be arrested for making a false report–a first-degree misdemeanor, as is any abuse of the 911 system–he said: "Let's do it."
The woman posted the $1,000 bond following his booking. But on the last day of the year, she wrote the court: "This man believes he is above the law and does nothing wrong." She wanted to revoke his bond. "John is very verbally abusive and aggressive and refuses to stop getting drunk on a daily basis. John calls deputies all the time to make false accusations. I have tried to do marchman acts on him but each time something else happens to stop it. He has been baker acted more than once including by an er doctor at advent health due to aggression and drunkenness. I thought he might calm down being on bond but all he says is the deputies are Crooked and his charges will be dropped because they didn't do their job correctly."




A few days later she changed her mind, saying she did not realize that revoking his bond would send him back to jail. But he was back in jail anyway on Sunday, this time on $15,000 bond on the felony charge, while his $1,000 bond on the misdemeanors was, in fact, revoked–not from any action by the woman, but because he had violated the terms of his pre-trial release, which required him to steer clear of any lawbreaking. He remained at the jail today.
Benning and the woman have been in a relationship since 2004. They have had legal disputes over the property on Tangerine Avenue, from which Benning has attempted to have the woman evicted. In a motion she filed last March, she pleaded to the court that he had "called the Flagler County Sheriff Office either by non-emergency number or by use of E911 making false allegations to have [her] arrested and removed from the home." Benning, the motion stated, "has been trying to manipulate the law in his favor using false allegations and abuse. [His] alcohol abuse has become uncontrollable." A judge dismissed the case weeks later.
Benning has a significant history of criminal charges–felonies and misdemeanors–including charges for fraud, grand theft, improper contracting and felony battery. He has never been convicted of a felony, however, with charges either being reduced or dropped.