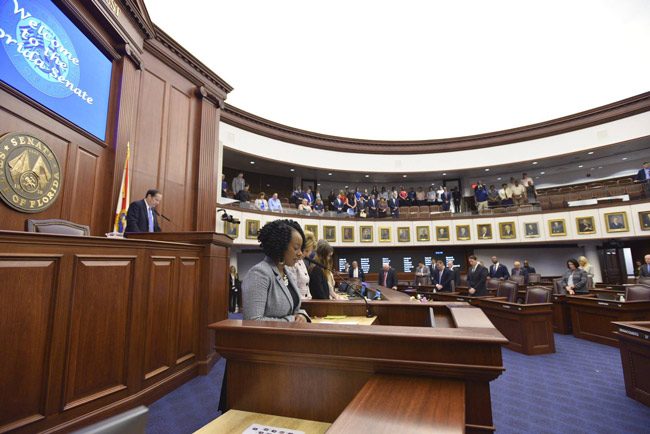 By Nancy Smith
Senate President Joe Negron's immediate response after he heard about Sen. Frank Artiles' racial slur and other defamatory remarks delivered to fellow senators at the Governor's Club wasn't good enough.
I know I've been at odds with Negron over policy issues this session, but I have known him a long time — and always as a good and decent man. That's why I don't understand how he could have tripped so badly over Artiles' loutish actions.
Now Senate General Counsel Dawn Roberts has been called in as a special master (see the attachment at the end of this column).
What was Negron waiting for? Surely the disgust is bipartisan.
Artiles, R-Miami, drinking at the bar Monday night, called fellow Sen. Audrey Gibson, D-Jacksonville "this bitch" and "girl" and worse, as I understand it. He used the word "niggers," though he claims he really had said "niggas," which he called a harmless slang-term. On top of that, he told Gibson and Sen. Perry Thurston, D-Fort Lauderdale, that Negron (whom Artiles called "a pussy") had become Senate president because he got votes from "six niggers" in the Republican caucus.
None of this is in doubt. The members-only bar was crawling with witnesses. Even Artiles doesn't deny it.
Trouble is, this particular senator has been walking on thin ice for a long time. Bad behavior, the kind that dishonors his diverse constituents and the integrity of the Senate is a pattern with him. Negron knows it, all of Tallahassee knows it. In 2015 he punched a college student in the face at Clyde's & Costello's bar in Tallahassee. The Miami Herald revealed a recording Tuesday night of the former Marine using the anti-Muslim term "hajis" and, as SaintPetersBlog publisher Peter Schorsch pointed out in a column of his own, Artiles has a name, or a label, he has to call everyone — he can't help himself.
Negron is the Senate president — and not just for the 40 members in the upper chamber. He is the Senate president for 20 million Floridians.
He could have — should have — jumped out in front of this "offensive and reprehensible" incident, as he called it — not waited for Sen. Perry Thurston, to file an official complaint. He should have refused to allow Artiles time on the Senate floor to offer an apology that, frankly, had about as much sincerity as a two-line thank-you note. He could have pre-empted the apology, gone directly to Rules Committee Chair Sen. Lizbeth Benacquisto as he did Wednesday, and asked her ahead of even Sen. Perry Thurston's complaint, to appoint a special master.
The process is in place to do it. Have a look at the Senate Rules: page 21, 1.43.
Wouldn't you have thought Negron's first clue that he should go straight to Benacquisto, give Artiles no bully pulpit on the Senate floor, would have been Artiles' apparently instinctive lack of concern for Gibson on Tuesday morning? Wasn't Negron angered that Artiles' first thought the morning after was NOT the senator he offended so deeply, but apparently his own survival? A senator actually had to march Artiles to Gibson's door to apologize — and that wasn't until Tuesday night.
Dara Kam of the News Service of Florida said Gibson kept her back turned to Artiles throughout his nearly four-minute speech at 10 a.m. Wednesday and later called his apology "meaningless." Gibson said Artiles unleashed the invectives in reaction to her "questioning the Republican's amendments during committee meetings last week."
Kam quoted Gibson: "'It's just ugly, in any setting, and totally unacceptable. I doubt that he would talk to his wife that way. I don't guess that he does, or any other woman that he cares about, or any other people that he cares about,' she said, adding that Artiles' explanation for his use of a word that is so heavily charged for African Americans put a 'little ding' in his show of remorse."
Something is missing in Artiles' heart. I'm sorry for him, I really am. But even now, stone-cold sober, he doesn't get it. Doesn't understand how ugly racially charged language is to all people of good will, but especially when it comes from a state senator, an elected leader, in whom the public places its trust.
When asked Wednesday if he would step down, he told reporters, "If every time a senator made a mistake, or someone made a mistake, that they had to resign … we'd have half the Senate gone for whatever reason. I did not insult anybody directly. What I did was have a heated debate with a colleague, and I basically apologized for that. As a matter of fact, I'm not only not going to resign, I'm going to file for 2018, and I'm going to win my election."
We'll find out what the special master has to say all in good time. Certainly Negron has done everything he's going to do. "Any further action … that may or may not occur would be between (Artiles) and his constituents. Every senator is judged by his or her conduct," Negron said.
Tuesday and Wednesday … not the Senate president's finest hour.
If Artiles isn't going to resign, as he should, Senate leadership can properly shun him, English Parliament-style. I've seen that in action. It's incredibly effective.


Nancy Smith is the editor of Sunshine State News. She started her career at the Daily Mirror and The Observer in London before spending 28 years at The Stuart News/Port St. Lucie News as managing editor and associate editor. She was president of the Florida Society of Newspaper Editors in the mid-1990s. Reach her by email here, or follow her on twitter at @NancyLBSmith.