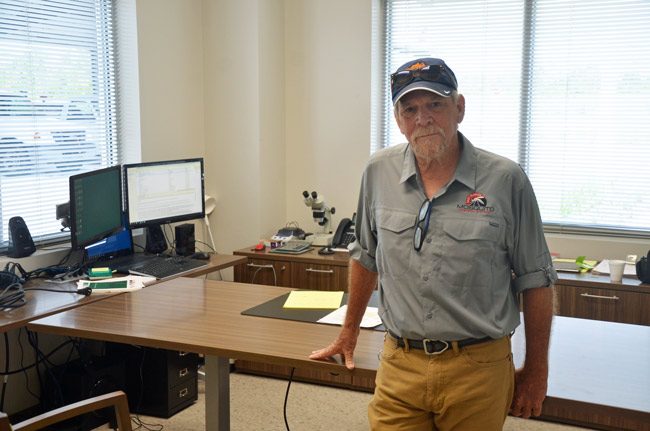 Last week the revelation at the taxpayer-supported East Flagler Mosquito Control was that the agency was in a $1.1 million hole, an amount equal to 60 percent of its budget, and looking to fill it through various means.
This week, Joe Cash informed employees that he had turned over all administrative operations to Mark Positano, his second in command. He's only periodically dropping in at the office. He deactivated his email account, triggering an automatic reply: "This address is no longer active. Any Mosquito Control business should be addressed to [email protected]." The email address given is Positano's. On Aug. 7, he wrote Positano and the district's finance director the following: "Today is my last day at the district, if Noah agrees. I will confirm this later. The two budgets we have prepared should give the board options." (Noah McKinnon is the mosquito board attorney.)
Cash is still drawing his $115,000-a-year salary–$120,000 starting in October—and plans on doing so for the next six months, at which time, he told board members, he would officially retire. (The budget calls for a 5 percent cost of living increase, as large as last year's "COLA" increase, which Cash also received as did all mosquito control employees, though cost of living is increasing at half that rate or less. Commissioners have not yet approved the budget.)
"I have been transitioning into retirement for the past couple of years," Cash, who was first hired at Mosquito Control in December 1978, wrote the district's three board members and Positano on Wednesday. "The date is set, February 1, 2018. Mark will be handling all administrative functions between now and then to allow me to complete a couple of ongoing projects and to wrap up 40 years of accumulation."
He did not specify what those projects would be in the email to board members. "I prefer to ease away without any public recognition so please honor this request," he added.
"Congratulations," Florence Fruehan, one of the three elected commissioners, wrote him back, cc'ing other board members. The cc was a minor violation of the Sunshine law, as it constituted communication between elected board members outside of a board meeting. Fruehan was elected last November and is not versed in the nuances of the Sunshine law. The next meeting of the board is scheduled for Aug. 21.
None of Cash's moves have been approved by the board, and no board meeting has been held since the financial crisis unraveled. An emergency meeting had been scheduled for last week but it was cancelled for having been improperly noticed. That's all part of the latest ramifications of a tax-supported agency in crisis. The $1.1 million hole in the district's budget was attributed to an accounting error. But that $1.1 million was spent. The district is now trying to make up the loss through severe cutbacks, including layoffs, and the sale of assets, such as its old building on Utility Drive in Palm Coast. Cash says the loss is recoverable, that there is no operating deficit at the moment, and that there will be a balanced budget next year.
Mosquito Control is an independent government agency with its own taxing authority (residents pay about $30 to $35 a year on their tax bill, if they own a $175,000 home). But the crisis is catching attention in the areas the district serves, which include Palm Coast, Flagler Beach and Bunnell. "We as taxpayers are going to be footing this bill no matter what, money is gone, we're going to have to pay it back, and I think it needs to be looked at by officials," Eric Cooley, a business owner, told the Flagler Beach City Commission this evening. He was asking the commission to send a letter of concern to the County Commission and the State Attorney's Office–not to suggest that any wrongdoing has taken place, he said, but to ensure that none has.
Reached by phone today, Cash acknowledged that he was looking to retire immediately at one point (though that's not the impression employees had been under). "I was going to leave, I was going to retire," he said, explaining the Aug. 7 email to his top staffers. He said that the budget error that led to the crisis was his first in 38 years, and that it had taken a toll on him and his family. The Aug. 7 email about his last day, he said, "means that after I thought about it I'm admitting to having done something wrong as far as that budget."
But he also said that the email with the automatic reply had been only a "vacation"-type email, not intended to shut down that account. And that he changed his mind about leaving immediately.
"That's my prerogative, to change my mind," he said, even though "it's easier for me to retire." At no point, he said, was it his intention to draw a salary without working full time. Today, he said he still plans to retire on Feb. 1, or earlier if the board wishes him to do so.
"I'm not asking for severance at all," he stressed, when asked.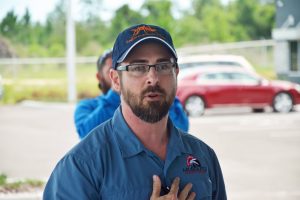 Some staffers had been confused by mentions of a contract between the district and Cash that supposedly allowed him to transition out or be paid 36 weeks' severance (or 180 days) were he to be fired. That one-page contract exists. It was signed in 2003. But it's no longer in effect: Cash retired from the district on April 30, 2009, because he was in the Florida Retirement System's Deferred Retirement Option Program known as DROP. That program allows participants to retire on particularly favorable financial terms, at least for a while.
Cash, in fact, never retired except on paper: he worked "pro bono" for that month of June for the district, according to board meeting minutes, and the board rehired him starting on June 1, 2009. The board also in the same vote that accepted his retirement and his re-hire, approved paying him $12,213 in accrued personal leave up to his "retirement" day, what turned out to be the equivalent of a huge "retirement" (or re-hire) bonus. The moment he was re-hired, he started accruing leave again. And making his old salary, plus $3,000 a month in retirement—all at taxpayers' expense.
Cash's employee file contains no documentation about his current employment situation—no contract, no agreement, nothing formal. There is no document that reflects his re-hiring in 2009. "They never formalized anything as far as I know I just came back to work," Cash said. But Cash had apparently provided Positano with that same contract this week when inquiries were made about his employment terms. "He produced the same contract,
which logically would be null and void," Positano said. (When first reached by phone Wednesday, Fruehan's first comment about the district was: "That's a complete and utter mess, isn't it?" He was referring to the financial crisis.)
Cash now gets 20 hours of annual leave per month. That's five weeks per year. He also gets 12 working days of sick leave a year, for a combined 42 days a year of leave time. So far this year, he's used 123 hours of either annual or sick leave, the equivalent of 15 working days (not including this week, when he says he's been out all week to tend to personal matters), though much of it is spread out: hardly a week goes by when he does not use either sick leave or annual leave time. The same pattern holds for 2016, when he used a combined 39 working days of sick or annual leave, again spread throughout the year, with leave time taken almost every working week.
Fruehan had been under the impression that Cash is still working full time, with his attention on special projects. He was not willing to accept the terms of his "transition" to retirement otherwise.
"He's got to come up with an outline as to what his duties are going to be from now until February, if we're going to be accepting it," Fruehan said of Cash's resignation. "You can't just set your retirement date and say this is your last day. Unless he's staying on in a consultant manner, unless he's staying on and he has duties there, he doesn't need to stay there."
But Fruehan himself had given mixed signals. In an earlier interview, he'd said that he was willing to accept Cash's terms. "He's transitioning over to Mark Positano, he was already planning on leaving, basically we said to him and I said to him this would be the best proposal."
The various communications from Cash himself had left some employees, Positano and at least one board member perplexed as to Cash's status and intentions. And Wednesday and Thursday, it was still not entirely clear what the future holds.
"Well, the latest story is that he's retiring but not until Feb. 1 of next year," Positano said Wednesday. "I am hoping to get some clarification from the board at our next meeting." As for Cash's whereabouts, Positano said: "He's in the office, just not all the time. He'll stop by in the morning, sometime in the afternoon as well." On Wednesday, he said he hadn't seen him at all. "What he's told me is that I am to act for all purposes operations and administration at this point. According to him I'm running the show."
However, Positano said, the board has not given him the authority to do such things as sign checks, which require either the signature of two commissioners or that of a commissioner and an administrator.
Cash said the projects he's working on include the sale of the district's old building on Utility Drive. He said Palm Coast government is looking to buy the building for $300,000 in early September. (A presentation to the Palm Coast City Council on the purchase is scheduled for Aug. 29.) He is also working on a new lease agreement with the county airport, on whose property the district's new building sits. And he's working on a zika virus suppression plan. By turning over his administrative duties to Positano, he can work on those other projects, he said.
"What I'm doing is a courtesy to the board," Cash said. "If they don't want me there six months, that's fine. I just thought after 40 years I might have some value to them, but if I don't, I'm OK with that."
Fruehan said several things have to change at the district, down to the way board members are fed information. "I question everything that they do there," he said. He said he's been raising a lot of questions, but as the newest board member, he didn't want to overstep his bounds. "It's tough to step on people's toes when you're a junior member of the commission," Fruehan said. "I can tell you right now, things are definitely going to change." He had one clear endorsement: for Positano, the assistant director who appears to be in line to take over Cash's job if, in effect, he hasn't already.