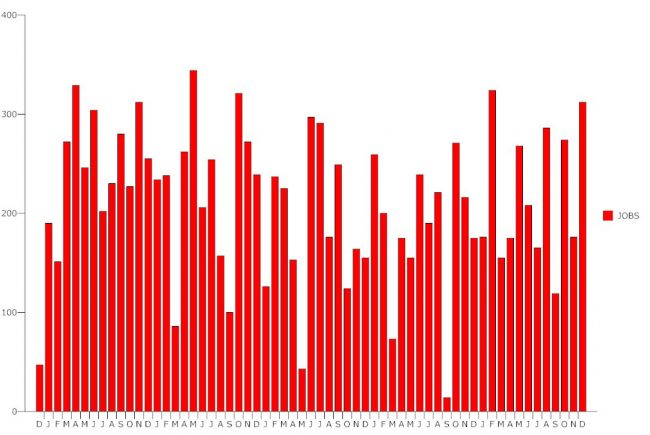 The stock market is treading bear territory. The nation's job market is not: continuing its historic eight-year run, the economy added 312,000 jobs in December, notching its 99th month of consecutive job creation, and reversing November's dimmer numbers. Economists had predicted a jump of fewer than 200,000 jobs.
The unemployment rate rose by two decimal points, to 3.9 percent. Job gains for October and November were also revised upward, adding 58,000 jobs to the previous totals. The economy ended 2018 with 2.6 million jobs created over the year.
The unemployment rate moved up because more people are entering the labor force: The labor force participation rate rose to 63.1 percent, from 62.9 percent the previous month. It's the highest rate since 2014, a rise driven by better wages and the sense that workers can find jobs. But the number of unemployed persons also increased by 276,000, to 6.3 million, an increase that catches the starting effects of the federal government shut-down, with close to 400,000 workers on furlough.
In another sign of continuing economic health, average hourly earnings rose 11 cents to $27.48, rising 3.2 percent over the year, or 1.3 percent above the current 1.9 percent inflation rate. Still, the yea-over-year wage growth remains below where it was before the Great Recession. The December report suggests that despite big drops in the stock market and a slowing housing sector, fears of a recession may be premature.
Sectors seeing big job gains include health care (50,000 jobs), bars and restaurants (41,000), construction (38,000), manufacturing (32,000) and retail (24,000). On Thursday, however, the Institute for Supply Management's index of manufacturing activity posted its sharpest single-month drop in 10 years, sending stock markets downward again.
The 3.9 percent unemployment rate is the lowest year-ending rate since 2000, and keeps unemployment levels near 50-year lows. The alternative rate of unemployment, officially referred to as the U-6 rate, is also at its lowest level since before the 2001 recession. That rate accounts for those who have abandoned the job market and those who are employed part-time for economic reasons, not by choice–that is, those whose hours have been cut back, or who could not find full-time work. That rate is now 7.6 percent, down from 8 percent a year ago and 17 percent in November 2009.