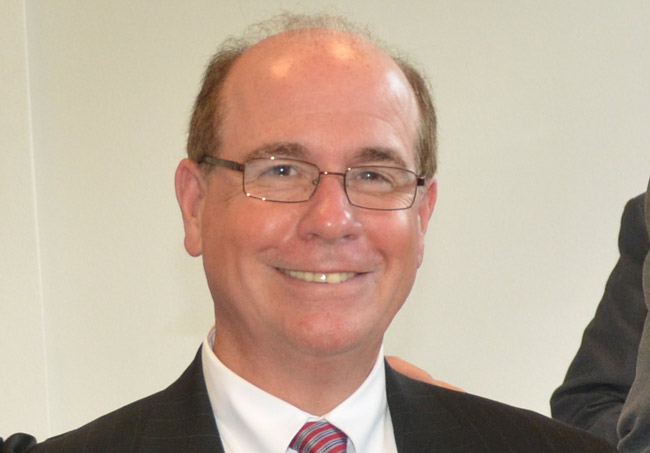 Jim Manfre is a Democratic candidate for Flagler County Sheriff, running in the Aug. 14 primary election. He was sheriff in Flagler from 2001 to 2004, when incumbent Don Fleming defeated him.
Three Republicans, including Fleming, and two Democrats, are in the running. The winner of each primary will face off in the general election on Nov. 6.
In these races, only registered Republicans may vote in the Republican primary, and only Democrats may vote in the Democratic primary. Independent voters may not cast a ballot in either.
The sheriff was paid $120,253 in 2011, a salary set by state law but paid out of local dollars.
FlaglerLive submitted 15 identical questions to the five candidates, who replied in writing, with the understanding that some follow-up questions may be asked, and that all exchanges would be on the record. Follow-up questions, when necessary, appear in italics, and may be awaiting answers.

The Questions in Summary: Quick Links

Place and Date of Birth: Brooklyn, N.Y., October 2, 1957.
Current job: Of Counsel to the Flagler Beach law firm of Nowell, Bayer and McGuire.
Political Affiliation: Democrat.
Website: manfre4sheriff.com
1. It's a very busy field. What makes you the best qualified candidate for Flagler County Sheriff?
I have lived and worked in this community for 15 years with my wife of 29 years and my three children, all of whom have attended local Flagler County Schools. Because of this, I have a unique insight to the business, educational and social communities within Flagler County. I began my law enforcement career as an investigator and trial preparation assistant for the Bronx and Brooklyn, N.Y. District Attorney. After completing law school and passing the New York State Bar, I was an Assistant District Attorney for 12 years. In 2001, I became the Sheriff of Flagler County. Because of these experiences, I have a comprehensive knowledge of the criminal justice system and the laws that comprise it. As Sheriff, I had many accomplishments during my four years including having the Sheriff's Office accredited for the first time in its 80-year history. I created with then City Manager Dick Kelton the first contract with the City of Palm Coast for law enforcement services, and created the first operational Palm Coast substation. In addition, we created the first full time narcotics, traffic enforcement and marine patrol units. At the end of those four years, we had a lower crime rate than when I started and a higher clearance rate of investigated cases.
How do you explain your defeat at the end of those four years?
Pat McGuire. He was the president of the PBA and also a Flagler County Commissioner. Mr McGuire objected to the my receiving the PBA endorsement when I ran for Sheriff in 2000 and constantly reminded me of this opinion. He created a difficult working relation with the then County Commission. In 2004, he demanded a three year renewal of the PBA contract with annual increases of ten per cent. My research had shown that increases for a Sheriff's Office of Flagler's size were between four and six per cent. I offered him a three year renewal at five per cent per year. He stated that he would make it difficult for me to be reelected if I did not agree to his terms. I didn't cave in to this political pressure and he responded accordingly. We were both not reelected due to his constant public bickering. He did endorse Don Fleming who upon taking office gave the PBA the ten per cent annual increases they demanded. Two years later Mr. McGuire was arrested and plead guilty to sexually molesting two underage females. He was sentenced to five years in jail.

2. What specifically makes your case for unseating Sheriff Fleming? He's been in office eight years. If you're challenging him, you must think he's not doing the job as well as you could, or that he's failed along lines you wouldn't. Please be specific with regards to both.
I believe a law enforcement administrator is evaluated by his or her ability to reduce and prevent crime in our neighborhoods; to efficiently administer his budget; to motivate, inspire, train and create high ethical standards for law enforcement and civilian employees; and to be fair and apolitical in decisions that affect both the employees of the Sheriff's office and the public. In each of these areas the Sheriff has failed during the course of his eight years in office.
Actual crime has increased over eighty percent since he took office. Burglaries and larcenies are up dramatically. The population has increased by thirty percent over the same period. In fact, the population increase has been mostly retirees as we have lost many younger workers fleeing from the real estate downturn. Retirees are less likely to commit crimes than those under 30 years old. As far as the budget is concerned, the Sheriff has more than doubled the amount of supervisors during his term from 22 to 48. In addition, he has increased the amount of employees making over $60,000 from five to over 40. Both of these statistics have dramatically increased the budget and taken away funds to provide more road deputies for our rapidly expanding population. In a time of unprecedented rises in fuel prices, Mr. Fleming has purchased 25 new SUV's, which not only cost more to purchase and maintain, but get half the miles per gallon of regular patrol vehicles. During his term of office, nine deputies have either been arrested or investigated for criminal behavior.
Every organization is a reflection of the person at the top. Clearly, this amount of criminal behavior in one agency reflects the low ethical standards that have been established by the Sheriff. In addition, the Sheriff himself is being investigated for an ethical complaint for receiving a free membership in an exclusive beach club without properly reporting the gift.
Finally, there have been two incidents in the last six months that call into question the Sheriff's ability to be fair to citizens and employees. In the Jamesine Fischer incident, a friend of the Sheriff's wife struck a pedestrian and failed to report the incident to law enforcement, The Sheriff improperly had seven or more conversations with the suspect's husband during the course of the investigation without advising FHP, the investigating agency. Recently, an internal investigation found that one of the Sheriff's employees had falsified his timesheets and had been working at an off duty job while signed in on duty. Rather than firing and prosecuting the deputy as the Sheriff had done in two other cases, the Sheriff returned the employee to work without a loss in pay and the deputy did not have to pay restitution to taxpayers.
While actual crimes have increased dramatically, so has the local population. In terms of crime rate, the rate of 2,469 overall crimes per 100,000 population in 2011 is only 5.7 percent higher than in your last year in office (2,335 per 100,000), and it has been declining. Would that not be a fairer way of looking at the crime numbers?
Regarding ethical complaints to the Florida Commission on Ethics, those are usually confidential until they have been investigated by the commission–unless those who file the complaints make them public. Are you in any way involved, as an adviser or an attorney, in the filing of the ethics complaint against Fleming?
In 2007, the crime rate spiked dramatically to 2,908 per thousand. Since that time it has come down slowly. Anecdotal information has indicated that deputies are dissuaded from making arrests and writing police reports. Under reporting of crimes is an age old device in law enforcement to make an administrator look better.
I am not involved as an attorney or adviser in the ethical complaint against the Sheriff. However, as a former property owner and member of the club in question, it is clear that Mr. Fleming received a very valuable membership for free because he was the Sheriff. Although I believe an elected official should not be receiving any gift because of his or her position, the violation here is that he did not report the gift as required by law.
3. What is the most dangerous thing or temptation about a sheriff's power, and how do you intend to control it?
The Sheriff has total discretion to bring criminal charges against suspects or not. The temptation to use this power to punish those you dislike and overlook the crimes against those that are friends must be avoided. The way to control this is to make clear to the public and employees that all citizens must be treated equally under the law regardless of who the person knows or what their background may be.

4. What is your greatest weakness in so far as the scope of your leadership is concerned? How has it shown itself? What have you done to address it?
Because I believe in the inherent goodness of employees, I have the tendency to work very hard to retrain and reeducate workers with disciplinary issues. I have come to realize that there are times that employees must be let go for the betterment of the agency.

5. As sheriff, what would be your top three priorities for the agency?
My priorities would be to return high ethical standards to the Sheriff's Office by engaging in ethics retraining for each employee. I would return to a community-oriented policing policy that emphasizes deputies becoming familiar with those people in the neighborhoods that they patrol by making positive contacts in the neighborhood through constant patrolling, attending neighborhood watch meetings and using crime statistics to become aware of any trends in criminal behavior in the area that they are assigned to patrol. I will return a business approach to the budgeting process by instilling accountability in each department to create their own budgets and then stay within the budgeted allotments during the fiscal year.

6. In your view, what are the three most pressing problems with regards to public safety in the county? Please be specific: for example, if you cite such things as drugs or gangs, please cite documented numbers that show why this is a more pressing problem today than previously.
The three most pressing problems are the increase in burglaries, the increase in illegal prescription drug use and driving under the influence of alcohol. Burglaries have increased over 80 percent in the past eight years. This indicates that drug users are seeking money from stolen goods to support their drug habits and sellers of drugs are looking for prescription pills. The national and local statistics indicate that the present drugs of choice are pain pills to get high. As in all drug enforcement, it takes a regional, state and national effort to stem supply and use. Regarding cases of driving under the influence, I admit that my case for this is both personal and anecdotal. I have seen a rise in my practice and in the news of the incidence of this type of crime which rises as a direct correlation with a downturn in the economy. In addition, as my father was a victim of a drunk driver accident and I believe this type of crime can be reduced dramatically when the effort is taken by local law enforcement, this will be a high priority when I am Sheriff.
This is the second time you mention the 80 percent figure in increased crime, in this case relating to burglaries. But according to the Uniform Crime Report, there were 347 recorded burglaries in Flagler County in your last year as sheriff. There were 505 recorded burglaries in 2011–an increase of 45 percent, not 80 percent )with the population increasing 37 percent in the interim). Can you explain the 80 percent figure? Regarding drunk driving, what, specifically, would you do about it?
Unfortunately when I was answering these questions, as I indicated I was traveling to Virginia and did not have the statistics in front of me and went by memory because of your deadline. So here are the facts. Actual crime has gone up by sixty three per cent over eight years even though the population increased by thirty seven per cent. Rape is up fifty eight per cent. Robbery is up ninety five per cent.Aggravated assault is up fifty two per cent. Burglary is up forty five per cent.Larceny is up sixty two per cent. Vehicle theft is down in 2011, but was sixty six per cent higher in 2007. Actual crime went up only sixteen per cent when I was Sheriff even though the population increased by thirty eight per cent.
As far as drunk driving, I would set up trained personnel inside each squad to handle DUI's and make them a priority. In addition with body cams recording these arrests, there should be less court time for the deputies.

7. Assess, from your vantage point, the state of race relations between law enforcement and the public, and how you think minorities are treated (as opposed to the way minorities ought to be treated), generally, by police in Flagler County.
In my practice of law and as a pro bono attorney for the Flagler County NAACP, I clearly see that minorities are targeted and treated differently in this county. This is a reflection of the attitudes of the current Sheriff who has been investigated by the State of Florida EEOC for having created a pattern of discrimination in hiring and firing practices in the Sheriff's Office. In addition, the Sheriff's office policy has resulted in only two promotions in eight years for minority officers and those were from deputy to corporal. Two minority lieutenants and two minority sergeants have passed over 26 times in the past eight years.

8. Do you support the restoration of dashboard video cameras in sheriff's cruisers?
Yes. I would go further and have pocket cameras for every deputy so that all interactions can be videotaped. This pocket cam can be placed on the dashboard while the deputy is in his or her vehicle. The video would then be downloaded at the end of each shift. This creates a level of security for the deputy and civilians knowing that all interactions will be recorded. It will also save costs by providing the State Attorney actual footage of the crime, lessening in court time for the deputy.
9. Explain your stance on civilian review boards in general, whether you would institute one at the sheriff's office, and why—or why not.
Yes. I had one as the Sheriff and I would reinstitute it immediately. These boards give the public a level of trust that their complaints will be fairly investigated by other community members such as themselves rather than law enforcement.
How active was your civilian review board, and how much leeway did it have to summon documentation and witnesses, including deputies or their supervisors?
The Board met on a monthly basis and based on anonymous or actual complaints had the ability to summon officers or deputies through an assigned law enforcement adviser to gather information.

10. Florida became the focus of national attention after the shooting death of Trevon Martin. His death has resulted in renewed discussion of Florida's stand-your-ground law. Do you support the stand-your-ground legislation? If not, what would you do to support its repeal?
I believe the law should be amended not repealed. I believe that if one is in his /her home, car or motel room legally , deadly force should be authorized. I would eliminate those provisions that make the decision to use deadly force based on the subjective determination of a person. A person should only use the force that is being used against them as in the common law definitions of self- defense.

11. Sheriff's offices experience an election cycle every four years where a new candidate will appear who promises to do the job better. Often a candidate's decision to seek office is the result of conversations with agency employees and their unions. This can often result in a quid pro quo relationship developing between some employees and their unions. Explain your current relationship or opinion of local law enforcement unions. And should you be elected (or re-elected), how will you handle these types of relationships?
I believe that the Sheriff must be free of the influence of the union on operational and budgetary policies. I was not endorsed by the PBA in 2004 because I refused to give the union annual increases of ten percent for the following three years that its membership demanded. This was double what other Sheriff's Offices of similar size were offering. Sheriff Fleming gave the union these raises and it nearly doubled the patrol budget. Every candidate for office should make it clear to each union and every contributor that what they get in exchange for their support is only the gratitude of the candidate. I had issues with the union and other powers that be in the county because I made it clear that I would never give in to the pressure of campaign support for special privileges. I have also made it clear to all supporters that I will not exchange support for any potential position in the Sheriff's office.

12. Describe how you would have handled the Francoise Péqueur matter differently than Fleming and his agency did, from the ground-level response of officers to the sheriff's fielding calls from the husband of the woman who killed Pécqueur (a school board member friend of the sheriff). In your case Sheriff Fleming, explain how, having gone through the matter, you might have done things differently.
First I would have made sure that dispatchers were clear on the accreditation policy that I put into effect as Sheriff, that deputies be dispatched to all first responder calls such as ambulance or fire department calls. If Mr. Fischer had called me, I would have advised him of his rights and advised him to seek an attorney and not the Sheriff Office's attorney as Sheriff Fleming did. If he chose to make statements after reading him his rights, I would have immediately notified FHP, the investigating agency, of those statements.
Sheriff Fleming says that if deputies were to respond to every one of the 20,000 medical calls a year, the office's patrol division would have to be increased considerably. Is that realistic at a time like now?
I do not agree that responding to all first responder call outs would place additional burdens on deputies. It didn't when I was Sheriff. Deputies are monitoring these calls anyway and a drive by to make sure they are needed or not is the essence of community policing. In any event, the Jasmine Fischer case was not a medical call, but a suspicious incident because no one knew at the time of the call to dispatch the cause of her injuries. This is the reason a deputy should be called out in these situations so that the deputy can make the decision whether they are needed not the dispatcher.

13. Deputy Roster was found by an internal investigation to have stolen at least $8,000 by falsifying time sheets, yet he was only demoted, without losing his pay rank, and kept on the force, while in two other deputies' cases involving smaller thefts, they were fired. What message does that send to the rest of the deputies, and what message does that project to the community? How would you have handled the Roster matter based on the results of the investigation, and how will you ensure that deputies are held accountable? (In your case Sheriff Fleming, please explain why Roster was not fired.)
Sargent Roster would have been terminated immediately after the internal investigation report and the case referred to the State Attorney for criminal prosecution. As I indicated in one of my earlier answers, upon taking office as Sheriff all employees will go through group ethics training so that I can personally advise them of the high ethical standards to which I will hold my employees and myself. I believe this matter has destroyed the Sheriff's reputation for impartiality and fairness to deputies, the media, and the general public.

14. Where are the weaknesses of law enforcement in Palm Coast, and how can law enforcement in Palm Coast be improved?
Because the Sheriff's Office is so remotely located away from the population of Palm Coast, the Palm Coast substation should be a vital link to the community. The substation is now in a location that residents cannot find. It should be moved to City Marketplace where the City's offices are located and manned twenty-four hours a day seven days a week by law enforcement officers. Walk-ins should be encouraged and police reports and investigations should be conducted of all matters brought to the substation. Presently a deputy is called from their patrol zone to handle walk in calls or citizens are told to call 911. This should be changed immediately for the benefit, time and safety of Palm Coast residents.
How is City Market Place, a strip mall of storefronts (aside from Palm Coast's offices) architecturally compatible with the needs of a sheriff's office?
The Sheriff's substation is presently in an old strip center on Old Kings Road with no signage. CityMarket Place is centrally located and next to the City of Palm Coast Offices and as I understand would be for free. Functionality not architecture should be the deciding factor.

15. Do you consider policing in Bunnell and Flagler Beach what it should be, and would you be supportive of a sheriff's take-over of either?
Although I believe it is inherently difficult for small police departments to properly staff, retain police officers and police chiefs and maintain budgetary stability, I support the cities' determination of their use of their police departments. I believe in strong inter local agreements between law enforcement agencies so that the sheriff's office can work more cooperatively and closely with the local police departments. If a city should decide to consider a takeover of their police department, I would strongly support their request.