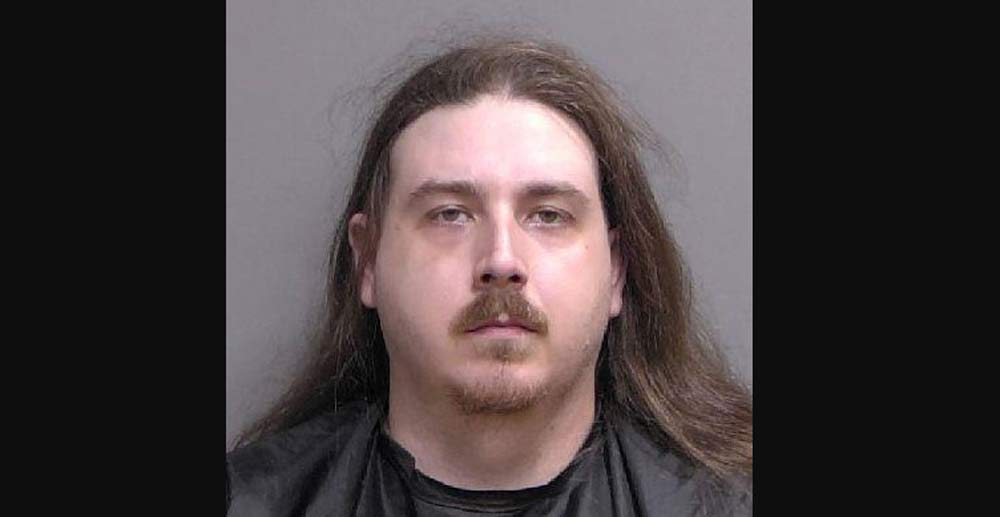 Jessy Kalany Gilbreath, a 28-year-old resident of 45 Eton Lane, Side B, in Palm Coast, faces a capital felony charge of child rape–the first such charge for a Flagler County suspect since the Legislature in its last term revived a law making an individual convicted of raping a child younger than 12 eligible for the death penalty.
Nevertheless, Gilbreath would not be eligible for the death penalty (as incorrectly reported here when this article first appeared) because the capital offense did not occur before Oct. 1, when the new law became effective. Only the other, non-capital offenses did.




Gilbreath is accused of raping the autistic child of his fiancée over many years in Ormond Beach, Flagler Beach and Palm Coast, starting when the child was between 4 and 6, extending to the child's current age of 12. The child informed her mother in mid-September, within hours of the last time Gilbreath had allegedly assaulted her.
A warrant for his arrest was issued on Tuesday, when he turned himself in at the Sheriff's Operations Center in Bunnell. Gilbreath is being held at the Flagler County jail on no bond. He faces five first-degree felony counts of raping a child 12 or older as the child's custodian, and one capital felony charge. He has been assigned a public defender.
Gilbreath, who was the fiancé of the child's mother for 10 years, in all respects had fulfilled the role of a primary caregiver with the child–feeding, sheltering, bathing and caring for her wellbeing, according to his arrest report. The day of his last assault, he had picked up the girl from a McDonald's parking lot in mid-afternoon, driven to the Eton Lane duplex, assaulted her, and told her to wash up before her mother returned home. After the mother did return, Gilbreath told mother and child that he was going to Target. After he left, the child sat next to her mother and told her of the assault.
Her mother immediately arranged for an exam with a sexual assault nurse examiner and an emergency forensic interview with the child protection team, where a child is typically interviewed by a trained professional in a non-leading, non-threatening, safe environment, away from parents and law enforcement (who can nevertheless monitor the interview remotely). The child revealed numerous details, alleging that Gilbreath had been assaulting her and forcing her to gratify him for many years through various means, specifying that at the Eton Lane residence alone, he had assaulted her three times since she had turned 12, among other forms of rape. The family had previously lived in Flagler Beach, where the child recalled assaults without being able to put a number on them.




The Flagler County Sheriff's Major Case Unit conducted the investigation, collecting a swath of evidence, securing search warrants for Gilbreath 's phone, for the Eton Lane home, for Next Door Bistro, the Flagler Beach restaurant where Gilbreath worked, and securing DNA evidence of both Gilbreath and the alleged victim. Evidence included clothing and bedding, which would also prove key to the case.
Meanwhile, Gilbreath remained free–it is not clear under what circumstances, though the child was protected–as DNA evidence takes a notoriously long time to be analyzed and returned to the investigating agency. The Florida Department of Law Enforcement returned the results on Oct. 23. The results indicate that DNA collected from the victim during the exam showed the presence of two "donors"–the girl's DNA, as expected, but also of one "male contributor." The male contributor DNA was matched to Gilbreath's. The chance that it is not Gilbreath is greater than one in 700 billion. There are 8 billion people on Earth.
The State Attorney's Office may yet file additional charges of its own. The prosecutor in the case, Melissa Clark, typically makes every attempt to avoid having the victim testify, seeking a plea deal instead.




Even if the offenses had taken place after Oct. 1, it's unlikely the case would become a death penalty case as numerous complications or strategic concerns stand in the way of the prosecution going that route. The Florida Supreme Court had invalidated the law in 1981. The United States Supreme Court did so in 2008, making Florida's law a potential test case to overturn the more recent standard.
Florida's law is controversial, and state attorneys are loath to skirt unnecessary controversy. In the present case, DNA evidence, which is usually incontrovertible and a impossible for juries to ignore or rationalize, is at the heart of the Gilbreath case. So absent extraordinary circumstances that his defense might attempt, the likelier approach is a plea deal. But Gilbreath himself would have to be willing to deal.
Even in the direst, most airtight cases, there are times when a defendant, particularly defendants with more concerns about their odds than their victim's well-being, would opt for a trial in a throw-the-dice sort of way. Paul Dykes and Erin Vickers in 2017 did so, even though the evidence against them included their own selfie-videos of themselves raping their 1-year-old child.
Juries tend to have little regard for such defendants, and make it known: the jury took 18 minutes to return a verdict in Dykes's case, 25 in Vickers's–barely more time than it would have taken to elect a foreperson and fill out the verdict sheet.
"This is a gut-wrenching case involving a defenseless child who has endured years of sexual battery," Sheriff Rick Staly was quoted as saying in a release. "I am glad the juvenile was able to find the strength to report what had been occurring to them for years and I hope they get the help and support they need. This guy took the juvenile's childhood and innocence away and now he needs to spend the rest of his life locked up. I commend our Major Case detectives and thank FDLE for quickly processing the evidence so we could arrest this child predator."
Sheriff's detectives James Crosbee and Stacy Santos led the investigation.