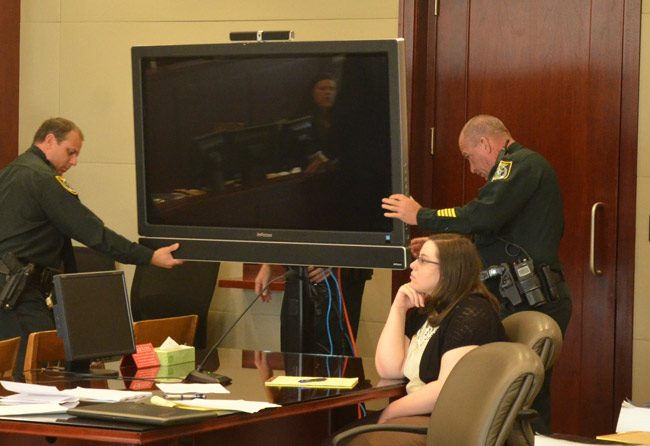 The time the jury took to find 23-year-old Erin Vickers guilty of raping her 1-year-old daughter in circuit court this morning says it all: 25 minutes, or roughly the time it would have taken for the four men and two women of the jury to get organized in the jury room, pick a foreperson, take an initial vote, exchange a few thoughts, and fill out the verdict forms. Vickers was also found guilty of promoting the sexual performance of a child. She faces life in prison without parole.
By her own account Vickers's raping sessions, which she performed in her mother's R-Section home, on Skype and through selfies to gratify her boyfriend Paul Dykes, would last twice or four times as long at times as it took to convict her, sometimes more, sometimes less. In her words, "Sometimes it'd be an hour, sometimes it'd be two." It was not a one-time thing. And her daughter? "Sometimes she's asleep, sometimes she's awake." (Dykes is going on trial later this year or early next on his own set of equally grave charges, and Vickers still faces 47 additional, grave charges.)
The jury did not believe, as Vickers had briefly claimed to two Florida Department of Law Enforcement agents before her arrest, and as her attorney tried to argue to the jury, that it had merely been an attempted rape. It did not believe that Vickers was only making it look as if she were orally violating her daughter. The jury was made to watch a one-minute-four-second video of Vickers in the act, with sounds, which made it difficult, if not impossible, to believe either her claim or the attorney's claim that she never touched her daughter.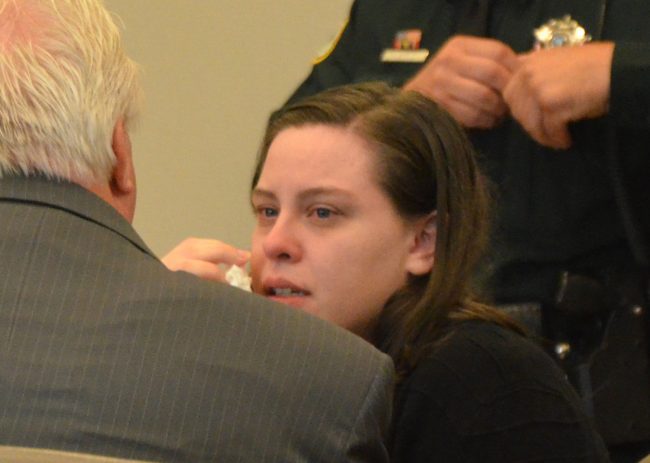 There was little that the prosecution submitted as evidence that wasn't in and of itself fatal to Vickers's case: any one of those elements in the prosecution's case could have led to a conviction. But as a jurist confirmed afterward, the single most damaging part of the two-day trial in the case against Vickers wasn't the hours of testimony from state law enforcement agents, much of it about the forensics of searching computers and phones for evidence of child porn, and finding it, or of the confessional interview Vickers gave an agent when her home and devices were searched two years ago, though those parts of the day did their share of damage.
It wasn't necessarily that one of the prosecution's witnesses was Vickers's own mother—a woman of powerful faith and poise whose maternal instincts never failed even after her daughter's arrest—who was key to identifying her daughter, her granddaughter and intimate belongings that connected the incriminating videos and pictures to Vickers beyond doubt.
It wasn't the four selfies the prosecution had printed and passed to the jury, of Vickers in the act of orally violating her daughter, or the one-minute-four-second video ostensibly showing Vickers doing the same. It may not even have been the final closing argument by Assistant State Attorney Jason Lewis, whose verbal sallies quoting Vickers, playing back her own confessional words on an audio system, or ridiculing the defense's assertions of "no contact" became a barrage of nails in Vickers's coffin.
Rather, the most damaging part of the trial lasted three or four seconds. It was the length of another video clip, also showing Vickers allegedly in the act. But that one burst with the sound of the infant's sobs, just five or six spasms from a child just 13 months old at the time. It was the only sound from the victim that the jury would hear. It had more weight than any testimony the prosecution could present, and prosecutors knew it.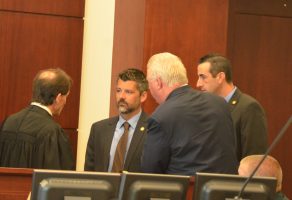 Vickers knew it, too. That was the clip that made her cry, the only time she openly cried during the two-day trial, at least until the verdict was read and she realized that, absent an unlikely twist on appeal, her life outside of prison was over. (To investigators, she had said of her daughter, during the rape sessions: "sometimes she cried a little bit, but sometimes she'd be asleep.") Though Vickers never testified, as is her right, that moment when cried to the sound of her child's sobs might as well have made her a witness for the prosecution. (The child has been adopted by her foster family.)
Aside from the counts and the evidence against her, Vickers faced another challenge: she did not have much of a defense, nor did her attorney, court-appointed Garry Wood, have one beyond what amounted to a plea to the jury: believe Vickers when she says her mouth never touched her daughter's genitals. Believe her when she says it was just for show, not for real. Wood argued she was guilty of attempted sexual battery, but not of actual battery.
It was not a vacuous argument, daunting though the evidence against it was: the last 20 years have seen many a trial hinge on the interpretation of video footage that only looks obvious, only to be deconstructed into something different from what it appears. And Wood's opening arguments, just eight minutes long, hinged his entire defense on that point: "Watch the evidence in this case, look at the evidence in this case, I know it's going to be difficult for you to do," Wood said, "we're going to show to you at the end of this case that although she's not guilty of the main charge of sexual battery, there may be lesser-included offenses, and maybe not guilty depending on your determination of what elements have in fact been proven in this case."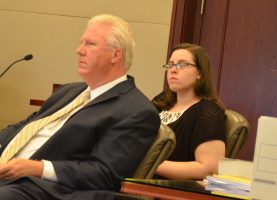 The brevity of Wood's opening argument—echoing the brevity of his questions to prospective jurors during jury selection–portended the thinness of what was to come from the defense.
Even looking past Wood's jargon-filled language that the jury at that point had no reason to understand, and that only diminished the human side of the person Wood was representing at the very point when lawyers usually try to humanize a defendant, however monstrous the acts in play, Wood was literally telling the jury that his defense would "show" them that Vickers had not, in fact, gone so far as to violate her child.
But he never did. He never presented a case beyond his verbal assertions that the prosecution was not proving its case, and that what Vickers had confessed to state police agents had at one point included her claim that she never touched her child sexually. Startlingly, when the prosecution rested at 3 p.m. Tuesday, just six hours into the first day of trial—less, when lunch and breaks were included—Wood told the judge he had no witnesses of his own. The defense rested, too. It did so after barely cross-examining the prosecution's witnesses.
A jurists after the trial said the absence of a defense was startling.
Wood had tried to make Vickers seem meeker and less aware than she was at 20, when she was questioned and arrested. He repeatedly referred to the armed agents and sheriff's deputies who questioned her, trying to suggest that she had been intimidated or coerced, though when the prosecution played the entirety of the tape of Vickers's interview with two state police agents, none of that seeming coercion was in evidence.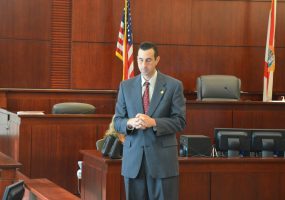 Vickers, who briefly cried at the beginning of the interview—in a Florida Department of Law Enforcement vehicle—quickly gained her composure, claimed at first that Dykes had made her do it for his pleasure and that she'd only mimicked the acts ("I might have went down there but I never licked, it just looked like it"), but then conceded, time after time, that she had orally raped her child.
"During that whole hour you're touching, making contact with her genitals with your lips?" an investigator had asked her, point blank.
"Yes," Vickers answered unhesitatingly.
On how many different occasions? "Sometimes we'd go a couple of weeks without doing it, sometimes a few days."
After the long recording of Vickers's interview with agents was over, the jury was sent to the jury room and Wood made a motion for mistrial and another over the introduction of prejudicial information that went beyond the parameters of the counts Vickers faced. He insisted that the video, which by then had been shown the jury, did not show penetration.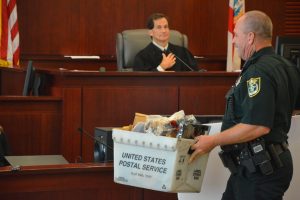 But that only gave the prosecution one of a number of openings created by the voids in the defense. "The evidence is just overwhelming in the video, and maybe Mr. Wood respectfully disagrees. But it's a jury question. It's a factual question. In that video, her mouth and lips are clearly on the young girl's vagina, and more importantly, if you listen to the video very carefully, you're going to hear slurping and licking sounds that are indicative of oral sex on someone else. That's a jury question for the jury. Not only that, but the jury gets to rely on her statements that she gave. It is inextricably intertwined with other stuff, but she admits to having her mouth on her daughter's vagina multiple times."
That was on Tuesday afternoon, soon before the defense rested and the jury was sent home for the day, to return this morning to hear closing arguments. For Wood, his closing argument was no different than his opening: he asked the jury to believe Vickers and to doubt the prosecution's case. The prosecution, as is usual, had two go of it, before and after Wood, with Assistant State Attorney Joe LeDonne going over the prosecution's case in his first segment—LeDonne in this trial was the equivalent of a long-haul pitcher, Lewis its closer—and Lewis returning for a final argument. Rather than repeat opening arguments, Lewis hammered at what had been revealed the previous day, repeatedly walking back and forth between the jury box and nearer to where Vickers sat, pointing at her accusingly and at one point re-playing her most incriminating confessions.
Several members of the state attorney's office and court staffers had turned up for the closing arguments, as had members of Vickers's family, on the other side of the courtroom, including her mother, whose hope was that her daughter would not so soon be sent off to state prison (either in Ocala or in Miami). She got her wish.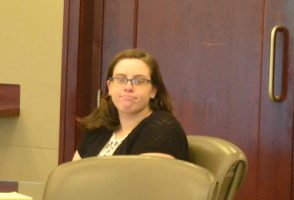 Today's conviction will automatically be appealed because it's a capital felony. Her lawyer is also filing a motion for a new trial, but the motion will almost certainly be denied: it'll be argued before Circuit Judge Dennis Craig, the same judge who presided over this trial. He's not about to overrule himself. Vickers's sentence at this point is a formality: she will have to be sentenced to life without parole. But the formality is being delayed until prosecution and defense again meet for a pre-trial to decide how to handle the 47 remaining charges against Vickers, and for Craig to rule on the motion for a new trial. Craig wants that hearing to take place no later than October.
But there was one more hammer blow against Vickers, moot through it may turn out to be: after the jury rendered its verdict of guilty on both counts—she'd also faced a charge of promoting the sexual acts of a child, because she'd filmed and photographed the acts—the prosecution got to argue that the second count should be upgraded from a second-degree felony to a first-degree felony. The reason: more than 10 pictures of child porn showing a child under 5 years old were in Vickers's possession, and therefore were an aggravating factor.
That argument could have taken place either before the jury or before the judge alone. It was Vickers's choice. She chose the judge. But the outcome was foretold. He found for the prosecution, and the conviction was upgraded to a first degree felony, adding a 30-year term to her life term, once sentencing takes place.
By then Vickers was no longer crying, but sat almost impassive, taking the blows and waiting until the judge finally adjourned, the courtroom emptied, and she was led away, likely never again to wear the civilian clothes and sandals she was able to wear for the three days of jury selection and trial.

Watch Assistant State Prosecutor Jason Lewis's Closing Argument: