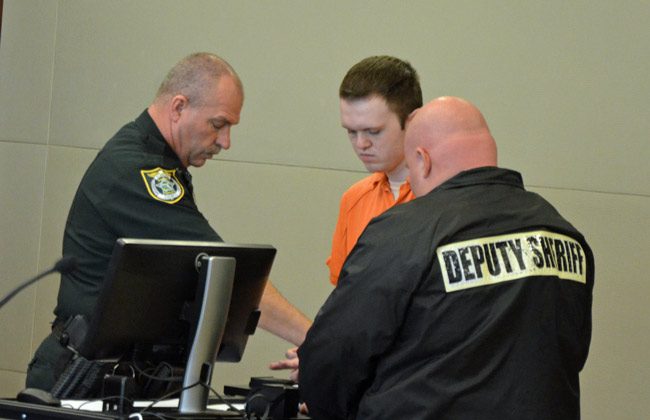 Last Updated: Jan. 31
The sentence of life in prison without parole Paul Dykes Jr. got this morning was a foregone conclusion: there was nothing Circuit Judge Dennis Craig could do about it, nothing Dykes's public defender could do about it. The sentence was mandatory by law, and it was on just one of the 24 counts for which Dykes was found guilty in December–raping a 1-year-old child.
It made the sentences for the remaining 23 counts essentially irrelevant, though he was sentenced to life on one of those as well (principal in the commission of a rape and principal to lewd and lascivious battery on a child younger than 12), and sentenced to 42 and a half years on 21 further counts, all but one for possession of child porn.
Dykes, who started being investigated for the crimes when he was 17 and is now 21, was also designated a sexual predator, a designation that will have no effect since he is not to be released back to any community in his lifetime. He's been at the Flagler County jail since March 26, 2015, the day of his arrest, and will be transferred to state prison in mid-February, after a Feb. 13 hearing before Craig where Dykes is expected to accept a plea on 14 additional counts against him, thus avoiding further trials.
Time spent in jail is usually calculated as credit in a convict's sentence–credit that would be subtracted from the overall sentence. But the three years Dykes has spent at the county jail are also irrelevant as credit, since there is no viable release date to subtract them from.
It took a jury 18 minutes in December to find Dykes guilty on 24 counts, including child rape and possession of child porn in a case that, as Assistant State Prosecutor Jason lewis put it this morning, "is just the stuff that you hear about on TV." Dykes had arranged with an ex-girlfriend, Erin Vickers, to have Vickers rape her own 1-year-old daughter, with Dykes directing her and watching the acts through Skype or his cell phone.
"In 17 years I really haven't seen a case outside of a homicide that implicates such disturbing and grotesque facts," Lewis said, noting that there'd been many such video sessions. "We're not just talking about just rubbing a child's private parts, we're talking about inserting things in that baby," Lewis said, as well as the suggestion of using animals and sex toys.
Vickers was found guilty on similar charges in September. On Friday, she was sentenced to life in prison on that guilty verdict–without parole–and pleaded guilty to an additional child-rape charge, as well as to 12 additional counts. On that plea, she was sentenced to life in prison on the additional rape charge, and was sentenced to 15 years on some of the additional charges, 30 on others. As in Dykes's case, the life sentences were mandatory.
"There's not much that we can argue," Public Defender Bill Bookhammer said regarding Dykes's sentence. He asked for sentences of 42.5 years where possible, then turned to Dykes, who was sitting on a chair in front of the defense's table. "Mr Dykes, if there's anything you want to say at all." Dykes, impassive throughout, shook his head no.
But Dykes's mother asked to speak.
"All you know about our son is what you've heard in this courtroom. We'd like to tell you things you don't know," she told the judge about the man who used to be called P.J. At the time of his arrest, she said, he'd never never lived outside the family home, never been in trouble, never been a discipline problem. He had a speech impediment, but showed compassion whether to a young friend nobody else would play with or to elderly residents in the neighborhood who needed help with yardwork. "Mom, they're old and they need me," he'd tell his mother. As a teen, he loved to skateboard and ride bikes, at times up to 100 miles a weekend. In 7th grade he played lacrosse, but a tumor on the back of his right knee sidelined him. He took flight lessons at 14 but couldn't handle the math. He planned to become a Marine but couldn't handle school, in person or online, and was to this day working on his GED.
"He was our youngest child, our baby, and we love him," his mother told the judge. "He's been incarcerated for almost three years. We are asking at the end of these proceedings that you allow us to hug our son."
The judge did not seem to allow it: he said nothing in court. After sentence was pronounced, Dykes was turned over to three of the four bailiffs in the courtroom, who supervised his fingerprinting, then took him out the side entrance back to the county jail. He glanced at his mother, who was there with his father, but showed little emotion, if any, and disappeared.
In fact, the judge did allow the hug: he had conferred with bailiffs, and, without speaking of it in open court–apparently in an attempt to deceive the press from either knowing or taking pictures of the hug, so as not to set a precedent–allowed the hug to take place in a different location, which itself may have set an unusually irregular precedent. It's also possible the judge did not want the two or three members of the victim's family present to know about or witness the hug. Dykes's mother–who lost a son to an overdose nine months ago and has herself had a series of heart attacks and lost a kidney to cancer–then collapsed in the elevator on the way out of the courthouse, and had to be helped back to her feet.

Note: this story was updated on Jan. 31 to reflect the additional information about the hug.