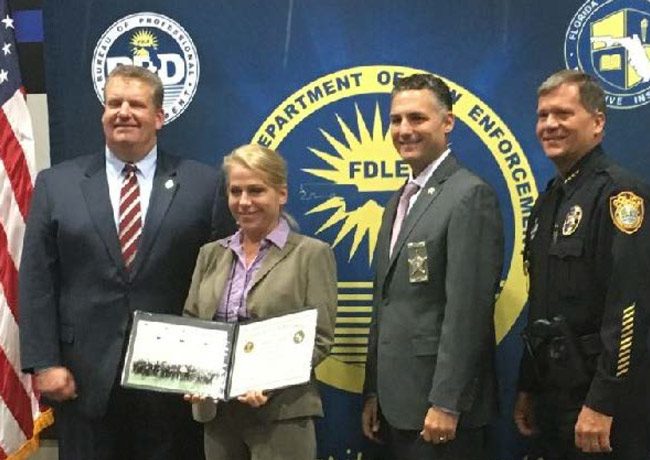 Sergeant Jennifer Taylor of the Flagler County Sheriff's Office recently graduated from the Florida Criminal Justice Executive Institute's 39th Florida Leadership Academy. Taylor was hired at the agency in December 2001.
"Sergeant Taylor is a supervisor in our Investigative Services Division," Sheriff Rick Staly said. "I'm proud of the work she does and for her commitment to bettering her already excellent leadership skills."
The graduates met for four week-long sessions at the Gainesville Police Department. They learned skills necessary to support the needs of their agencies and their communities as they prepare for future challenges. The goal of the Florida Leadership Academy is to prepare first-line supervisors in criminal justice organizations to exemplify the character and integrity expected of criminal justice professionals and to examine the various components necessary to being an efficient leader.
This training is a part of the Florida Department of Law Enforcement and affiliated with the State University System.
To date, the Florida Criminal Justice Executive Institute has graduated 38 classes of the Florida Leadership Academy, comprising some 1,141 graduates. Participants include sworn and non-sworn representatives from police departments, sheriff's offices, state agencies, prisons and jails. Due to the increasingly large number of first-line supervisors in the criminal justice profession, the institute's policy board has chosen to present the program in differing areas of Florida at both criminal justice agencies and training centers.
The Legislature created the institute in 1990 "for the purpose of providing such training as is deemed necessary to prepare the state's present and future criminal justice executives to deal with the complex issues facing the state," the bill at the time stated.