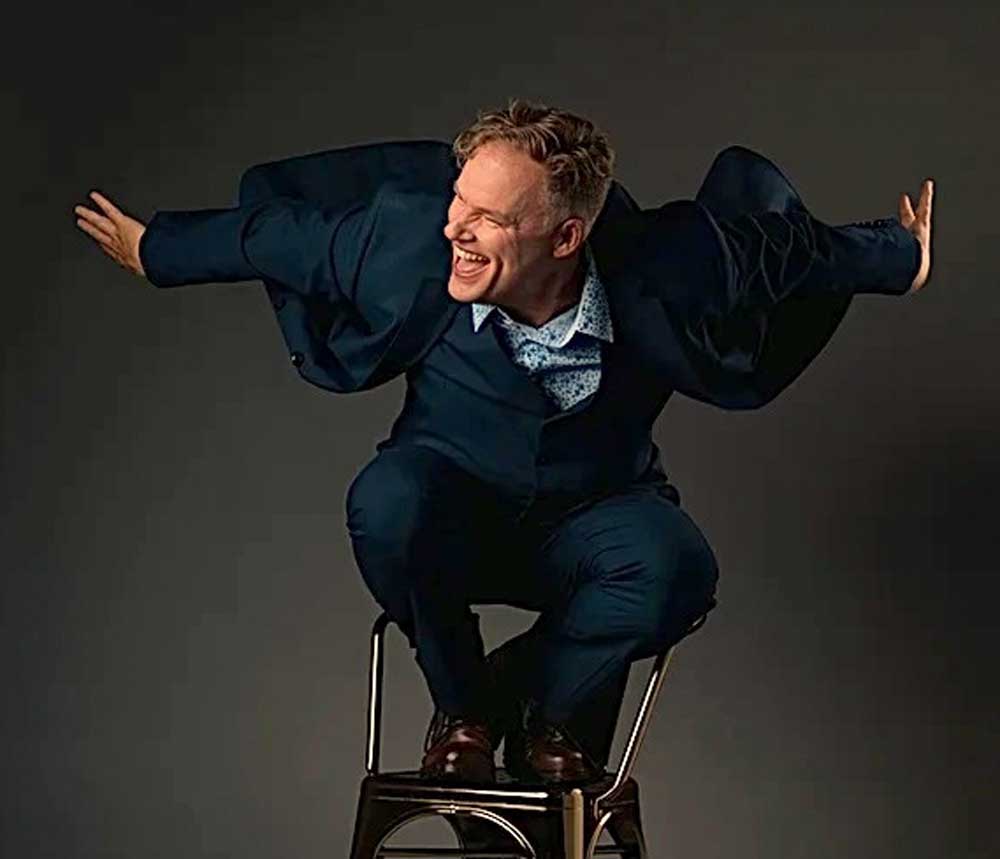 In 2012, Jacksonville actor-playwright Jason Woods took the stage at A Classic Theatre in St. Augustine, ready to show "Star Trek's" Patrick Stewart how a solo production of "A Christmas Carol" should be done.
Woods, who brings his original solo show "The Near Disaster of Jasper & Casper" to Palm Coast's City Repertory Theatre on Feb. 16-19, had seen Stewart's one-man show of the Dickens classic.
"Most people said wonderful things" about Stewart's performance, Woods says during a phone interview from his Jacksonville home. "But some people did say it felt a little bit like he was just reading the story, like he might've been sitting at a lectern and gotten up and moved across the stage or what have you."
Woods laughs impishly before adding: "At the time I thought, 'I can do this.' Every actor watches another actor and says 'I can do that better.' "
Woods went back to Dickens' original text, which he is convinced few modern adapters or fans of "A Christmas Carol" have ever read, and he crafted a solo show in which he would portray all 20 roles – ones that, he says, "I had to distinctly interpret."
And, he adds, "I certainly don't consider my 'Christmas Carol' a children's show by any stretch. It's more nuanced, it's more understated and it's scary."
As he was about to debut his Scroogian epic, "In my head I felt these nerves hit and I said, 'You fool, what were you thinking?' " Woods recalls. "It hit me that I had not thought through what I was actually about to do. I was committing to 90 minutes in front of people, the whole thing, working to command their attention the entire time.,




"Sometimes I think the muse or some other kind of external — I don't know – some force just lures me into these things, because if I had had my wits about me, I'm not sure I would've chosen to do it. But obviously I did. 'Jasper & Casper' is the same way. Sometimes I'll go, 'Now wait a minute, what was I thinking?' "
"The Near Disaster of Jasper & Casper" is a fantasy story about Jasper, your average-joe sort of guy, and his brother Casper, a narcissist with an affected blue-blood accent thicker than blood pudding mixed with epoxy glue.
"Jasper is looking for his true family when he discovers a blunt witch, a mysterious articulate Dragon, and a purpose he never expected," Woods says. Jasper also encounters a Scotsman who warns him about the Pasture of Deadly Cows.
"As Jasper gets closer to the truth, he confronts his own fears, a vicious queen, his brother Casper's self-obsession and a heartbreaking path to his own destiny. I like to always say, and this is kind of pitchy: Ghosts, magic and deadly cows abound in 'The Near Disaster of Jasper & Casper.' "
Woods portrays all of the umpteen characters. There are no costume changes and no props – just Woods and his toolbox of accents and myriad vocal and physical mannerisms, some creative use of lighting, and music that Woods composed and recorded himself. Check out Woods's "Jasper & Casper" YouTube video:
Woods created the play during the pandemic lockdown. He applied and was accepted to perform it at the prestigious United Solo Theatre Festival, where "Jasper & Casper" premiered in October 2021 at Theatre Row on 42 Street in New York City. Woods won the Best Actor award at that year's festival.




Woods returned to Theatre Row to stage his self-funded production of "Jasper & Casper" from Aug. 24-Sept. 18, 2022.
Those what-the-hell-am-I-doing nerves returned as he prepped for that Off-Broadway run, "then I got there and people started having a good time and they were up on their feet at the end," he says. "You know, 23 standing ovations out of 25 shows in New York I thought was pretty good, because I heard they just don't give those away up there.
"That gave me a lot of encouragement, but I wouldn't say confidence. It does take a certain amount of confidence to do this, but man you can get humbled quickly. So I never take that connection with the audience for granted."
Woods can recall the exact "a-ha moment" when he got bit by the theater bug growing up in Western Kentucky, when he was 9 years old. He was dispirited that his baseball team had just lost a game, and his mother was walking with him back to their car.
"We heard these people cheering, and we went to another part of the park and saw all these people gathered around a stage," Woods says. "I could see a boy hanging on a wire. They were doing 'Peter Pan' in the park. I dropped my glove and said, 'That is what I want to do.' "
Woods, who refers to himself as "an autodidact," went on to perform as a young adult at various theaters in Western Kentucky, including such Shakespearean roles as Bottom in "A Midsummer Night's Dream" and Lucentio in "Taming of the Shrew."




Even as he married and had two children, Woods continued to write, direct and act. At Theatre Jacksonville, he portrayed Beethoven in "33 Variations" by Moises Kauffman, and Thomas Cromwell in "Wolf Hall," a two-part play based on Hilary Mantel novels that were adapted for the stage by Mike Poulton.
Along with his two solo shows, Woods is the writer/composer/director of multi-performer shows as "Peter Pan: A New Musical," "Mr. Toad's Wild Expedition," "Alice in a Christmas Wonderland" and "The Legend of St. Nick."
Yes, there's a preponderance of fantasy works in Woods' resume, a penchant he traces back to his childhood and his love for the campy 1960s "Batman" TV series, the 1955 Danny Kaye film "The Court Jester," the "Star Wars" flicks, "The Princess Bride" and more.
"I'm a big fan of superheroes," Woods says. "Adam West (who played Batman) was my hero. It was real to me when I was little and it was ridiculous when I got older, and then I saw the genius of the camp humor in it eventually.
"I was a 'Star Wars' kid. Loved 'Star Wars,' loved the mythology, the big storytelling. We understood who was good and who was bad. I thought that was just really genius storytelling. Not the best dialogue in the world, but I remember being scared when I saw Darth Vader's silhouette on the screen, and you just knew."
Woods notes that he has "done a lot of serious, dramatic work," pointing to "33 Variations" and "Wolf Hall." The latter, he says, "is a three-hour-long play and I was on stage the entire time, maybe a minute and a half off stage. I did that role to see if I could really still love acting, which I did."
"I do love all kinds of acting and all kinds of theater. I love the craft of acting. But in those shows people applaud your performance or they are shaken by them or what have you, and then they walk away. But I've found a stronger connection with the audience in fantasy, in that they, how do I say this – I've seen more people be touched or moved or perhaps just reminded of their own childhood in these productions.
"In the fantasy stories, at least in the direction that I've been fortunate enough to chart out these past several years, people come up with some kind of connection in their eyes. People who are in their 70s say they felt like they were 10 years old again. I find great value in that."




That same sort of audience connection is happening with "Jasper & Casper," which Woods currently is staging in a sort of mini-tour at select Florida venues.
"I feel an absolute connection with people when they see these shows," he says. "I suppose it looks like they're made for children. My position might be that it's for the child in anyone.
"Over the past few years it's really sunk in that I like to see people happy. It's a difficult world and I think if an hour and a half of escapism or feeling good is all you get, then that's better than nothing."

Jason Woods will perform "The Near Disaster of Jasper & Casper" at 7:30 p.m. Feb. 16-18 and 3 p.m. Feb. 19 at City Repertory Theatre, 160 Cypress Point Parkway, Suite B207, Palm Coast. Tickets are $30 adults, $15 students, available online at crtpalmcoast.com or by calling 386-585-9415. Tickets also will be available at the venue just before curtain time.
Reader Interactions