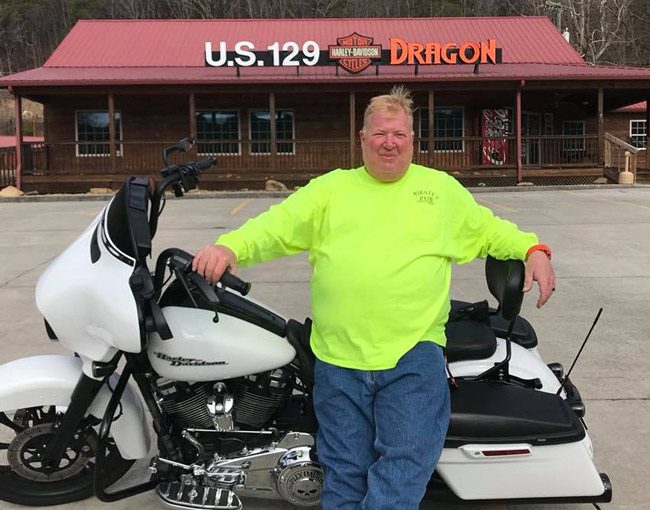 Jason Richards, a 46-year-old resident of Winter Haven in town for Bike Week, died not long after he crashed his motorcycle off Colbert Lane near Roberts Road Saturday evening (March 16).
According to a Florida Highway Patrol report, Richards was traveling south on Colbert Lane on his 2009 Buell when he veered right, ran off the road and was ejected. The crash took place at 6:32 p.m.
A driver who was behind Richards quite a ways did not see him crash, but stopped and provided CPR. Richards (who was wearing a helmet) was not breathing at that point, but he was bleeding from the face, according to 911 notes. It was immediately reported to 911 that no other vehicle had been involved.
FHP troopers minutes before had been dispatched to a crash at U.S. 1 and Hargrove Grade in Palm Coast, and came over from there, as the other crash was less serious. About six minutes after the crash, Richards was reported to have agonal or gasping breathing just as an emergency helicopter was launched and Colbert Road was shut down in either direction, from Roberts Road to State Road 100. But soon the helicopter was canceled, and Richards transported to AdventHealth Palm Coast.
The road was reopened at 7:30 p.m. But Richards died that evening, at 7:32, and was taken to the Medical Examiner's office in St. Augustine.
Besides FHP, the sheriff's office, Flagler County Fire Rescue, the Palm Coast Fire Department and the Palm Coast Fire Police responded to the crash scene.
Richards, who worked in construction and spent most of his life in Winter Haven in Central Florida, was an avid motorcyclist and the father of a young son, whose pictures appeared on Richards's Facebook page as often as those of Richards's motorcycle. He also had a daughter and two step-daughters and was engaged. (His obituary is here.)
Richards's autopsy has not been completed. But his daughter contacted FlaglerLive Wednesday to say that his death was not related to his riding (nor to Bike Week) but that he'd suffered a heart attack. She said he'd suffered a heart attack six months ago as well.
The afternoon of March 18 the Flagler County Sheriff's Office issued a release on its Bike Week operations: "There was increased law enforcement presence countywide, especially in high-traffic locations such as the White Eagle Bar at the intersection of Old Dixie Highway at US1 and the beaches along A1A," the release states. "The Motor and Traffic Units conducted traffic enforcement operations at high crash locations to deter speeding and aggressive driving. They were joined by Deputy Leprechaun who ran radar and reminded drivers to slow down and drive safely. Deputies conducted 940 traffic stops during the ten-day period. There were 98 traffic crashes handled by deputies and Citizens on Patrol (volunteer COPs that assist the Sheriff's Office with minor traffic accidents). DUI patrols worked multiple evenings to maintain the safety of the community by taking impaired drivers off the streets. Six arrests were made for driving under the influence.