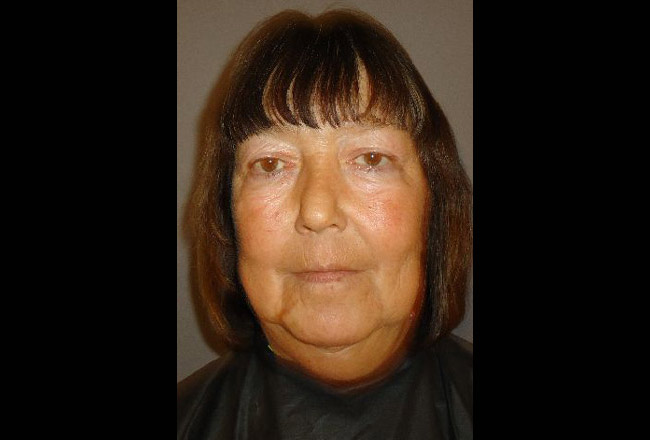 In an arresting but not entirely unexpected turnaround, Jamesine Fischer Thursday morning pleaded guilty to leaving the scene of an accident with a death, in the hit-and-run killing of 76-year-old Francoise Pecqueur in Palm Coast in November 2011.
Fischer, 56, who is married to Flagler County School Board member John Fischer, will serve at least 21 months in prison, or a maximum of 36 months, pending sentencing by Flagler County Circuit Judge J. David Walsh. Fischer will then be on probation for 10 years. She will lose her driver's license for three years.
Sentencing is set for April 10 at 1:30 p.m.. Fischer will remain free on bond until then.
"I hereby acknowledge that I am in fact guilty of the foregoing offense," Fischer's plea reads. "When asked by the judge, I will provide a factual basis for my plea."
Walsh will hear arguments from both sides to determine Fischer's prison term, but only "within the agreed upon range," the plea states. Fischer will also be responsible for court costs and the prosecution's costs. "I understand that if probation is part of my sentence," Fischer goes on, "that the court may impose any conditions of probation authorized by law, including public service, and unless conditions are specifically attached hereto, those conditions are by this agreement left to the discretion of the court." (The language, however, is standard for most pleas.)
Fischer's plea also means that she surrenders all rights of appeal. Had she gone to trial, the first-degree felony charge would have carried a maximum of 30 years in prison, assuming conviction.
Fischer's plea ends a protracted legal case that ensnared former Flagler County Sheriff Don Fleming and John Fischer, whose phone calls to each other after Fischer's wife struck Pecqueur with her PT Cruiser raised questions of propriety and favoritism, though a State Attorney's investigation cleared Fleming. Weeks later, Fleming lost his bid for a third term to Jim Manfre.
Pecqueur, who would have turned 77 the week of the killing, was walking her dog on Columbia lane after sunset when Fischer struck her as she drove her Cruiser to see a friend. Fischer never told authorities at the scene that she had struck Pecqueur, instead attempting to "mislead medical personnel and bystanders", according to a police report, as to what had taken place. She claimed that she believed she had struck a dog. Initially, paramedics concluded that Pecqueur's injuries were the result of a fall. Doctors at Halifax Hospital later that night said the injuries were the result of a violent, traumatic encounter. She never regained consciousness. She died less than two days later, and a few months after her last visit to see family in France, where she was from.
The trial was scheduled for later this spring. It was expected to take at least a week, with close to 50 witnesses being deposed for Fischer's defense, conducted by Stephen Alexander, who had also been the sheriff's office's attorney before Manfre took over. For the Fischers, the case was resulting in what was likely to be immense legal bills.
The case, had it gone to trial, would have relied heavily on a jury's willingness to believe that Fischer was in earnest when she believed she hadn't hit Pecqueur, and only later came to the realization that she had. But much of the evidence presented by Florida Highway Patrol investigators weighed heavily against Fischer's version of events.
The plea is a major victory for Assistant State Attorney Russ Bausch of the 18th Judicial District in Brevard County, who prosecuted the case with Laura Moody. The case began under the jurisdiction of State Attorney R.J. Larizza in the 7th Judicial Circuit. But Larizza last March asked the governor to move the case out of his jurisdiction. Larizza, who was facing re-election, cited a conflict of interest, because the case involved Fleming. The governor acceded, moving the case to the 18th circuit.
A key turnaround in the case may have taken place earlier this month when Bausch, a vastly experienced prosecutor, revealed that the prosecution's case would not claim that Fischer left the scene of the accident. Rather, that she remained at the scene, but never fulfilled her obligations under the law to inform authorities that she was involved in the collision. Bausch had filed a motion to ensure that the judge's information to the jury make clear that the law, while not explicit about that hit-and-run nuance, addresses it nevertheless by implication: an individual is required not just to stay at the scene of an accident, but to be properly and responsibly clear to authorities about his or her role in the events at the scene.
The fact that the prosecution would not make a distinction between Fischer staying at the scene and leaving–so long as she did not inform authorities of her role while at the scene–may have disarmed a key line of defense for Fischer's attorney, who appeared to be building a Maginot Line of expert and other witnesses to wear down the jury and cultivate its sympathies for Fischer. Bausch outflanked the Maginot defense well before trial, possibly prompting the defense's realization that its battle had become that much more difficult.
In matters of perceptions, around which much of the trial would have hinged, the prosecution had two other advantages: Walsh was unlikely to approve a change of venue for the trial. And although the civil settlement would not have been part of the criminal case, it was well known that Fischer's insurance settled the wrongful death case for $1.25 million in a matter of weeks after the fatal collision. The wrongful death lawsuit was filed by Catherine Vyvyan, Pecqueur's daughter, now a Palm Coast resident with her husband.
The plea document is below.