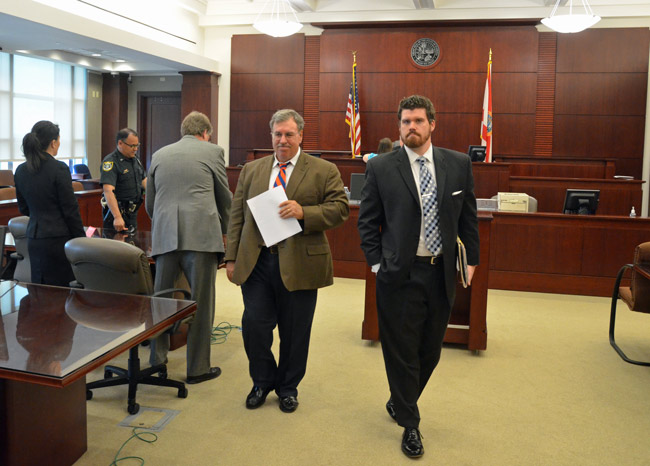 It doesn't necessarily matter whether Jamesine Fischer stayed at the scene after she fatally struck 76-year-old Françoise Pécqueur in an alleged hit-and-run, as her defense says she did. What particularly matters, prosecutors told  a Flagler County Circuit judge Monday, in preparation for Fischer's late-March trial, is that Fischer didn't tell authorities that she was responsible for the accident until 11 hours after it took place on Columbia Lane in Palm Coast that dark November evening in 2011.
The distinction is key to the prosecution's case, and to the sort of instructions the jury will hear from the judge, when Fischer's trial begins on March 25. It's not in dispute that Fischer never called authorities until the next morning, after her husband—Flagler County School Board member John Fischer—had talked with then-Sheriff Don Fleming.
Fischer's defense lawyers—Daniel Hilbert and Stephen Alexander—say Jamesine was at the scene of the accident for 25 or 26 minutes after it happened, and until Pécqueur was taken away in an ambulance, with what paramedics, still then, thought were injuries resulting from a fall: that's what Fischer herself had told authorities at the scene. That points to a fundamental premise on which Fischer's lawyers will base her defense: that she never left the scene, and therefore could not be convicted of leaving the scene.
Fischer is charged with leaving the scene of an accident with a death, a first-degree felony that could land her in prison for up to 30 years. Fischer is 56. She was booked at the Flagler County jail last February, and is out on $30,000 bond. Pécqueur was walking her dog the evening of Nov. 10, 2011, on Columbia Lane when Fischer struck her with her PT Cruiser, on her way to see a friend. Fischer stopped, but told authorities she thought she hit a dog, though Pécqueur 's dog (a tiny poodle) was unharmed, and Fischer conceded that she soon noticed that the right side of her windshield had been broken. Pécqueur died 42 hours later at Halifax Hospital's trauma unit, and two days short of her 77th birthday.
Assistant State Attorney Russ Bausch of the 18th Judicial District in Brevard County, who is prosecuting the case with Laura Moody (after State Attorney R.J. Larizza asked that his office be relieved of the duty), made a motion before Judge J. David Walsh this afternoon that instructions to the jury about the case be amended to reflect an important distinction that the hit-and-run law makes, but that the jury instructions do not. Two sections of law are relevant here: 316.027, which deals with a crash involving death or personal injury, and 316.062, on the duty to give information to police and render aid at the scene of a crash.
"There are actually two ways that a person can violate this particular statute," Bausch told the judge. "The first way is the one that we're most familiar with, and that is that somebody gets involved in a crash and they leave the scene. They don't stick around, they don't try to render medical assistance, they don't wait for anybody, they just take off and they leave. That's one we most frequently see, I would suggest. But there is a second part of this statute, … the second way that a person can violate this law is, even if they remain at the scene of the crash, in the event that law enforcement does not respond to the scene of the crash, the statute imposes a duty on the person who caused the crash to forthwith, and that's the exact language in the statute—and obviously as soon as practicable—contact law enforcement, and let them know about a crash they were involved in that caused injury or death to an individual."
Bausch continued: the "primary prosecution presentation in this case is not going to be that Ms. Fischer didn't remain at the scene. The primary prosecution is going to be that Ms. Fischer did not contact law enforcement until approximately 11 hours after this crash, in a situation in which law enforcement did not respond to the crash. The standard jury instruction, judge, completely omits that second violation of the law, that second way that the law can be violated under the statute. There's no mention in the standard jury instruction with regards to the obligation to report to law enforcement, if they don't respond, and you don't avail yourself of the ability to contact law enforcement forthwith, as soon as practicable. So it's our position that this jury instruction is incomplete, and it's very important in this case."
Hilbert, the defense lawyer, opposes the motion and disagrees with Bausch's interpretation of what the jury instructions should read.
"It's our position that when the jury instruction was developed, that it was intentionally omitted, that language of [316.062] about the forthwith reporting that's supposed to occur after a crash when no officer be present. The reason being is just the plain language of the statute. I know I scoured Westlaw and other resources and I'm sure the state has as well, but there's been no cases talked about the addition of this language into a jury instruction, because quite frankly, the problem with this fact pattern is so novel that you may have a person remains on scene until the body is taken away so to speak, how many times has this come about, quite frankly? So when I looked at both of these two statutes in conjunction, I think it's readily apparent on the plain language of the statute that they have taken this forthwith reporting and put it outside, after the criminal penalty."
The defense is looking to paint Fischer as a woman who earnestly believed that she had struck a dog, who dutifully stopped her car, who happened to notice a woman in the ditch, inert, and who believed that the woman had fallen accidentally. Fischer did not offer aid, according to the police report eventually filed, and based on witnesses and paramedics' testimonies, nor did she call authorities at the scene or afterward, until 11 hours later. But that failure to call authorities, her defense appears to be arguing, followed the fact that someone else had called paramedics (to report what the caller believed was a fall).
In sum, and remarkably, Fischer's defense will strive to make her seem like a by-stander to the event she had triggered, by portraying her to the jury as an interested, concerned person, who stayed at the scene until Pécqueur was removed, and who then, gradually, pieced together the possibility that she may have been the cause of the accident. Fischer, in other words, was not "willful" in her neglect to call authorities, in her lawyer's presentation of the evening's events. But that approach relies on jury instructions that do not criminalize Fischer's failure to report the accident for 11 hours.
The prosecution is not portraying Fischer in any of those benevolent terms, and is making clear that much of the evidence will be drawn from the initial investigation that showed Fischer at the scene trying to "mislead medical personnel and bystanders,"  according to the police report, while she never even suggested that she may have been at fault. That makes the 11-hour delay in her call to authorities the central node of her guilt, as the prosecution would see it—and the key to the amendment Bausch was seeking, in the jury instructions the judge will be reading.
Walsh did not make a decision Monday. He asked both sides to prepare for a hearing on the matter, because he acknowledged that there may be important "nuances." But he warned both sides not to make their own interpretations of the law, in so far as the jury instructions are concerned, to the jury, once it's seated. The matter, Walsh said, will be settled beforehand, and not rehashed during trial.
Trial is scheduled for March 25. The two sides agree that it may take a full week, assuming that the jury can be seated on the first day. The defense expects to call 45 to 50 witnesses.