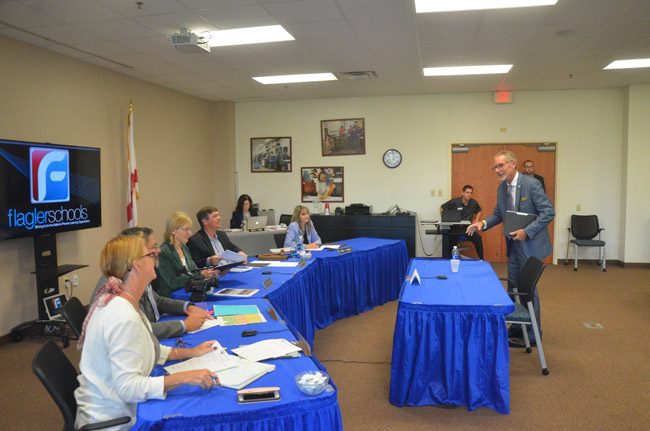 By the time the school board met this evening at 6 it was very clear who the board's choice for superintendent would be: James Tager, a principal at Volusia County's Atlantic High School. And it was. He was chosen on the first ballot by a 5-0 vote.
Board members Colleen Conklin and Maria Barbosa aside, the rest of the board members did not explain their votes. They had spoken briefly about the three candidates in the running at this morning's workshop, though even then their remarks had been abbreviated. (For details about this morning's meeting, go here.)
Conklin had spoken eagerly of seeking a unanimous vote, and she got it. "This is our first full consensus on anything we have voted on in quite some time, my hope is this will be a new beginning," she said, referring to what have been a few ragged months for the board, its consensus elusive on numerous issues.
"Congratulations to Mr. Tager, I believe he will be our next superintendent of schools," Board Chairman Trevor Tucker said toward the end of a 30-minute meeting.
Tager is not only the board's new superintendent, but also effectively its most significant unifier at this point.
"What draws me to that job the most is that I do believe it's a place where students come first," Tager said from his home in his first interview after the vote. "The fact that I'm being offered his position is extremely meaningful to me. It was a challenge to apply and go through the interview process, and it's something that's in my heart to do. I believe that job is such a draw for me due to the relationships that can be formed in Flagler County, to the fact that there's 13,000 students and 2,000 employees. I don't want to be redundant but that to me is very significant because I actually think it's an opportunity to meet every single person there."
He stressed that the people he'd met along the way in the past few weeks showed him "they really care" about the school district.
His goal is to be on the job June 1, then to enact a 100-day plan focused on improving graduation rates, looking at accelerated programs such as Advanced Placement and dual enrollment, increasing industry certification, and ensuring that students have what they need to move forward, particularly within what he's referred to as an "early-warning" system that pays close attention to students at the edges of achievement. Again and again in this evening's brief interview, Tager referred to what had impressed board members: his attention to forming relationships.
Other than the unanimous vote, the most remarkable thing about the special meeting is that not a single member of the public addressed the board. None had addressed it this morning. With one or two exceptions, none had addressed it at various points over a half dozen meetings during the selection process. But there were no complaints from board members about the process that had led them to this point, though board member Andy Dance briefly bristled at the way the evening's meeting was unfolding: he wanted to get straight to a vote and not have board members influence each other with their opinions about their choices. Once he spoke those words, the board did just that: the board attorney distributed the ballots, and the vote was taken.
"It has been a little bumpy, not as bumpy as some have made it out to be but a little bumpy," Conklin said of the overall process. She spoke of how she'd cautioned herself: "Whatever you do, don't settle," and said that today's choice vindicated the approach.
Kristy Gavin, the board attorney, and Tucker will negotiate a contract with Tager, and Tucker will handle the transition.