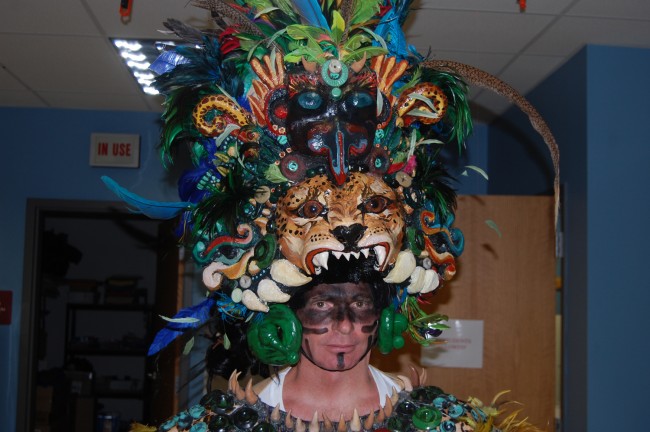 For 45 minutes, Jon and Pamela Voelkel turned the Indian Trails Middle School library into  a labyrinth of rain forests, Maya archeological digs, National Geographic expedition and gross-out food expo—clipped compliments of Bear Grills, the wilder part of "Man vs. Wild" who makes eating the crawly and creepy a specialty. To cap it all off, Lord 6 Dog, the kind of feline fright with "a roar that awakened every creature in the jungle," sprang from somewhere, oddly fist-pumping a few kids in the audience: It was Indian Trail's principal, Vernon Orndorff, disguised as a character out "Middleworld": The 90-some squealing, squirming and spellbound students in the room might have thought themselves fleshy cutouts from the Voelkels' book, the first in the "Jaguar Stones" trilogy, which was just the point.
The husband-and-wife writers (he illustrates, she writes) had dropped in at the school at head librarian Monica Campana's invitation (who grabbed a free offer from the authors' publisher) to recreate the world of their story, which features the 14-year-old son of a pair of archeologists who have a thing for throwing family vacations to the wolves, or some such jungle-ready wilderness. The book landed the Voelkels on the Today Show as Al Roker's Book Club pick last July. A month earlier the New England Children's Booksellers Advisory Council had picked the book for its spring's top 10 choices.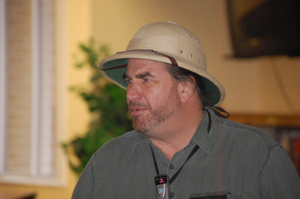 "We try to bring alive the setting the book is in, the rainforest, and the Maya themselves. Since the book is aimed at middle school kids, the best way to actually reach them is at schools, and the schools love it because you're entertaining kids and teaching them something at the same time," Jon Voelkel says. "First and foremost it's a rollicking adventure, but within that, there's so much misinformation about the Maya, that what we try to do is work with a professor at Harvard who checks all our facts to make sure everything is up to the minute. We've traveled a lot in South America and Central America. Having met modern Maya people, they're very keen that their story be told to North American kids. So we really owe it to them to make sure that we tell it absolutely right. So that's one dimension. The other is clearly, all this brouhaha about 2012, which is all completely rubbish."
Pamela Voelkel suggests Googling "2012" and getting a load of the rubbish. But there's too much of it there. You've probably heard the tall business about Dec. 21, 2012 being a new millennium bug sort of thing, adapted to Maya mania. The date is supposedly the end of the Maya calendar, after a 5,125-year run (almost as long as "Cats" on Broadway). As with any rapturous bollocks, you can take the story pretty much in any direction. There's the cataclysmic school, there's the epiphany school, there's the Star Trek-meets-quantum-physics school (Earth's collision either with some other cosmic trash or its gobbling up by a black hole). There could also be another Glenn Beck march: you never know with these things.
You do know with the Voelkels, who have too much respect, and plenty of love and admiration, for Maya culture to let it descend into the nether nuttiness of almanac fans on speed. (Immediately after the Indian Trails presentation, they were off to the four-day Maya At the Playa Conference here in Flagler.) "The reality is, they never predicted any such end. Their world did end though," Pamela says, referring to the Maya's particularly American (as in the American continent) tendency for self-destruction. "They had too many wars, they were too consumeristic."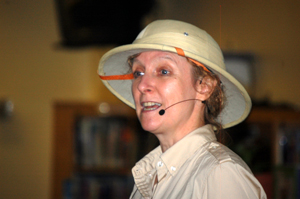 That's what the Voelkels want their readers to focus on—the realities of Maya culture as opposed to the shticky mess opportunistic doomsayers are making of it.  "It's a distraction from the real fact that what's killing the planet is cutting down the trees and too much petroleum products and all that sort of stuff," Jon says. " The Mayas are a quite interesting parallel because they essentially cut down all their trees and caused their own kind of demise. They overpopulated. They couldn't sustain themselves on the land. It's an interesting parallel, so that one of the points we make in the book over the trilogy is stop worrying about predictions, look at what you're doing now. That's an underlying theme, of how the rainforest particularly all integrates together and how all the plants have found their niche, which is actually similar to a middle school in that kids are looking for their little place and how they all integrate together. So there's a series of themes like that that we explore."
Even though he speaks with an accent not quite American, Jon was born in New Jersey, grew up in South America, then moved to England, where Pamela's from—Southport, just west of Manchester on the Irish Sea. A lot of the "Jaguar Stones" trilogy is based on Jon's experiences as a child.
They live and work in Vermont. She does most of the writing, John does the illustrating. "We just plot it out constantly together, and change things, and try and push it a bit further," she says. "Working with someone who knows the characters as well as you do is so great because you can talk out loud as if they're real people."
When he's illustrating he takes over the dining room table, she writes in the office. There are clashes constantly, "and that drives the book forward because we usually come up with a third solution that neither of us has thought of," she says. "It forces you to try harder." It's their first collaboration in writing. They used to work together in advertising before striking off on their fictional own. Their own being a relative term: they have three children (17, 13 and 7), from whom they can be separated up to a month at a time when they're traveling the country on book tours and what amounts to their own sort of theatrical presentations to students, as at Indian Trails.
"It is a bit draining but once we get going it's really a rollercoaster ride," he says. The students' questions are very helpful to both, because it refines their thinking and opens new windows on their creativity. They're like stand-up comedians traveling the country, working on their act in front of live audiences before making the big time—the HBO special or the Letterman appearance.
In their case it's the next hardback: "The End of the World Club," second in the trilogy, is due in December.

Watch Jon and Pamela's appearance on the Today Show: