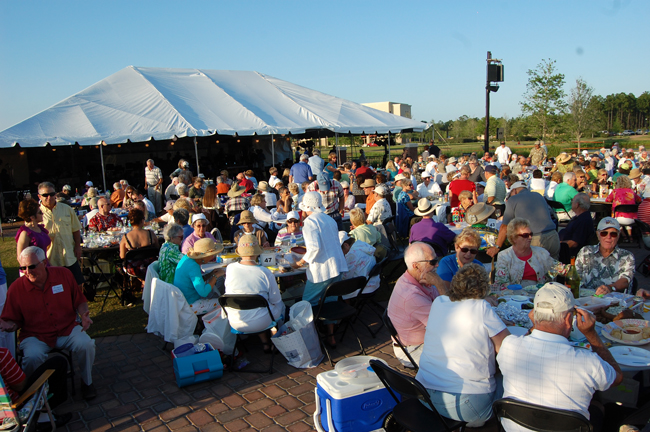 A sold-out crowd of about 600, food by the bushel at every one of the 60 tables knotted around Central Park's brick plaza (it was a picnic, mind you), drink—real drink—by the barrel, and the sort of evening breeze mixing warmth, chill and chat that every music festival from spring to Maine would envy: that was just the appetizer at Palm Coast's Town Center this evening. The main course was under the big tent.
Every once in a while, like the distant rumble of an oncoming storm, the sound of a drum or a tuba or a trombone dusting off would mingle with the minglers until, eating, anthems and tuning done, the Jacksonville Symphony Orchestra saddled into its interpretation of Aaron Copland's "Buckaroo Holiday," and the evening at the pops was off.
The sun had just sleeved itself behind a ridge of Town Center trees to the West, and night fell as quickly as the sounds of 52 musicians and the centuries of composers at their fingertips brightened the dark.
This is the Palm Coast Arts Foundation's annual gift to the city: a 90-minute concert of classical and pop favorites from Strauss polkas to Pirates of the Caribbean, with a solid dose of Americana framing the evening: Irving Berlin, John Williams, Aaron Copland, and a tribute to the armed forces that, unlike every other rousing piece on the program—and there were many—finally managed to get people on their feet.
No one yet knew how much they'd be happy to be on their feet this night, with the armed forces in mind: as people got home later in the evening, they learned, late in the evening, of the death of the man–Osama bin laden–who'd dragged the armed forces across the globe, seemingly, but no longer, to no end.
That news hadn't broken yet. So meanwhile,  guest conductor Teddy Abrams, who is 21, looks 12, conducted like a young Leopold Stokowski and joked like a middle aged Woody Allen, carried the evening with his humor and verbal liner notes. It's kind of a weird title," he said of Satie's famous  Gymnopedie, "because it refers to ancient, naked Greek gymnastics, but I can assure you, you probably won't encounter any of that this evening, nor does it really sound like that. But it's a really nice piece anyway."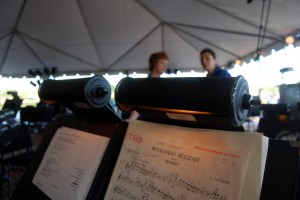 Liszt's Rhapsody No. 2, Abrams reminded the crowd, "wasn't originally meant to be for cartoons. It wa s by Franz Liszt, considerably before there were any cartoons, and a long time ago it was originally the gold standard of piano virtuosity. Of course Franz Liszt was kind of the quintessential virtuoso of his time, wherever he went he was basically mobbed by people, he had a very celebrity-style life, kind of the original pop music star, and he wrote a series of Hungarian rhapsodies which were designed to be vehicles to show off his ridiculous piano skills. This became the kind of piece that basically everybody included on their piano concert to demonstrate that they could in fact play it, that they were a true virtuoso. Being such a popular piece, it was transcribed for orchestra, and hijacked by Warner Brothers, Disney, MGM, and every other group of people making cartoons in the 30s, 40s and 50s. So you'll probably recognize Liszt's Hungarian Rhapsody No. 2."
There was no mistaking it: "The three little pigs and the big bad wolf cartoon," is how one approving concert-goer described the music when it was done.
So it went as Abrams, a conductor at the celebrated New World Symphony, made each piece even more accessible than the pops repertoire makes them. The evening's encore needed no introduction: the theme from Star Wars, originally composed by John Williams, who won an Academy Award for it in 1977 (and a Grammy and other lesser awards).
Next year's concert date was also announced; it'll be on Mother's Day, May 13.
The foundation's gift—a slightly costly one, at $30 a plate, but considerably less expensive than a similar treat at the Jacksonville Symphony's home, and dirt cheap when you consider that the Jacksonville Symphony picked up the cost of gas for this one—is also the Palm Coast Arts Foundation's most important fund-raiser as it continues to plan for an eventual concert hall of its own in Palm Coast, sometime in the future. Sam Perkovich, the foundation's president, sees the hall as the Jacksonville Symphony's second home. That plan has tended to be more a hope than a realistic goal, though to anyone in the audience Sunday evening, realism was a relative term: a single performance a year by the Jacksonville Symphony in Palm Coast by the Jacksonville Symphony doesn't seem like nearly enough.