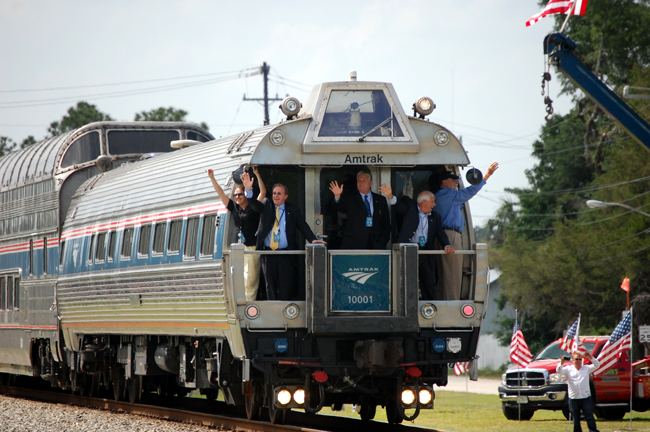 When it comes to Florida's two major rail proposals–a high-speed train from Tampa to Orlando and passenger rail service from Jacksonville to Miami, possibly with a stop in Bunnell–John Mica is hopping on Gov. Rick Scott's bandwagon: no state money for either. If Floridians want the lines, private companies will have to match what federal funds are provided. That, in essence, is the likeliest way to kill both projects.
Florida last year received $2.4 billion in federal stimulus dollars to build the Tampa-Orlando link. Some $342 million of that was extra–money redirected to Florida when Ohio and Wisconsin dropped their plans to build high-speed rail lines. But Gov. Rick Scott is opposed to the idea. His opposition is based on a white paper by the Reason Foundation, a libertarian think tank, that analyzed Florida's project in light of other mass-transit rail projects and concluded that costs are underestimated on nine out of every 10 large passenger rail transportation projects, with cost overruns averaging 45 percent higher than anticipated.
But the Reason Foundation's premise is faulty. It was based on two Europeans' analysis focusing particularly on three European megaprojects–the Channel Tunnel, the Great Belt Link, an immense bridge in Denmark, and the Oresund Link, a bridge connecting Denmark and Sweden. Those projects, the labor laws, time frames, tax subsidies, northern-latitude weather extremes and other factors, have little to nothing in common with high-speed rail in Florida. Nevertheless, based on that paper, which projected potential overruns of 45 percent, or $1.2 billion, Scott said he'd base further developments of the line on "feasibility," and on whether private bidders would be interested in shouldering the cost.
Earlier this week, John Mica, the Republican congressman who represents Flagler County and now chairs the powerful House Transportation Committee, allied himself with Scott's position. At a Florida Statewide Passenger Rail Commission meeting in Jacksonville on Tuesday, Mica said whatever additional dollars are needed for the $2.7 billion high-speed rail line should come from private interests, not the state.
No private company or consortium is likely to put up $300 million or more in a state whose leading transportation and government officials consider mass-transit projects either low priority or unworthy of wider public support.
Mica was equally dismissive of the Jacksonville-Miami rail line, which has particular interest in Flagler County, if it is not "economically viable," he said. That's a different way of saying that the line must support itself if it is ever to be financed. But ail systems never support themselves entirely anywhere in the world: they're subsidized to some extent by government, in exchange for the wide public benefit they provide: reduced congestion, reduced pollution, reduced energy consumption, reduced impacts on the environment, more efficient transportation, broader access to transportation for many who don't have vehicles, and so on. Mass transportation systems, in other words, are by definition partly subsidized because of their public benefit. In 2009, Amtrak took in $2.35 billion in total revenue against $3.5 billion in expenses. The federal government subsidized the remaining $1.49 billion.
That's not how Mica or Scott see it. On Tuesday, Mica referred derisively to Amtrak as a Soviet-style train system, although Western Europe's rail system is far more heavily subsidized (and far more extensive, and therefore used) than America's.
The Jacksonville-Miami rail line is in place, but to be viable as a passenger line, it needs some $250 million in upgrades, including several new stops along the way. None of that money is available. Florida transportation officials applied and failed to get federal stimulus dollars for the Jacksonville-Miami line, which would run Amtrak trains on the Florida East Coast rail line, a passenger service that ended in 1968. It had stopped in Bunnell and many other coastal cities in Florida.
State transportation officials hope to tap half of it from the state's transportation trust fund. But to do so, they'd have to overcome several political and financial hurdles: the state is facing a $3.5 billion deficit this year. Trust funds have been a favored target of legislators to plug holes, not to invest in new projects. And Scott is still talking about additional tax cuts, which would widen the gap further. Politically, the transportation department's hopes are out of sync with Tallahassee realities.
The state is also hoping to get half the cost in federal matching funds. That, too, may prove difficult, even with Mica at the helm of the transportation committee, because Mica is not making the Amtrak-Jacksonville line one of his priorities. As chairman, he has wide powers to appropriate money for pet projects, but he is far likelier to use that power to benefit his district, and his electoral chances, than to spread the money around on a rail line that only fractionally covers his district–and connects two Democratic hubs in Florida (Jacksonville and Miami).
Floridians may be eager to travel from Jacksonville to Miami in six hours, without pressing any gas pedals. Bunnell has scouted a new train station location. So has St. Augustine. But chances are that any talk of a revived rail line (or a high-speed line between Orlando and Tampa) will be just that for the next few years: talk.