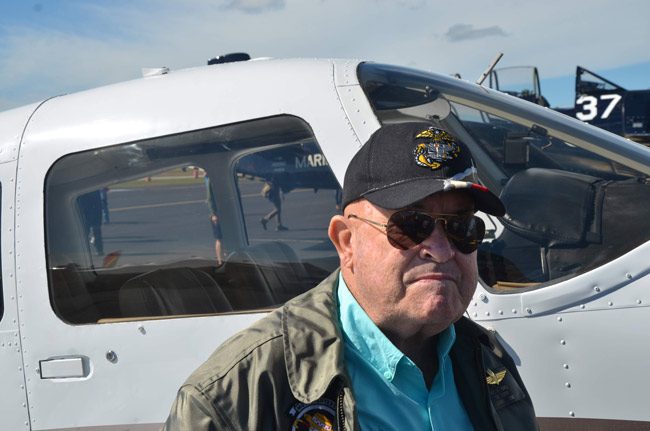 Bill Shelly was not happy with Jack Howell, the crusty, low-filter Palm Coast City Council member doing his best to maverick his way through his first months on the council.
"During the Tuesday meeting of February 19 of city council, the statement was made, and I quote, 'lock and load,'" Shelly said.  
Shelly was referring to Howell's recurring comments that the council should drop its search for a new manager and appoint Beau Falgout, eliminating the interim from Falgout's title. Howell, a retired Marine who spent three decades in the service and rarely makes a point without some reference to his military background, had proposed ending the search in a letter to the Observer, and was proposing doing so again last week.
Howell often speaks freely and sometimes explicitly, dispensing with the diplomacies of government language: it's part of his electoral appeal. Inevitably, it sometimes misfires. His more fully loaded statement was: "What I want is a full-time manager, let's lock and load, move forward, and we're kind of still chug and chug, we've got the reins on the boy, but we're not letting him loose to do his true thing, and I know he can do his true thing."
"This is completely inappropriate for any city council meeting or any public gathering," Shelly told the council this morning during a special meeting. "With the climate of gun violence in our schools and our nation, I think an apology is needed to the mayor, the city council members and the city of Palm Coast who he represents."
He did not get an apology, at least not during the meeting, nor did the council discuss Howell's verbiage: Howell motioned to end the meeting minutes later, the council's purpose of correcting an error it committed last week having been accomplished.
But Howell acknowledged Shelly's point in an interview afterward.
"Obviously I'm a military guy," Howell said. "When I used the term lock and load that meant let's move forward smartly. Now, not everybody understands that terminology, it had certainly no intent on my side to indicate violence. That wasn't the intent, it was just to move smartly. You know, we always say that, let's lock and load and go–trying to push the council members into making a decision on the Beau scenario, that's all it meant. If he didn't understand that, well, you know, I'm sorry, but I owe no apology to anybody."
Describing himself as "an old dog" with language,  he recalled how he'd gotten flack a decade ago when he was running for Flagler County sheriff and called the Hammock "the boondocks."
Within moments though he said he understood where Shelly was coming from and was fully aware that students in schools and some adults are now routinely arrested for what they say rather than what they do–language that sounds aggressively threatening, if not quite comparable to the "lock and load" metaphor. Still, the metaphor, and others like it, reflect a frequent and not always judicious use of military lingo by elected and other public and business officials, whether they have served or not. Howell said there's room for care in using that kind of language these days. 
"It's not my intent to make anybody upset," Howell said, "and I've learned from him, I've learned to kind of stay away from military terminology, I've got to catch myself, you know."
In any case, the council had already heeded Shelly's other point: nothing is done yet regarding the manager's appointment. The council last week decided to stick to its planned interviews of candidates. The special meeting today was not to revise that decision, but to fix an error.
Last week the council narrowed its candidates to be interviewed for city manager to six. They'd in fact narrowed the choices to five—Falgout, Donald Kewley, James Drumm, Matthew Morton and Robin Hayes. The council's consultant, Doug Thomas of Texas-based Strategic Government Resources, made a mistake by including a sixth candidate, Ken Kelly. Thomas had misheard council members' votes.
FlaglerLive later that day pointed out the error to Mayor Milissa Holland and City Clerk Virginia Smith. The administration consulted with its attorney, and within hours decided to hold today's special meeting to fix the error and eliminate Kelly in an official vote. Meanwhile, Drumm dropped out. The pair of 4-0 vote today was carried out without discussion other than to wade through the technical precision of the matter (Holland, who has the flu, was absent). That leaves four candidates short-listed: Falgout, Kewley, Morton and Hayes. Every time a candidate drops out, Falgout's chances, already significant as the insider choice, increase.
Shelly had started his remarks by saying the city had adopted a process to find a manager. He did not want the process circumvented, as Howell had proposed in the letter to the Observer. Howell wanted the search for a manager ended and Falgout appointed. Calling it hearsay, Shelly cited Howell's claim that "in our heart of hearts, my fellow council members know that Beau is the best choice." (Howell said today he was only speculating about other council members' positions, based on all of them voting for Falgout in two rounds of short-listing.)
"Our city council after our last meeting," Nick Klufas, who was chairing today's council meeting, said, "really came to a consensus that we were going to follow through the process that we originally decided as a council to go forward with. I don't anticipate that we're going to have any break of unison between our council members and our mayor."
Candidate interviews are now scheduled for Thursday and Friday, March 7 and 8. Saturday had also been slated for interviews. With the reduction of candidates to four, the Saturday option was eliminated. The council will meet in special session on March 12 to vote on a new manager.