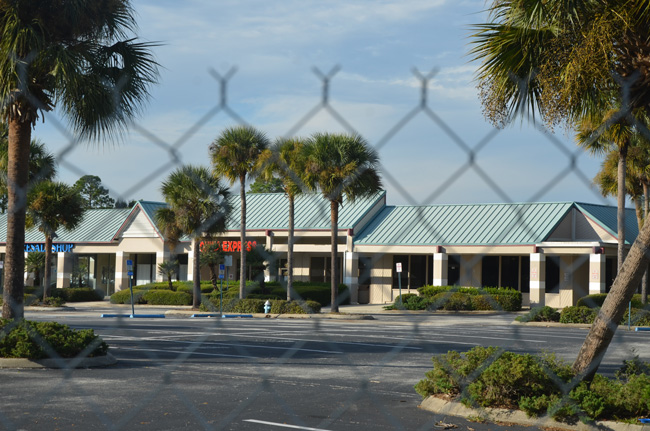 Get ready to watch the closest thing Palm Coast has to a historical building (in the loosest definition of the terms) go down. Backhoes will move against a large portion of what was known as the Palm Harbor Shopping Center later this month, tearing down the center's most central segment, between the existing Publix to the east and the old Bealls box to the west.
Fencing went up this week and last around the buildings that will be demolished, confusing drivers a little as their old habits were diverted by chicken wire and red signs pointing them to what businesses are still open on the property. Publix itself is one of a half dozen businesses that are staying open for the duration of the year-long demolition and reconstruction of the site. Demolition itself may last about a month, said Nick Telesca, president of Branch Properties, which is redeveloping the 29-acre site into what will be known as Island Walk. In all, Island Walk will add 50,000 square feet of commercial space for a total of 234,000 square feet. Parking spaces will increase from 952 to 1,236.
Branch Properties is investing close to $41 million in the redevelopment of what was Palm Coast's first shopping center. It had been dying in the latter part of the last decade, with the housing bust accelerating its decline. Atlanta-based Branch Properties bought the site from Chicago-based Inland Real Estate Group last May for $12.4 million, though it had been preparing redevelopment plans long before that.
"I think it's fantastic that we have an opportunity to revitalize and reenergize an old shopping center in this community," Telesca said. "How many times have you seen old centers like this just fall into disrepair and decay, and often times become a blight on the community? So the fact that we're able to make a $40 million-plus investment in the community is a sign of health for Palm Coast and the community."
Roma Court on Palm Coast Parkway, European Village on Palm Harbor Parkway and City Marketplace on Cypress Point. Like the old Palm Harbor, each shopping center has had trouble filling shop fronts, and each will be competing against the other to continue to do so. City Marketplace in a year will lose its biggest tenant as Palm Coast government migrates to its permanent City Hall at Town Center.
Island Walk will have some advantages: Aside from the shopping center's new look, Publix will be larger, its draw undiminished, Bed Bath and Beyond will be among the new tenants, and mainstays such as Starbucks will still be there. Plus, Island Walk will be built as the sort of outward-looking mall shoppers are more inclined to visit these days, as opposed to the more inward-looking malls built in the past decade.
"European Village, City Marketplace and Roma Court went to a forward concept that hasn't worked well," Matthew Wilson, the president-elect of the Flagler County Association of Realtors, said. "They're not your traditional mall. They're very enclosed, you get in there, it's blocked by design. They're effectively all walled, and I think people prefer a much more open environment."
Island Walk, Wilson said, is a central, well known and convenient location for the center part of Palm Coast. "My thought is that they should do quite well," he said. "Their outparcels are all going to remain in place, so there'll be traffic there, Publix is obviously the No. 1 grocery store in Flagler County, and people have been waiting for Bed bath and Beyond since 1980."
Demolition work has actually begun at Island Walk, even though people won't readily see it yet. The work is going on inside the buildings. Only those central buildings will be demolished. Meanwhile construction will be taking place to the left of the Bealls box (as you're looking from Palm Coast Parkway) where there'll be an additional 25,000 square feet of commercial space. In front of the center area that's being demolished, another 15,000 square feet of shops will also go up.
The demolition itself will be nothing spectacular as a backhoe will "tear or rip at the building in a very controlled manner," Telesca said.
The Publix area of the shopping center will not be affected. Other businesses have bene relocated to other areas in the center itself, while others—most, in fact—have chosen to leave altogether or close. PC Bike and Richard's Foodporium have moved to the Staples shopping block at Old Kings Commons. Thai By Thai, the popular restaurant, closed altogether. The UPS Store moved—about 10 parking spaces, in its owner Jerry Eggert's description—to where the dry cleaners used to be, in the block that includes the Bealls box. That block won't be demolished. It will be renovated with a new façade, with 11,000 square feet of shops that connect what will be the new Publix to the Bealls box. The UPS Store will stay where it is now.
"My numbers are the same as they were last year," Eggert, who's had the store 15 years, said. "Everything is fine right now. We're a little anxious about when the fences went up, but all my customers seem to have no problem finding us."
Eggert won't miss the old Palm Harbor center: "business is business," he said. And he's looking forward to the new look, thinking it'll be done in a bit longer than a year.
In all, just five tenants remain in the project, two of them being Starbucks close to Palm Coast Parkway and Salsas, the Mexican restaurant, on the northwest flank of the development.
"The property was slated for redevelopment for many, many years," Telesca said, "so all of the tenants in the property obviously were well aware of the fact that the property was going to be developed and had ample property to prepare for this redevelopment plan. So no one here was caught either flat-footed or by surprise."
Publix itself won't close. The switch-over from the old Publix to the new will be seamless, so that Publix will not actually close at that location at any point. Shoppers will shop in the old store one day. The next, they'll be in the new one. That opening date is slated for November 2015. The old Publix box will be renovated and leased to new tenants.
As for the landscaping, fears of a tree-less zone are either wildly exaggerated or inaccurate: the city's ordinance is too strict and too green-oriented to let a developer scrape by on twigs.
"The landscaping will be a mix of flowering plants, shrubs and trees," Cindi Lane, the city's spokeswoman, wrote in an email after an inquiry to Bill Butler, the city's landscape architect. "The shopping center will be following the landscape and irrigation requirements of the City, including switching to reuse water for irrigation. There will be more plantings all around the perimeter, and a much-improved buffer (more trees and hedges) in the back of the center between the loading docks and Arbor Trace. Aging trees showing signs of decline will be replaced with newer healthier trees. The project will have many more trees overall. Before development, there are 245 specimen (12-16" and up diameter) and protected (6" and up diameter) trees, and after development there will be 451 specimen and protected trees. There will be more trees in the parking area for shade. In the front, there will be pedestrian amenity areas with places to sit, landscaping and improved access to the site."
---
The challenge: filling new retail space in a town saturated with it.
---
Telesca won't yet reveal what tenants have signed for Island Walk. But he spoke with little worries about filling the place. "The retail environment is improving, and that's not only at Palm Coast, that's nationally as well," he said. "But I think the main driver on this site is Publix. This is a very high volume Publix store and we're going to be increasing it substantially."
Palm Coast imposed strict zoning requirements on the redevelopment but also provided $52,000 in tax breaks, in the form of forgiven impact fees. The zoning requirements ensure that the look of the building and the landscaping reflect a more inviting setting than a mere box. "Every 50 feet there'll be a pop up in the roof line, and a pop out of the façade," Telesca said. "You just don't get a flat, straight façade line along all of these buildings. The goal is for the center to look like it's a number of different buildings that have been constructed over time, and not just one single, homogenous building."
The zoning requirements have been strict but, Telesca said, "That's normal these days across the Southeastern United States." He added: "The city has been great. We have nothing but high marks for the city and the process. They've been demanding, but they've been fair and reasonable, and we're very pleased with the overall result and the outcome."