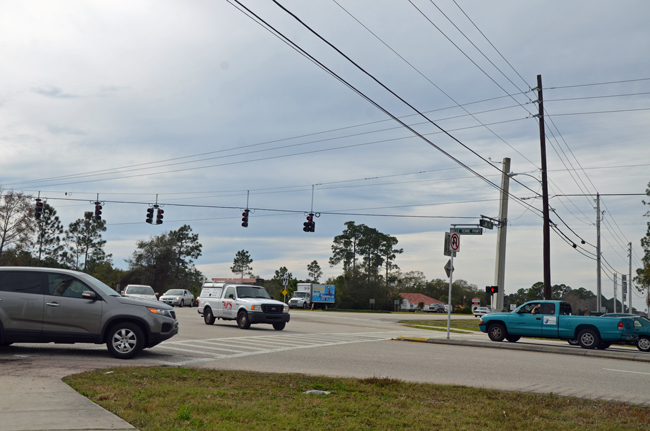 You're not imagining it: being a walker or a cyclist in Palm Coast is dangerous, the more so as the city continues to expand its grid of sidewalks, encouraging more people to bike and to walk. The city is making it easier for people to get around. The problem: drivers, used to having roads and crosswalks to themselves, are often oblivious to the rising number of walkers and cyclists, either ignoring them or disrespecting their right to cross roads.
The intersection of Belle Terre Parkway and State Road 100 makes the point.
The Flagler County Sheriff's traffic unit last week worked the equivalent of 22 and a half man-hours at the intersection. During that span, 10 drivers were cited either for blocking the pedestrian crosswalk or for violating pedestrians' right of way. Two pedestrians were cited for failing to obey the pedestrian walk signal—that is for jaywalking. The moving violation is a $260 fine. It's $53 for jaywalkers.
"There's a residential apartment complex to the west of that intersection, and a lot of people walk to the shopping and have to cross a very busy intersection," County Commissioner Barbara Revels says.
"Unfortunately the cars are not giving any ground to anybody in that crosswalk," says County Commissioner Charlie Ericksen, who bikes around 20 miles a day and lives nearby in Palm Coast's E-Section. "It's a real challenge. I saw someone in a wheelchair who had pressed the light, go through two cycles before the cars would give them a chance to get out in the crosswalk and get away." Ericksen himself-who's on his way to logging enough miles on his bike to have circumnavigated the globe—has been at the receiving end of several close calls from oblivious drivers.
It's not a problem exclusive to Palm Coast, either: Florida leads the nation in pedestrian and cyclist fatalities, according to federal statistics and a more recent study by Transportation for America, a nonprofit safety advocacy organization, which ranked the Orlando-Kissimmee area as the deadliest urban area in the nation for walkers and cyclists: between 2000 and 2009, 550 pedestrians were killed in that region. Tampa-St. Petersburg was second in the nation, followed by Jacksonville and Miami-Fort Lauderdale.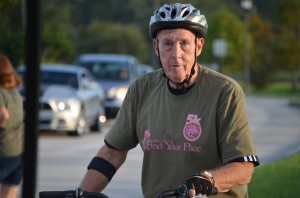 Palm Coast was too small to be in the study, but the numbers point to a cultural blind spot among drivers that underscores local officials' emphasis of needing more education.
Two cyclists have been killed in collisions by motorists in the last 10 months in Flagler County: Frederick Martinez, 51, of Flagler Beach, was killed was riding his bike home in the bike lane on State Road 100, just east of Old Kings Road, last March. And Deborah Dunn, 63, was killed in July as she rode her bike north, legally and inside the white line, on U.S. 1 just south of Belle Terre Boulevard. In April, 62-year-old cyclist Terrance Conley was severely injured by a motorist as Conley rode his bike on Palm Coast Parkway, just east of Old Kings Road. In that one, the motorist initially left the scene. The drivers were fined but did not lose their driving privileges. So even the law goes easy on drivers at fault for striking pedestrians or cyclists.
"The more bicyclists and walkers we have out there now that we have all the paths creates more of these conflicts," Palm Coast City Manager Jim Landon said, "but that's why we are trying to change behavior of drivers. This is one that I think, with the enforcement part of it, we really need to do that because all within the last six months I've seen videos, including at 100 and Belle Terre, of two or three bicyclists being hit, and then recently another one at Florida Park Drive, and a lot of those are right turn on red where they're looking left."
The intersection at Belle Terre and SR100 was the subject of animated discussions Monday at the County Commission and Tuesday at the Palm Coast City Council as elected officials have been on the receiving end of constituents' complaints about the hazardous crosswalk. Florida Department of Transportation officials appeared before the commission on Monday to outline a five-year plan of road projects. Specific safety improvements at that intersections are not in the plan, though the officials said that DOT is always focused on three elements to improve road safety: engineering, enforcement and education. It's the latter two, the officials said, that must have precedence in Palm Coast.
There are discussions about various possibilities, from creating an all-red-light trigger when a walker wants to cross top installing more signs to stepping up enforcement.
"The biggest thing we're finding right now is education," Craig Coffey, the county administrator, said. "Palm Coast has been working heavily, they control the intersection and DOT has been a partner at the table, so all this is being worked out. It comes down to education and just being used to people in the crosswalk and honoring the safety of those pedestrians. We have a huge education process for that and also for bikers in our county that we probably need to bark on in the coming years."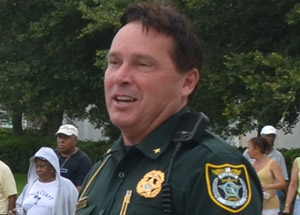 That includes educating walkers and their parents.  "I've heard some comments from young students, young kids, their parents saying it's dangerous, and I don't want my child hurt," Cmdr. Mark Carman, who's in charge of the Palm Coast precinct for the Sheriff's Office, said. "Well, they have to take some responsibility, too. If your child is that young, I don't think he should be crossing on his own regardless of what we do down there."
Palm Coast has assigned a traffic engineer to analyze every intersection in the city for potential safety improvements. And with the state transportation department's approval, more signs may be going up at the Belle Terre-100 intersection. But there are limits to enforcement. Community policing volunteers known as C.O.P. don't have the authority to pull over vehicles or issue citations—a limit officials support.
Palm Coast's code enforcement, which oversees the red-light cameras, does not have the authority to issue any citations for anything other than red-light violations. For example, the city could not issue citations to drivers who fail to yield to a pedestrian's right of way. For that to be enabled, the law would have to be changed—and state law right now, in so far as red-light cameras are concerned, is under pressure to be amended to reduce the existence or scope of red-light cameras.
There's also the matter of conjecture: "Is that person in the process of crossing the intersection or are they just standing there?" Mayor Jon Netts asked. The answer is more obvious to some than to others. "Probably, short of putting a traffic officer there 24/7," Netts said, "the only real, long-term, functional solution is four-way red with a pedestrian walk, no right on red. Stop all traffic, let the pedestrians go, then let the traffic have at it. But that's very difficult to get DOT to approve."