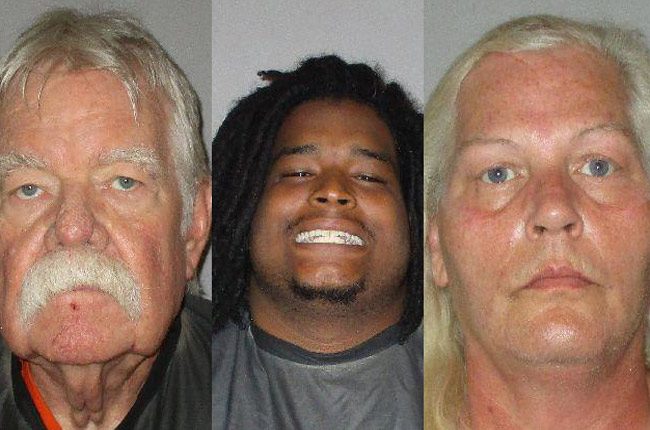 A Flagler County grand jury handed down indictments Wednesday in the three high-profile murder and attempted murder cases involving defendants Dorothy Singer, Bobby Gore and Phillip Haire.
If convicted on the charges, the three will at best serve the rest of their lives in prison, with no chance of release. Gore and Singer could possibly face the death penalty.
The grand jury handed down a capital felony indictment in the first-degree murder charges against Gore, 74, who is accused of shooting his 31-year-old son Lucas Gore to death in their Flagler Beach home at point-blank range on April 30. The grand jury likewise handed down a capital felony indictment in the first-degree murder charge against Dorothy Singer, 52, accused of shooting to death her husband, Charles Singer, and burying him in the couple's backyard sometime in early February.
It is ultimately up to the State Attorney to decide whether to seek the death penalty. Florida law states that unless the offender is younger than 18, "a person who has been convicted of a capital felony shall be punished by death if the proceeding held to determine sentence according to the procedure set forth in [sentencing proceedings] results in a determination that such person shall be punished by death, otherwise such person shall be punished by life imprisonment and shall be ineligible for parole."
"We will review the facts and make a determination on whether or not we seek the death penalty," the State Attorney's Jason Lewis said this morning in a brief interview, noting that despite the capital felony charges, "that does not necessarily mean we will seek the death penalty."
The State Attorney has 45 days from the day of arraignment to make those decisions. Gore is to be arraigned on June 12 before Circuit Judge Dennis Craig, who has not yet tried murder cases. That means the State Attorney has until the end of July to decide how to finally charge Gore. An arraignment date for Singer has not yet been scheduled.
Aramis Ayala, the state attorney in Orange County, opted to remove all capital murder cases from the death penalty docket earlier this year, believing the process flawed, only to trigger a legal showdown with Gov. Rick Scott, who removed Ayala from those cases and appointed different prosecutors. That legal confrontation is continuing in court. R.J. Larizza, the state attorney in Flagler, St. Johns, Volusia and Putnam counties, takes a hard line in criminal prosecutions and like all other state attorneys across the state aside from Ayala, is not expected to follow her lead–at least not for the same reasons.
The cases of Singer and Gore would be the first death penalty cases involving Flagler County defendants since William Gregory was sentenced to death in 2011 for the 2007 double-murder of his ex-girlfriend and her boyfriend as they slept in a house in Flagler Beach. Gregory was actually tried and sentenced in Volusia County. The jury was not unanimous in its recommendation of death, so because of recent changes in law, his sentencing is likely to be appealed.
The grand jury also handed down an indictment in the case of Phillip Haire Jr., the resident of Palm Coast's London Drive accused of shooting at a Flagler County Sheriff's sergeant and at both his parents in a double-drive-by on May 1 (coincidentally, the day after the alleged Gore murder). Haire, 19, pleaded not guilty and claimed he is being framed, with someone else doing the shooting. Haire's indictment has grown to 10 charges: two counts of attempted first degree murder with a firearm, one count of attempted second degree murder with a firearm, aggravated assault, burglary, shooting into a building, discharging a firearm from a vehicle, aggravated assault on a law enforcement officer, and aggravated assault.
The multiplicity of charges in such a case become technicalities, like the multiple shots into a body, when conviction on a single one of those charges could mean the end of Haire's life as a free man: five of the 10 charges are punishable by life in prison or are life felony charges, if convicted, which means Haire would be sentenced to prison with no possibility of release under any circumstance.