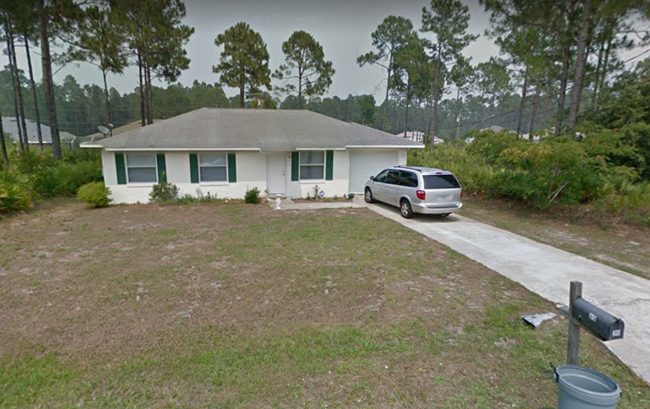 Tuesday afternoon Flagler County Sheriff's deputies were called to the house at 25 Llama Trail in Palm Coast. A next-door neighbor had called, concerned that she hadn't seen her 70-year-old neighbor, Sue Coates, in almost a week, nor seen her take out the trash on trash days.
When paramedics tried to make contact with Coates at the door, they were unsuccessful. A deputy reported smelling the odor of decomposition.
Deputies and paramedics went to the back of the house to look for a back entrance. They discovered a window that was cracked open.
"Several announcements that the Flagler County Sheriff's Office was present were made before I entered the residence," deputy Andrei Picerne, one of the sheriff's office's newest recruits, reported.
Once in the deputy made his way into the 1000-square-foot house, he reported, "I saw what looked like two German shepherds laying on the ground deceased. Upon making a further entrance into the residence, I found Sue lying on the floor in the living room between the couch and the table. It appeared that Sue was lying on her back for over an extended period without any movement. Sue's third dog was sitting next to her. Sue was alive and breathing but could not speak."
The third dog was taken outside and kept by the neighbor until animal control's arrival, and eventually taken to the Humane Society. Animal control removed the German shepherds. Coates was transported to Florida Hospital Flagler for treatment. Several attempts to locate a next-of-kin for Coates–whose full name is Sue Ann Coates–were not successful.
She had been taken ill for days, and had developed "severe decomposition on her backside of her body from laying too long in one spot," the sheriff's report states, and maggots had begun to consume her flesh. She was stabilized. The Sheriff's Office determined there were no signs of criminal activity and turned the case over to the Department of Children and Families.