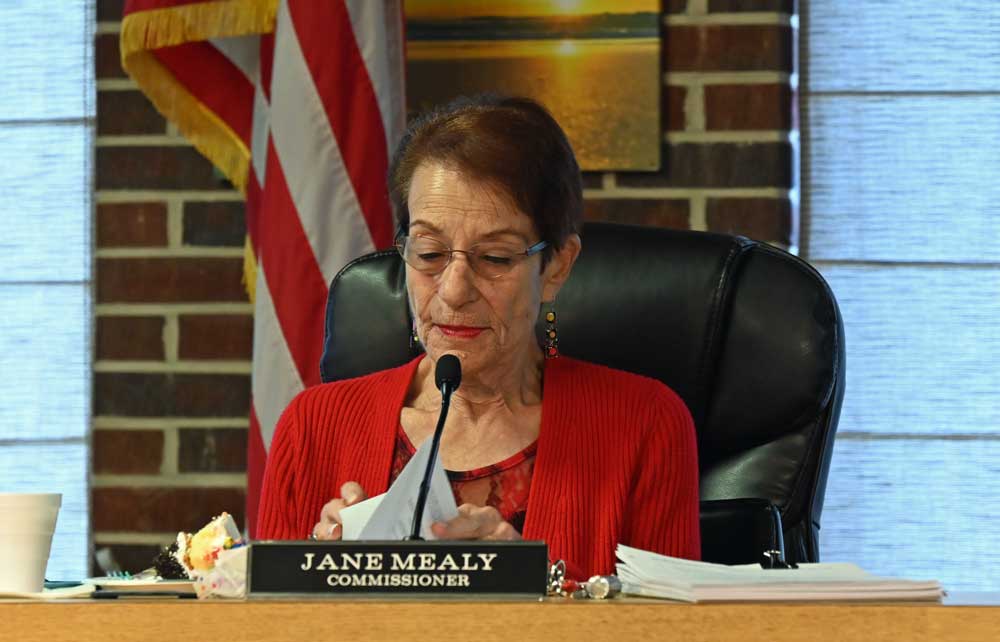 Speaking at the end of the commission's meeting Thursday evening, Flagler Beach City Commissioner Jane Mealy warned Commission Chairman Eric Cooley of unspecified "consequences" if he were to ever treat her the way he did at a special meeting last week. Cooley conceded that he had been "spitting fire," doubled down, dismissing Mealy's criticism as "armchair quarterbacking" and accusing her of not behaving like an adult.
While the two commissioners spoke with level voices, only occasionally interrupting each other and letting the matter be after each spoke, it was a rare moment of open, bitter discord on a commission that–with notable grandstanding moments in the past couple of years–has generally avoided the sort of personal clashes that have undermined other local government panels in recent years.




Mealy in her 17 years on the commission has challenged fellow-commissioners (notably Steve Settle more than a decade ago) and doesn't take kindly to men shutting her down. Last Thursday's meeting was convened to formalize the profile of the city that would be part of the search for a new city manager. Cooley thought it would take a few minutes, correcting a few facts in the draft and giving the recruiting firm direction on how to proceed. Mealy was more interested in a page-by-page review.
An already harried Cooley, who said he'd been having a difficult day, heavy-handedly cut her off and on more than one occasion spoke condescendingly of and to her and Commissioner Rick Belhumeur, saying he wasn't there for "small talk," then, addressing how salary ranges work, saying it was "pretty sad I have to explain this."
Mealy purposefully wanted to go last during commissioner comments at the end of Thursday's meeting. "Eric," she started, "if you ever talk to me again the way you did last week, there will be some kind of–I don't know what the repercussions will be, but no one in my lifetime has ever treated me the way you did at that last meeting. You weren't really nice, and you came into the meeting clearly not wanting to be here. Your goal was to get out as quickly as possible. We had a goal for being here. You kept telling me that everything I said was unimportant, it had nothing to do with it, and whatever you could say that would get us out of here. And I've heard from people all over the city, that 'How could you have that happen to you?' So it's not just in my imagination. Right from the beginning, the very first thing that was brought up, you interrupted me right away, so that we would move on to something else."




Mealy continued: "You said something to the fact that we're majoring in minors. You spent a lot of time texting. I watched the meeting again. I didn't even notice you were doing that until I watched it."
"What does that have to do with anything?" Cooley asked.
"You aren't paying attention is what it had to do with it," Mealy said.
"'You're not here for small talk,'" she quoted him again. "I don't think any of us had small talk. You may not have thought what we were saying was important, but we did. You are one of the group. We all get elected the same way. This year you happen to be the chair, whose job it is to move things along reasonably, but never to denigrate somebody in any way."
The May 4 special meeting:

Mealy said she did not sleep for two days after the meeting, "and that is not something that is acceptable to me. You said something was government 101 and it was a shame that you had to explain it. And you said to Rick that this isn't social hour, 'I'm not going to listen.' You have no right to cut any of us off. I don't know where you thought you had to be that could have been so important. We all have issues in our lives. When we're told that we have to accomplish something at a meeting. That's what we come here for."




She timed every commission member's talk time during the workshop earlier that week, and found him to talk longer than others. " So obviously you think that whatever you want to say is more important than the rest of us," she said.
"Jane," Cooley cut in, "if you're going to have an opinion, don't state my feelings that you're assuming is fact. You state your complaint. Don' make stuff up."
"I didn't make anything up," she said.
"You think my thoughts are more important than other people. Leave that nonsense on the side. Just state your concerns," he said.
"OK. What you presented at both of those meetings last week was, we need to talk less so you can talk more," Mealy said. "That is a fact, timing-wise. I'm done. I just want you to know that you did not make a lot of friends over the way you acted, especially on Thursday. And I can't, I won't put up with it. No one in my life has ever spoken to me that way in my life."
The Flagler Beach City Commission is made up of six strong-willed members, all of them–commissioner for commissioner–more engaged with each meeting's voluminous agendas than on any other local government board. The five commissioners and mayor generally get along, though if there is a fault line on the panel, it's usually between Mealy and Cooley. The fault line is exacerbated by the fact that most of the commissioners hold demanding jobs in addition to their job as commissioners, while Mealy is retired, and Belhumeur, a landlord, has more freedom with the clock. Thursday's meeting followed on the heels of a nearly 10-hour workshop the day before. By then, Cooley's patience had threaded.




Cooley conceded that on Thursday, "I was in rare form. I was spitting fire," a phrase he repeated twice more. "But, however, Number one, I don't respond to your threats, I'm not going to hear it or entertain it. I think it's completely unprofessional, out of line for you to even do that." He went on, addressing mealy: "I am thoroughly and completely uninterested in your armchair quarterbacking of the job I'm doing, so much so that you're timing how much I talk. If there was an issue on Wednesday, I would expect you to behave like a normal adult and say hey, I feel like I'm not getting my fair shake, and I would like to be able to talk more. It didn't get addressed. You're complaining about it after the fact. That's not how adults behave. So I'm not even interested in it."
Cooley said what set him off most at the special meeting was what he saw as a tangential budget discussion that was not on the special meeting's agenda, and that he thought Mealy was mischaracterizing by claiming that a certain budget plan–to hire some additional staff–had the commission's consensus. Cooley said no such consensus existed.
He said his "business texting" during the meeting was "frankly none of your business," but again agreed that he was "spitting fire," and said that was "not the usual Eric. That was a rough day." But again he doubled down on the time issue: "I also feel that you have zero, absolute zero respect for anybody's time except your own. And it shows in meetings time and time again. These are business meetings. We're supposed to be all making a group effort to get through the material as quick as possible. And that played into that. But I was in rare form anyways. So that part I want to 100 percent own. However your threads and your critiques about the job I do and all the armchair quarterbacking that you are notorious for, you've tried this with Rick in years past, you tried this with the mayor in years past to tell us what to do and how you think we should do it. And frankly, I'm just not concerned about that. If there's a procedural thing that is getting missed, or you're not being heard in a correct way, then I absolutely want to make sure that you do get heard because I have a lot of respect for you and I believe you do a really good job as a commissioner."
"If we had policy issues, I have no problem with that," Mealy said.




"A lot of the things we're disagreeing on are subjective and I think it's the stuff that that'll just solve itself moving forward," he said. (It is notable that three years after her clashes with Settle, Mealy voted in favor of electing him chair, just as she voted in favor of Cooley's chairmanship last month.)
Mayor Suzie Johnston cautioned that prospective city managers were watching. "We have hired a company at an exorbitant amount of money of $30,000," Johnston said. "They are the experts in the field. I have been an executive recruiter. That's what I was in my previous job. Let's also remember we have some potential city managers that are watching, that when we're micromanaging–I'm going to use that word–an executive search firm on what they are the subject matter of, it's going to reflect on our city and how we act as a commission, and we need to keep that in mind. We need to let the subject matter [experts] do what they are best at."