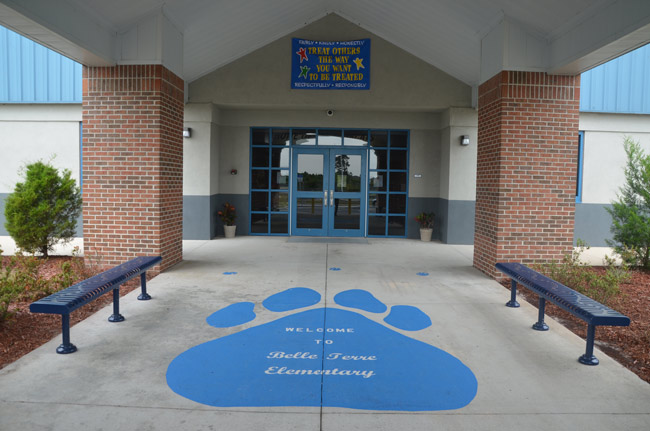 They were neither shy nor restrained. They begged. They pleaded. They Lectured: one home builder after another, one top representative of the Flagler County Chamber of Commerce after another, asking the Flagler County School Board Tuesday evening to suspend its building tax for two years—the so-called impact fees that builders pay one time on new homes or businesses, and pass on to property owners.
Those fees foot the bill for the infrastructure demands that new construction causes—new schools, new parks, new roads. Eliminating them jeopardizes local governments' abilities to meet those needs, especially at a time when government coffers have shrunk, as the school district's has. But builders and the chamber argue that suspending the fees for two years will help the battered local building industry back on its feet and put people to work.
They did not convince the school board despite a long case for it by Andy Dance, a school board member who closely aligns with chamber interests. "We've got to do something" to keep families in classrooms and families in the county, Dance said. "This is one way the school district can help in conjunction with other governments." But when Dance made a motion to adopt a two-year moratorium similar to the one the county passed Monday, it died for lack of a second.
All local governments levy impact fees, though the county has just suspended its transportation and impact fees, which total $1,707 for a single family home. Bunnell has a similar suspension on its books. The school impact fee is $3,600 for a single-family home. It is generating about $500,000 a year for the district. That money goes into an escrow account, now totaling $3.5 million. It cannot be used for anything but school construction.
The initiative is being pushed by the Flagler Home Builders Association and the Flagler County Chamber of Commerce. Getting the county and the school board was only part of the strategy. The big prize is Palm Coast, where impact fees are just over $15,000 per new home, and where, so far, Mayor Jon Nets has been steadfast against a moratorium, calling it irresponsible and short-sighted. The builders and the chamber were hoping that with the county and the school board going along—and increasing the pressure–"the city of Palm Coast will fall in line," as Doug Baxter, president of the chamber, put it to the school board Tuesday evening.
The board's rejection is making the chamber's and the builder's campaign that much harder.
But the builders' case before the board, similar to the case before the county commission,  was made without any evidence that a moratorium would generate significant employment or an increase in building permits. School Board member Colleen Conklin made that point explicitly, saying none of the research she'd done showed that correlation. "This is a national issue. It's not a building issue," she said.
Yet virtually every three-minute presentation to the board, including those of Garry Lubi, who heads the chamber, Charles Rinek and Luis Medeiros, both past presidents of the local home builders association, and several builders, was summed up by one common theme: that a moratorium would help their industry. They argued that by doing so, most other local industries would be affected, because construction plays such a large role locally. But they had little convincing evidence.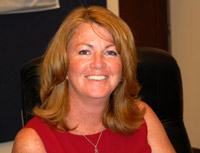 "I don't see that eliminating or doing away with the impact fees are going to help the real issue, and that is the economic development of this county, and jobs," Conklin said.
Board member John Fischer said a few more homes won't put very many people back to work—not when many homes remain unsold. He also didn't like the contradiction between asking voters just two months ago to approve a sales tax levy only to ask them to agree to "give something back" to the builders.
And Sue Dickinson, the chairman of the school board, directly addressed Baxter's hope of a domino effect in governments adopting moratoriums. "I don't believe in my heart that all governments are going to come together on this," Dickinson said, going on to speak as forcefully as Dance did, but from the opposite perspective, against undermining the district's long-term finance. "We have to look at the whole general population of the county, we can't just look at one group of people," she said.
There were two surprises among the dozen people who spoke to the board, one of them likely the strongest clincher for them: Tom Tant, the district's finance director, who seldom wades into political issues except to provide numbers, did so the way a general might appear before a congressional panel to talk about a military decision civilians presume to make. He knew the weight of his words and figures.
Tant reminded the board that when it adopted school impact fees in 2004, the independent consultant hired to figure out what those fees should be had recommended a fee of close to $6,000 per single family home. The board adopted a far smaller fee.
"So when the school board did enact the impact fees back in 2004, they were being very generous to the community and to the builders to reduce almost less than half what the impact fees were calculated by this independent group, and this was back in 2004 when we were receiving $18 million in PECO money that offset a lot of the cost," Tant said. PECO is Florida's school construction fund, or Public Education Capital Outlay fund. It's mostly depleted. And what money remains, the state is handing out to charter schools, not traditional public schools.
Tant continued: "We don't receive any PECO money now. Our capital funds have decreased from $24 million to $9 million, and our debt service is still at $6.3 million. So as you can see, our capital funds are very depleted."
While the district is collecting just $500,000 a year, it may not sound like a lot, Tant said. But, he added, "if we have to build a school in five or 10 years, with this impact fee, we could have enough money to actually build that school; in cash, for the growth that the new construction is causing, and therefore we would alleviate a bond issue. A bond issue for $20 million is at least half a million worth of financial costs, plus the interest we would be charged. So my contention is, if we continue with our minimal impact fees, we will in the future have the money to build the schools we will need as construction picks up."
The second surprise was the appearance of Flagler County Commissioner Alan Peterson, who was the lone dissenter against his colleagues vote for a moratorium on Monday.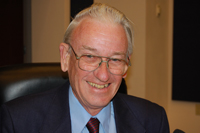 "I'd like to represent the 80,000 adults who currently are living in Flagler County, who will be adversely impacted if you put a moratorium in your school impact fees," he said. Unemployment isn't just about construction, he said. It's every industry. "There is no correlation between a reduction in impact fees and economic development. Polk County eliminated their impact fees two years ago and did a study and could find no relationship between the reduction or the elimination of impact fees and additional employment. Volusia County has no impact fees, but Volusia County's school population is declining. Flagler County's is not. We have a lot of houses here available for sale. As those houses are sold and occupied the school population is likely to rise."
He added: "If a moratorium is implemented and additional building is created because of it, it will lower the tax values, because you've increased supply, you've done nothing to help the houses and the people who are already here."
"Sorry folks," Dickinson told the disappointed group of builders and chamber representatives as their filed out of the board room at 8:20 p.m. this evening, in sharp contrast with the applause that had rung out in the same chamber when the commission had adopted the moratorium.

2012 Impact Fees for a Single Family House in Flagler County, Bunnell, Flagler Beach and Palm Coast
| Flagler County School Board | Schools | $3,600 |
| --- | --- | --- |
| Bunnell | Water | $1,800 |
| | Sewer | $1,800 |
| | Transportation | $1,438.10* |
| | Schools | $3,600 |
| | Total Impact Fees in Bunnell: | $8,638.10 |
| Flagler Beach | Water | $1,891.60 |
| | Sewer | $2,733.20 |
| | Transportation | $1,438.10* |
| | Parks and Recreation | $268.45* |
| | Schools | $3,600 |
| | Total Impact Fees in Flagler Beach: | $9,931.35 |
| Flagler County | Transportation | $1,438.10* |
| | Parks and Recreation | $268.45* |
| | Schools | $3,600 |
| | Total Impact Fees in Flagler County: | $5,306.55 |
| Palm Coast | Parks and Recreation | $1,208 |
| | Fire and Rescue | $189.75 |
| | Transportation | $2,827.56 |
| | Water | $2,430 |
| | Sewer | $2,480 |
| | Water and Sewer Required Hookup Charge | $2,535 |
| | Schools | $3,600 |
| | Total Impact Fees in Palm Coast: | $15,270.98 |
(*) The Flagler County Commission on Oct. 1, 2012, suspended the transportation and park impact fees for two years.