Several years ago on my drive home from work, I was tormenting myself with the bleating of a local radio personality who called himself "The Kimmer." Typical of Atlanta radio, he was the sort of mean-spirited lout who aims for laughs by poking fun at the homeless and other unfortunates. On this particular afternoon, he was decrying a local government initiative that provided breakfast at school for disadvantaged kids, and his callers were chiming right on in.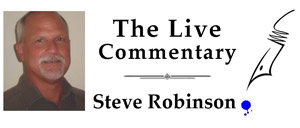 Listener after listener was given a minute or two to vent along the lines of "Why are the schools spending our money to feed these kids," and "Why don't their parents give them breakfast." The venom was astonishing. For the first and only time in my life, I picked up my cell phone and dialed "The Kimmer" and, wouldn't you know it, I got through to the producer. I gave him a quick summary of my point of view and, after a moment on hold was on the air. "What kind of people are in favor of punishing children for the sin of being poor," I said. "A society that doesn't make a priority of caring for its children is doomed." That was quite enough for the Kimmer, who cut me off and doubtless lambasted his producer for putting a caller through who wasn't on the team.
I thought about this while watching the ugly images of Americans in border towns in California, Arizona and Texas, protesting the arrival of children from Central America. These are children from countries where there is no hope for a productive life, whose parents have paid "mules" to transport the children thousands of miles in the hope that citizens of the Land of Opportunity will offer them a shot at a normal, peaceful life.
The countries—Honduras, El Salvador, Guatemala—are wretched places beyond the imagining of most Americans. Their governments are corrupt, their police forces are a joke, and they are ruled by violent gangs. An example? A correspondent with The Arizona Republic described on NPR one Guatemalan woman's predicament: She has three daughters, and one day there was a knock on her door. "Get their bags packed," a man commanded her. "They are coming with us." Her daughters were about to become the "girlfriends" of one of the gangs. In these desperate countries, you don't pick up the phone and dial 911. You say goodbye to your children, perhaps forever, in the hope that someone in the benevolent U.S. will provide with them with safety, security, a life.
And here in the U.S., people who call themselves good Americans are greeting these children with signs, shrieks and bile. "They have diseases," one man told a reporter. "We don't really know who they are." Yes, we do. They are children, and that's all we need to know.
Many commentators have weighed in on this topic with far more eloquence than I can muster. David Gergen, a man who has served presidents of both parties, compared the current border crisis to the refusal of the U.S. government in 1939 to allow the German ship St. Louis to disembark its passengers, Jews who were fleeing the Nazis. The ship was forced to turn back, and 255 of the 620 men, women and children on board would die in World War II, some of them in concentration camps. "Moments inevitably come that define who we are as a people," Gergen wrote. "How we respond to these thousands upon thousands of desperate, destitute children is one of those moments. Will we turn our backs, as we did so shamefully to those Jewish refugees years ago? Or will we live by our ideals? That is the choice we now face."
What are we to make of people who will stand in front of a TV camera and say they don't want "those" people in their town? What are we to make of people who know so little of their beloved country's history that they will make a mockery of the Statue of Liberty's welcoming torch by greeting busloads of terrified children with shouts of "Go back where you came from"?
The U.S., where we each throw away more cash every day in supermarket plastic bags than some of these children's families make in a month, needs to show the world that it has not relinquished its ideals. "My God. This is a humanitarian crisis," a woman named Kathleen McQuillen said to CNN. The Iowa Program Director of the American Friends Service Committee, McQuillen pointed out that the cost of saving these children is a pittance compared to the trillions we so willingly spend on war. "It's a simple thing to say," she added. "What's important in this world?" The answer is: The lives of children.

Steve Robinson moved to Flagler County after a 30-year career in New York and Atlanta in print, TV and the Web. Reach him by email here.