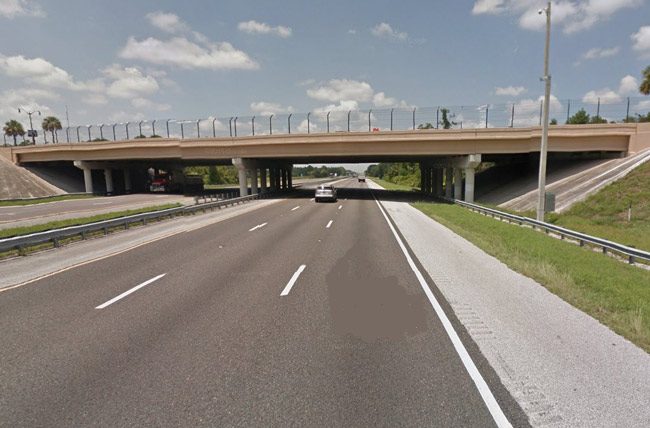 There will be no $200,000 sign spelling out "Palm Coast" on the Palm Coast Parkway overpass at I-95, the city council decided Tuesday: the backlash was too much after the story came to light.
"Over the last five or six days I've gotten more phone calls and hate mail and all kinds of nasty things on the I-95 sign," Council member Steven Nobile, who was the sign's most ardent supporter, said, opting out of the proposal. The FlaglerLive story detailing the proposal drew upward of 400 comments, a significantly high number for a local government story, all but a handful opposed. The opposition was in turn angry, disbelieving, ridiculing and often aghast that such a proposal would be put forth to begin with.
City Manager Jim Landon first proposed the idea to the council in March 2016, before a different majority of the council, calling it "branding." At the time he said the cost would be $50,000 to $100,000, a gap that troubled one of the council members. He was not given a go-ahead so much as told to further explore the details of the project before the council could decide. He brought back the idea to the council last week, and mentioned in passing, in a mumble that council members likely did not hear clearly, that the cost was now estimated at $200,000, never noting that it was double or quadruple what he had told the previous council.
He provided little context for the project, did not mention that the money, coming out of the street improvement fund, is discretionary and could be spent on more pressing needs (street repairs, sidewalks, paths), nor explained why the cost was so high. He said it gives Palm Coast the chance to have a sign like Orlando and Jacksonville, but did not explain why Palm Coast, ranked 30th in the state by population, should have a sign mimicking those of the most populous city (Jacksonville) and that of one of the world's top tourist destinations. Nobile spoke enthusiastically about the proposal, which drew just a few minutes' worth of attention before the council moved on to a different topic.
It was only the latest in a series of miscalculations by Landon. The public response was swift and unforgiving.
The council had given Landon the go-ahead for the project at a workshop, when Landon, as is his wont, noted that he didn't need the council's approval to move ahead for the stage his staff was working on, but just wanted to get an idea of whether the council was still on board. On Tuesday, Nobile asked when the council would get a chance to weigh in more formally. That would have possibly be to approve the cost of design, but only if that cost exceeded $30,000.
The initial estimate for design was over $30,000, Carl Cote, the city's construction manager, said. He was trying to bring it down below $30,000. Landon made clear why: "The reason why that's important is if their contract for the design is over $30,000 that would have to take approval from the city council, if it's not, it would not require your approval," Landon said.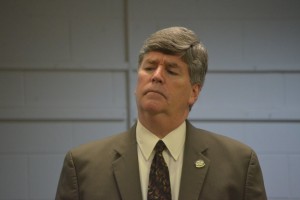 And by not requiring approval for that step, Landon would accomplish what he's done in the past: get the first, crucial phases of a project completed and paid for, then present additional steps that do require council approval, but make rejecting the project much more difficult, since thousands of dollars would have already been spent.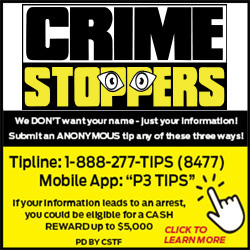 It didn't work that way this time.
"What people are saying is there's needs and there's wants," Council member Heidi Shipley said, echoing one of former Mayor Jon Netts's favored phrases when it comes to spending tax dollars. "And after our taxes got raised, they're saying we don't want you to spend any money unless it's a need. And they don't see this as a need. I don't see it as a need. They don't see it as a need, and I think it's something we need to put on the back burner. It's just not necessary right now. I think that's what they're looking for, for us to only do the things that are necessary. That's how I take all that hate mail."
Nobile agreed, though he took a round-about way to get there after himself throwing the stop sticks on the idea. (He and Shipley face a re-election campaign in a few months and cannot afford the sort of public backlash that seizes on easily defined issues.) He said he still thought the sign was a good idea "to raise awareness of Palm Coast." He did not explain why the more distinctive and often arresting sight of the Palm Coast sign on the enormous water tower by I-95 was not accomplishing that very purpose, as Mayor Milissa Holland suggested it was last week, though not to oppose the additional signage. Nobile suggested that the $200,000 sign would "pay for itself" in the form of tax dollars ("I'm not talking about people coming in and saying oh I want to live here now, but getting off and using our gas stations and restaurants"), an unlikely result, at least for many years, as the bulk of sales taxes are remitted to the state and only a fraction of gas taxes return locally–feeding the street improvement fund, but usually not to pay for advertising signage.
"However," Nobile went on, "I don't believe that if we don't put it up, we're going to lose anything. So we're not going to get hurt if we don't put it up. Given the attacks and the firm objections to this project, I would suggest one of two things. That we don't move further on it, or we bring up the design for a vote regardless of what the price is, so we can do it that way, bring it up or down, before any more real dollars are put in. $30,000 is significant to put into something that may not pass."
He then suggested to simply "put it on hold." Holland agreed. "We have flooding in the streets, we need to make tough decisions about stormwater issues," she said, "that's a critical need for our community. Those are decisions that are tough for some time. Signage is not one of them."
Later in the meeting, Landon wanted to be clear: Landon: "I wasn't real sure if we're talking about bringing it to city council for a formal project or just stopping the whole project?" he asked the mayor.
"I think we're stopping the project," Holland replied unhesitatingly.