The first draft of a new set of Florida congressional districts is taking criticism from several fornts this week, with two members of Congress blasting the plan and some state lawmakers suggesting they would draw their own maps, and now Sen. Travis Hutson, who represents Flagler County, criticizing the 6th Congressional District maps for cutting St. Johns in two.
"The current base map divides St. Johns County near it's southern end, separating a significant portion of the county's population into two different congressional districts," Hutson wrote Bill Galvano and Jose Oliva, co-chairmen of the Legislature's Joing Committee on Redistricting, on Tuesday. "To deprive St. John's County [sic.] of cohesive representation at the federal level is a disservice to our community, and I wholeheartedly request this committee's reconsideration of a congressional map to provide adequate representation for the county's unique population."
The current congressional district includes all of Flagler, St. Johns and Putnam, and a sliver of northern Volusia County. The proposed district would still include all of Flagler, but would no longer include Putnam, and would take in all of Volusia County. The sliver, this time, would be from the southern portion of St. Johns County.
Hutson's opposition is not a surprise for two reasons: he is from St. Johns County, but if he were to decide to run for Congress–in what will be an open seat regardless in 2016–he would lose the base of his backing, which is predominantly in St. Johns. He is well known in Flagler, where he's run two successful campaigns and was reelected without opposition once, but he is not as well known in Volusia. A district that encompasses mostly Flagler and Volusia, as opposed to Flagler, St. Johns and Putnam, would also tilt less to the right than it has, again hurting a possible Hutson run for congress.
Hutson submitted different reasons for his opposition to the proposed district: "By dividing St. Johns County's population centers, Congressional District 6 becomes a Central Florida seat, and Northeast Florida loses a congressional delegate, a reduction from four to three delegates, effectively undermining the rapidly growing region's ability to bargain at the federal level," Hutson wrote. "In an effort to maintain appropriate and adequate representation, I ask for your consideration that St. Johns County remain singularly under one congressional district."
The district has been represented by John Mica and, more recently, by Ron DeSantis, both staunch conservatives. DeSantis is running for Marco Rubio's U.S. Senate seat in 2016, making him ineligible to run for the congressional seat.
The criticisms came on the second day of special session called to redraw the districts after the state Supreme Court struck down the current map as unconstitutional. And while staff members say they took care to stick closely to the court's decision when drawing a "base map" for the Legislature to consider, some lawmakers were already considering changes after a lengthy hearing Tuesday.
---
Opposition to splitting St. Johns County, though Flagler would be left whole.
---
Among other complaints: An attempt to change the orientation of the district represented by Democratic Congresswoman Corrine Brown could disenfranchise African-American voters while splitting Leon County. Brown's district currently runs from Jacksonville in the north to Orlando in the south; the Supreme Court ordered lawmakers to make the district run east to west.
Also, some lawmakers were upset that the plan appears to undo a Tampa Bay-area district that could prove welcoming to minority candidates and would divide Hillsborough County among four districts. Meanwhile, Republican Congressman Daniel Webster said the changes to his Central Florida district would violate the state's anti-gerrymandering "Fair Districts" amendments — under which the current map was struck down — because they would hobble his re-election chances.
Galvano, R-Bradenton, said he was considering changes to the base map (SB 2B) after a joint meeting of his committee and its House counterpart, both controlled by Republicans.
"I want to digest what was put forward today," Galvano said. "I think some significant issues were raised, and obviously, there continues to be some angst about how we got into this map from a procedural standpoint with the court, and then the fact that many feel our hands are tied with regard to the east-west configuration."
Brown announced Tuesday that she would file a lawsuit in federal court aimed at keeping her district as is. She had initially attempted a complicated legal maneuver to use another lawsuit to defend her district, but the plaintiffs in that case quickly asked for it to be dismissed.
Brown argues that the proposed district, which President Barack Obama carried by more than 28 points in 2012, would not vote for a white Democrat, much less an African-American one. Supporters of the east-west orientation say it would preserve the ability of black voters to elect a candidate of their choice, as required under the federal Voting Rights Act.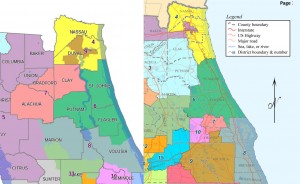 The new district has also run into opposition from state lawmakers based in Leon County, which would be split between two districts under the new plan. Currently, Leon County is entirely within a single congressional district.
Jon Ausman, a longtime member of the Democratic National Committee, presented a plan to lawmakers for an east-west district that would keep the county together, giving it 42 percent of the vote in a congressional election. Ausman, who drew the map with the help of a Democratic consultant, said politics did not motivate the plan.
"My prime interest is Leon County being intact, the city of Tallahassee being intact. … You want to draw any other district? Fine with me. Just keep Leon County intact," Ausman said.
One of the Legislature's lawyers, George Meros, said testimony in the trial suggested that voting in Leon County was so polarized that including the entire county in one district could hamper the chances of an African-American candidate. But supporters of uniting Leon say the county has elected African-Americans before, even from districts where black voters are the minority.
"It is probably, in my opinion, the least polarized county in the state of Florida," said Leon County Supervisor of Elections Ion Sancho.
Sen. Bill Montford, D-Tallahassee, said he would work to try to find an amendment that wouldn't split up Leon.
"I'm less optimistic today than I was yesterday," he said, pointing to testimony in front of the committee that the district must run from east to west. "If that's the ground rule, then what we have to do is continue to try to find a district east and west that will keep Leon County whole, and that's going to be the challenge."
Meanwhile, Webster — who had so far maintained a low profile in the redistricting fight — appeared at the meeting to urge lawmakers to reject the new plan. Webster said the plan targets him, a violation of the part of the Fair Districts amendments barring anything that favor or disfavors an incumbent. Obama carried the proposed version of Webster's district by 22 points in 2012.
"The new configuration for District 10 makes the seat uncompetitive for anyone in my party, including me. … This new plan not only disfavors an incumbent, but it appears to be an attempt to eliminate an incumbent," he said.
Webster said he didn't know whether he would run for re-election to the seat or take another tack if the base map is approved.
Sen. Tom Lee, R-Brandon, said he would join with Senate Democratic Leader Arthenia Joyner of Tampa to try to find a way to preserve a minority-access district in Hillsborough County. A current district meant to prove welcoming to minority candidates by providing a coalition of African-American and Hispanic voters is expected to lose some of its minority population after the Supreme Court ruled that lawmakers should try to avoid drawing lines that cross Tampa Bay.
"At the same time, I would like to work on consolidating the rest of Hillsborough County so that it doesn't continue to be a donor county to all of the other smaller counties who don't have the population to create their own congressional district but want to come into Hillsborough County and pick it apart," Lee said.
Hillsborough is already split among four districts under the existing plan. The proposed map would continue to divide residents among four districts, though one district would be wholly contained within the county — something that is not currently true.
The House and Senate committees plan to meet separately on Thursday. Lawmakers hope to complete the special session by Aug. 21.
–FlaglerLive and the News Service of Florida