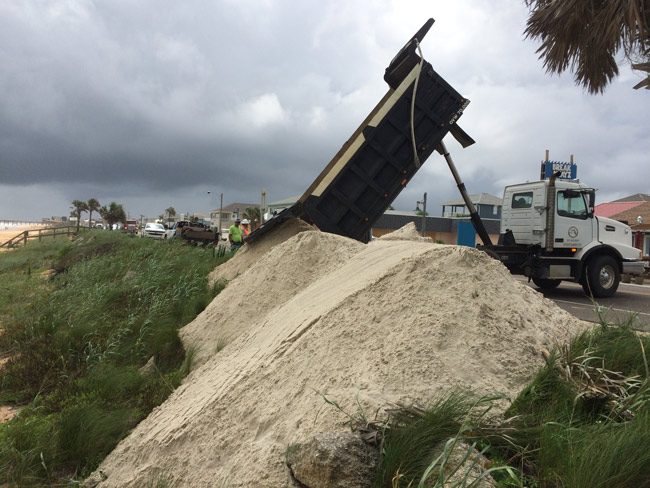 Hurricane Irma is playing yo-yo with Flagler County. Its latest track has emergency officials breathing some guarded relief as far as Flagler Beach and the rest of the barrier island is concerned. There's not as much relief over what could be a more severe wind impact on much of the county, including 1,564 mobile homes, RVs and trailers.
The cone of uncertainty is narrowing enough that an Irma impact in Flagler is becoming increasingly certain, particularly because of the size of the storm, even if not absolutely so. The better news is that it is "deviating west," in County Administrator Craig Coffey's words. That will lower the concerns over a storm surge, which would be about 6 to 8 feet or possibly even less instead of up to 10 feet, a substantial difference that could mean the difference between Palm Coast canal zones flooding and not flooding.
The storm's track has shifted substantially west, so that its center now looks as if it would graze western Flagler rather than smack the heart of the county, and do so after crossing most of Florida's land mass, which will weaken the storm with every mile it advances north. Irma also will be moving through the area somewhat rapidly, which further may lessen damaging impacts. But the storm has also been shifting back and forth between an eastern and a western path, forcing officials to react in kind, rescinding, for example, the voluntary evacuation orders they'd issued Thursday–especially any advice to evacuate out of the county–and asking residents instead to plan to stay in place, if they have modern homes, or to possibly evacuate to local shelters only.
"These wobbles are driving us mad," Coffey said late this morning. More firm mandatory evacuation orders may be issued later this evening, likely after the National Hurricane Center's 5 or 8 p.m. storm update. If such mandatory orders are issued, they will be targeted to specific areas, most likely along the Intracoastal and canal zones, as well as to residents of those 1,564 mobile structures, and residents in those areas and structures will be asked to evacuate to any one of three local shelters (or four, if they have special needs).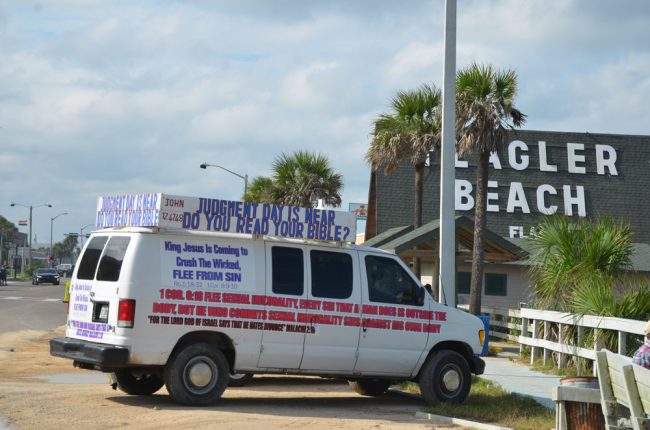 "We've got to be more strategic about who we tell to evacuate," Coffey said, and to do so toward shelters–not to the road. "We don't know where to tell you to evacuate," he said, other than to a local shelter, given the conditions and the storm's track in the rest of the state and further north. "We don't need self-evacuees to go to a shelter if they're otherwise in a modern structure, because we don't have the capacity" at the shelters that will be open.
Emergency officials are, in fact, opening four, not two, shelters, and doing so Saturday at 7 a.m.
Those shelters are Bunnell Elementary (305 N Palmetto St, Bunnell), Buddy Taylor Middle School (4500 Belle Terre Pkwy, Palm Coast), Wadsworth Elementary (4550 Belle Terre Pkwy, Palm Coast), and Rymfire Elementary (1425 Rymfire Dr, Palm Coast). The Rymfire shelter is for special needs. Some 600 people have already registered for it. Wadsworth and Buddy Taylor may feel like one shelter, as the two schools share key properties.
The school district is staffing all but the Rymnfire shelter, which is staffed by the Department of Health and medical personnel, but still with support staff from the school district–which provides cooks, custodians, fuel supplies and supervision at all shelters. Principals are in charge at Bunnell, Wadsworth and Buddy Taylor. Health Department Director Robert Snyder is in charge at Rymfire. The sheriff's office is providing security at all shelters. (Sheriff Rick Staly said that if his deputies recognize anyone who has a warrant out on him or her, that person will be taken to jail. The question of sex offenders seeking shelter had not been resolved as of Thursday, though there were discussions about segregating sex offenders, should the need arise.)
The current storm track "is actually worse for us in many respects," Coffey said. "It puts the whole county at risk."
Emergency officials expect the more severe winds to arrive in the county in late afternoon Sunday. At that point, when sustained winds reach 45 mph, emergency service responses across the county, including in the cities, will shut down: that means if you call 911 for a medical emergency, or even a weather-related emergency, including help to be evacuated, emergency responders will not respond to you, except by phone: they will be manning the 911 center, logging every call for help and triaging those calls so that as soon as they are again able to navigate the streets, they will start responding to them. (During Hurricane Matthew's lockdown, a woman called 911 with a heart-related emergency. Responders could not go to her. Instead, they talked her through the issue to the extent that they could, over the phone, until they were able to reach her physically. But the reality is that if someone has a heart attack, a stroke or any other kind of dire emergency during the lockdown, that person is on his or her own.)
The same order applies to residents, who are asked not to be on the streets, not to seek shelter at the four designated shelters once the storm is in the region, and not to wander out to catch a glimpse or play storm-chaser.
Meanwhile, Flagler County's Emergency Operations Center, along with the county's entire emergency response network, expects–at this point, anyway–to go into lockdown at 6 p.m. Sunday, and to stay in lock-down until 6 p.m. Monday, assuming Irma's winds are dangerous enough in the region for that entire period. The lock-down period may be lifted after just 12 hours, Coffey said, assuming the storm passes through faster. During lockdown, all government and emergency employees are to remain in place, either at EOC or in their designated places, to prevent any injuries to the very personnel on whom the county will rely for the emergency response once the storm has passed.
Officials are expecting winds of 100 mph in the area, with gusts of up to 120 mph. But expect both bridges across the Intracoastal in Flagler–the Flagler Beach bridge and the Hammock Dunes bridge–to be closed as soon as sustained winds reach 45 mph. The Flagler Beach pier is already closed until further notice.
The County's Emergency Operations Center is currently at Level 2, one level up from its normal state. It will go to Level 1, its most heightened state, Sunday morning, at which point government representatives from all local agencies will be there. Meanwhile, the county's call center is fielding residents' calls (at 586-5111), with some of the top concerns relating to questions about evacuations and about sandbags.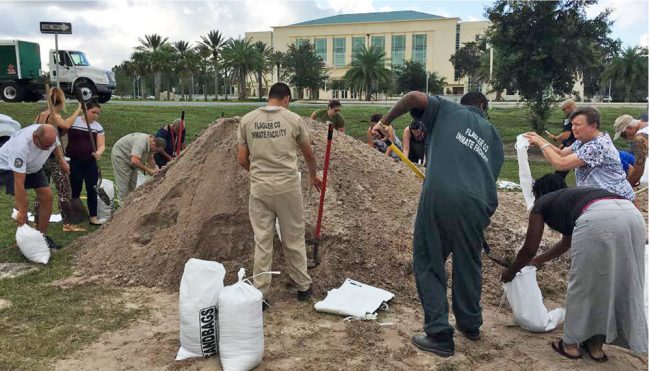 Regarding sandbags: it has been a hit-and-miss sort of thing, with local governments doing their best to keep a supply of bags coming, but sometimes having a hard time keeping actual bags in stock. Sand has not been a problem, however, and anyone who brings heavy duty garbage bags to sand bag locations, such as county fire stations, Palm Coast's Public Works or City Hall locations, and Bunnell's fire station on State Road 100, or at the community center in the Hammock, will get bags filled up.
Staly has inmates at Bunnell Fire Station 62, at 1601 Old Moody Boulevard, to help fill sandbags. There are plenty of sand bags available at this location. Self-serve sand is available at Fire Station 92 on Airport Road, but at this location you will need to bring your own bags. By 2:30 pm, all the sand and inmates were gone.
Beyond the storm, emergency officials are already pre-planning for the response on Tuesday and beyond. They are expecting widespread and persistent power outages, widespread tree damage, some damage to homes and other structures, and a much longer wait for help, if it needs to come from outside the county, than in more localized emergencies, as that help will be summoned to areas of the state with much larger population centers–not least of the Miami, which, for now, is in the way of a direct hit from Irma.
Still, local crews are preparing to hit the streets rapidly once the wind emergency is lifted. In Palm Coast, for example, public works crews are prepared to repeat the assault they carried out on trees fallen across roads after Hurricane Matthew, quickly clearing roads–from the busiest to the least busy–with clearing the way for emergency vehicles and Florida Power and Light trucks as the priority. Palm Coast crews have also been at the ready to respond to pep-tank problems (the septic-tank variant for many Palm Coast homes), which kept crews very busy last year as the pep tanks filled up and power was not available to empty them out. This time, utility crews will be joined by Palm Coast workers from other departments to tackle similar problems once they arise.
The region is expected to get 5 to 8 inches of rain.
The county's and city's policy group, an assembly of all local government, law enforcement and emergency response leaders, is meeting daily to devise a unified response and to decide on such things as evacuation orders, shelter openings, bridge closings and so on.