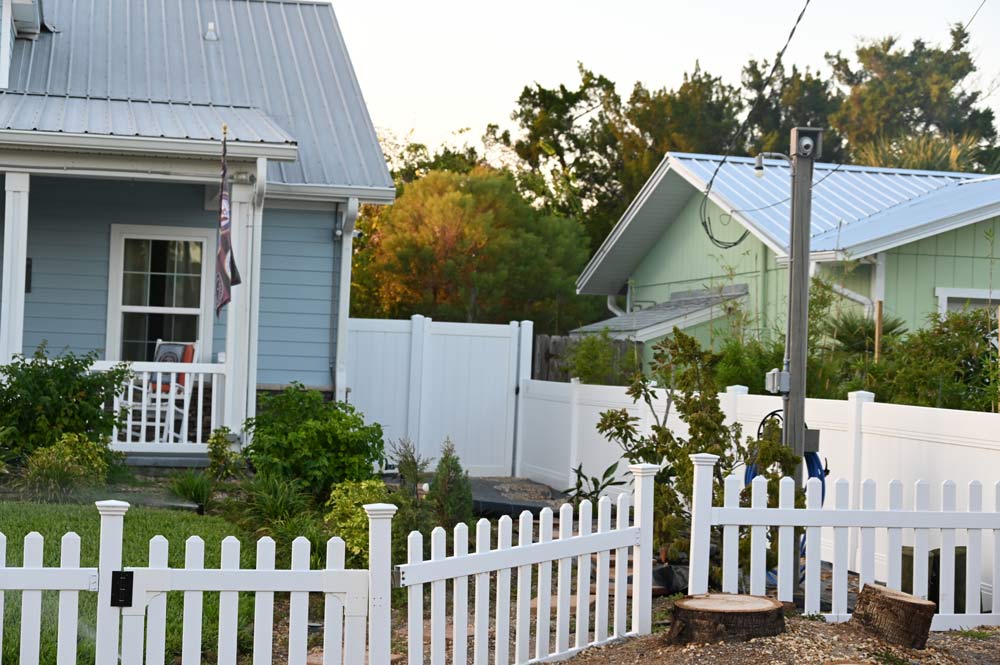 The State Attorney's Office on Monday filed four charges against Kerri Huckabee, the Flagler Beach resident and Montessori school owner arrested in September in the culmination of a long-running feud with her next-door neighbors.
The charges include a second degree felony count of firing or throwing a deadly missile into a building, and a third degree felony count of resisting arrest with violence. Flagler Beach police officers say she kicked two officers three times during her arrest.




The State Attorney's Office dropped one charge of resisting arrest with violence and added a misdemeanor charge of criminal mischief stemming from an earlier incident in July, when Huckabee, 54, is alleged to have sprayed her neighbors' surveillance cameras repeatedly with water, damaging and shorting some out. James Nardone, her neighbor, opted to pursue charges in September after he says he and his wife were repeatedly harassed and insulted by Huckabee and her family, and were the target of her stone-throwing and other attempts, some of them successful, to damage property.
Huckabee accused her neighbors of using the cameras to spy on her or snoop on an outdoors shower attached to the side of her house, facing her neighbors' house. a high fence separates the two properties, which are in very close proximity to each other. But a surveillance camera on that side of the house is situated high near the roof.
The charges are not a minor matter: together they add up to a maximum penalty of 20 years in prison, though it is almost certain Huckabee would not face anywhere near that, even if convicted on some of the charges, having a clean record and being a first-time alleged offender. But Nardone recorded many of the disputes, including what he says are Huckabee family members' voices–one in particular–threatening to use a firearm.




Huckabee was booked at the Flagler County jail after her arrest and spent a night at the jail. The next day, she went to AdventHealth Palm Coast to treat injuries she had sustained at the jail. An jail incident report narrates what took place. The report states Huckabee had been "uncooperative" during the booking process. She was fingerprinted and photographed without incident, "but when ordered to conduct the body scan prior to being placed in a facility uniform, she became uncooperative and stated that she would not be dressing out in a facility uniform and continued moving in the body scanner so a proper scan could not be completed," the report states.
"When the inmate was directed to exit the body scanner and dress in facility issued clothing, she refused."
At nearly 1 a.m., a deputy attempted to take her out of the body scanner and to Huckabee's cell. "Inmate Huckabee attempted to pull away and then struck Deputy Arzon on the inner arm with a closed fist," the report states. Two deputies took her to the ground and placed double-locked hand-restraints on her, as well as leg restraints, then placed her in a restraint chair. "Huckabee received a small laceration to her right eyebrow but refused medical treatment as documented in the axon video as well as by medical staff," the report states.
She was rolled in th chair to a cell, where she was monitored and asked repeatedly if she wanted a medical evaluation and attention, according to the report, which she declined.




She had been placed in the chair at 45 minutes after midnight. She was taken out of the chair at 1:37 a.m., when she was dressed in a jail uniform and taken to a cell. "Huckabee once again refused medical attention and refused to conduct her medical intake," the report states.
A person familiar with her case at the hospital said the "facial abrasions were extensive and deep."
A pre-trial is scheduled for Dec. 20 at 2:30 p.m.