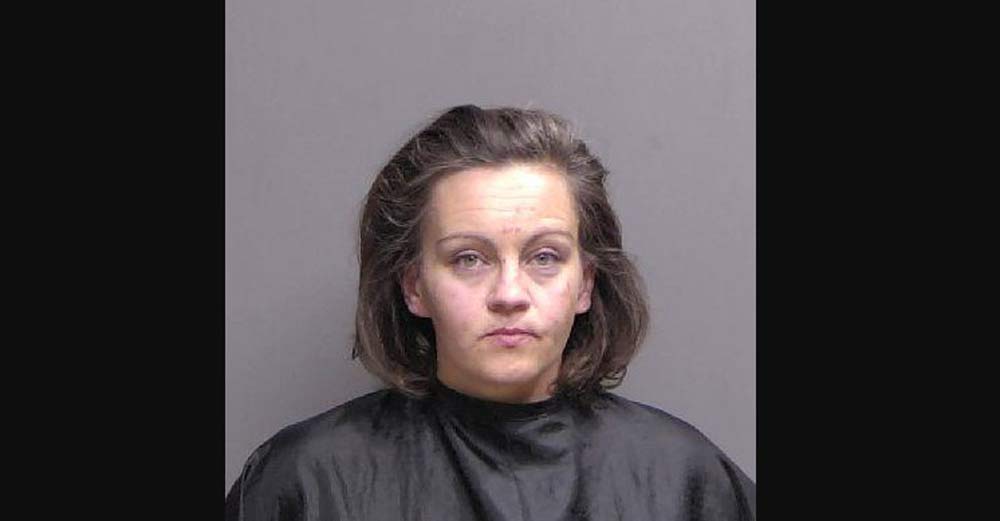 Amanda Hopkins, a 33-year-old Smith Trail resident of Palm Coast, was arrested on a felony child abuse charge late Wednesday night in Flagler Beach after witnesses reported she brutalized her 7-year-old daughter by the side of State Road A1A, near South 6th Street, in what appears to have been a drunken rage.
The person who reported the incident to 911 said it had drawn other people, who had intervened to protect the child.




A Flagler Beach police officer arrived at the scene within two minutes of the 911 call to see Hopkins still screaming at the child–so much so that Hopkins did not notice the officer.
The child was "visibly distraught and crying," according to Hopkins's arrest report, and immediately pulled away from her mother when she noticed officer Evan Schorr. "I'm telling my mom the truth," the child told Schorr, who described her as "distraught" but "very articulate and earnest." The child, a second-grader who said she attends school in Texas, went on: "She just messed with me, she kept on messing with me. She kept on being crazy. She put my headphones in the water."
The child told the officer that her mother doesn't like Texas, and yells at her "every single time." She said her mother hits her everywhere, "in the mouth, the hands, everywhere. It really hurts." Crying, she said her mother is also verbally abusive and frequently flips her the finger. "It hurts. It's just hurting." The girl was bruised on her face and legs, with bruising marks on both her shoulder blades, scratches on her back and left arm, and a bruise over her left eyebrow.
Two witnesses who had seen the incident from Tortugas, the restaurant facing the ocean and A1A, told police that the girl had been riding her bike when Hopkins–who had been at Tortugas since much earlier that evening–grabbed her hair, yanked her backward, kicked her in the legs and struck her in the back with her fists, leaving the child terrified, "crying hysterically, screaming and trying desperately to escape the physical abuse."
The witnesses told the officer that what they saw went "well beyond corporal punishment," according to the arrest report. (It is still legal under Florida law, as in 49 other states, to for parents to beat a child under the guise of corporal punishment, as long as the beating is not malicious or bruising. Corporal punishment in any form has been abolished in 65 countries.)




At one point Hopkins left her daughter and went back to Tortugas.
"She always hits me," the child told the officer. "We fight every single time, I just do accidents.I just don't want Mom to go to jail though." The child was speaking from experience, telling the offcer that her mother had been arrested several times for domestic battery against the child's biological father.
Hopkins herself "was intoxicated to the extent that her balance was compromised," according to the report, and addressed the officers in nonsensical ways–demanding at one point that someone shake her hand, and telling an officer: "You must have never met a Texas woman." The officer noted that the statement was made "with zero context."
Hopkins showed the officer a selfie of herself and her daughter by a fire put at Tortugas–taken more than three hours earlier. When the officer asked her if she thought it was a good idea to be bar hopping with her child, Hopkins replied it was her first night out since she'd been in Florida. "What else was I supposed to do?" she told the officer. She insisted that she wasn't doing anything wrong, that she intended to sit by the beach and keep drinking, and that she was a single parent who had the right to relax.
"Much of what [Hopkins] said was incoherent, circuitous, or simply nonsensical," the officer reported. Her actions towards her daughter were "unprompted, gratuitous and excessive," while the girl herself was not fighting her mother, "nor was she behaving in an unruly or rebellious manner; she was simply trying to escape an unwarranted assault."

Verbally combative and "extremely hostile" (but not resisting), Hopkins was placed under arrest, and would not speak with officers there or at the county jail, even to say who might take care of her daughter. She only repeated her Smith Trail address, where she apparently stayed with a woman. That woman took custody of the child as Hopkins was booked on $10,000 bond at the Flagler County jail. She remains there today.
Before that happened, when Hopkins was still in her child's presence, her child asked her if she was ok.
Hopkins blamed her: "This is what happens when you don't listen to me."
Upon pre-trial release, Hopkins will be barred from having contact with her daughter, by court order. She is also ordered to comply with all Department of Children and Families directives. She faces a charge of child abuse without great bodily harm, a third-degree felony.