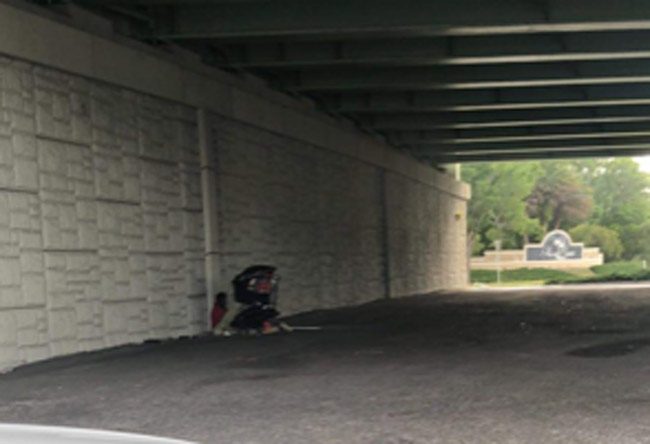 Two days ago County Commissioner Joe Mullins in an email circulated four pictures of homeless individuals to fellow county commissioners. The pictures, he said, had been sent to him by local residents. " This isn't normal ," he wrote commissioners. " "These individuals are being coached by a local person that they have the right to act this way and be in these locations on the corner. They have been offered help and would rather be in this state."
One of the pictures, taken from a passing car exiting I-95 at the intersection with State Road 100, showed the somewhat distant silhouette of a black man reclining against a wall of the overpass, wearing a red jacket under some coverings, next to a shopping cart. That man is believed to be a person who went by the name of Marc Smith.
"Marc has refused medical attention through several previous calls for service where Marc was reported as a suspicious person or solicitor under the I-95 overpass at SR. 100 E," Flagler County Sheriff's deputy Bryan Frederick Denker wrote in an incident report Thursday.
A business owner had reported finding Smith to 911. She had first seen him at 8 a.m. when she arrived for work. It was not unusual: she thought he was asleep. She works at the Halifax Health Hospice Resale Shop, a thrift store, and she'd recently sold him some wares. She didn't want to startle him, so she didn't attempt to wake him. When she noticed he hadn't moved in hours, she reported the matter to 911.
That morning, the man known as Marc Smith was found dead by a fire hydrant near the parking lot of the Flagler Plaza shopping center in Palm Coast, along State Road 100. He was 45. He had been living in a homeless camp in the woods off of Old Kings Road, a homeless camp that's gotten none of the attention that the now-eliminated camp near the Flagler County Public Library along Palm Coast Parkway got for the past several weeks. But his death is likely to only further focus attention on an issue that's been a topic of discussion on several local advisory and government boards.
"Marc was laying on his back in a pile of his personal belongings and trash," the deputy reported. "He was located between two rows of bushes, approximately 15 feet from the parking lot on the western side of Flagler Plaza. Though behind a hedge row, Marc was visible from the parking lot wearing a red jacket, and brown pants. A blue fire hydrant was also between Marc and the parking lot." Flagler County Fire Rescue paramedics responded to the scene, along with the Palm Coast Fire Department. A paramedic pronounced Smith dead at 12:54 p.m., and a crime scene was established.
Crime scenes don't necessarily imply that a crime was committed, or that a death is suspicious. They are routinely established until suspicion is ruled out, and to ensure that sufficient evidence is collected should it be a suspicious case. A detective responded to the scene, as did the Crime Scene Investigations unit. "No obvious signs of trauma or injury were observed on Marc's body," the deputy's report found. "A check of Marc's typical camp site by Coconut's Car Wash across the street did not find any signs of struggle or suspicious activity. Marc's belongings were packed away in trash bags which he typically does when he leaves the site for the day."
The medical examiner removed the body for an autopsy in St. Augustine, and the crime scene was disbanded at 3:20 p.m.
Deputies sought to confirm his identity but had only limited success. Smith, they found, had gone by various aliases, had a Florida identification card issued through the Department of Motor Vehicles, and was linked to a booking photo through the St. Augustine Police Department. But a further search through a database "finds the same person using several other aliases throughout the country," the sheriff's report states. "A true positive identification with a social security number is not available at this time. Marc Smith's identification has not been verified." He is believed to have lived in Miami previously.
"It's why I'm pushing, we've got to have some kind of legislation," Mullins said after learning of Smith's death. Mullins has been pushing for ordinances that would regulate certain homeless behavior, whether it's panhandling or setting up tents. He says he does not intend the ordinances to be a form of policing enforcement and arrests. "The legislation is not to beat up on these people or treat them wrong."
Mullins says he had once spoken to the man in the picture–about county social services. "I don't want to see them put in jail, I don't want to find them arrested, but I don't want to find them dead," he said. "That breaks my heart."