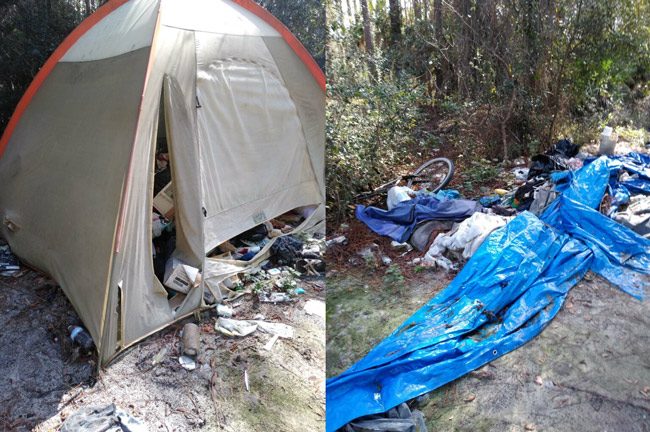 By Jack D. Howell
Last Friday, I took a walk into the homeless encampment behind the Flagler County Public Library's main branch on Palm Coast Parkway and Belle Terre. I was not at all shocked at the sights, squalor, and stench of this horrible blight affecting our beautiful city. It is what I expected.  As a former law enforcement officer, I have seen much worse. However, my observation and discussion with the residents in the camp were well worth my time and effort–a true learning experience.
The fact is that we can no longer ignore the consequences of dealing with the homelessness within our community.  While there are several homeless encampments throughout the city, the camp at the library is somewhat unique. This camp is located on Flagler County property, but the residents are living in Palm Coast. Jointly, the Flagler County Commission and the Palm Coast City Council must immediately take actions to resolve this problem before it gets entirely out of control.
The question is how do we as a government handle this?
In my opinion, there are no easy solutions. To begin with, we must confront the myriad of issues that the homeless individuals and homeless families are dealing with.  The squalor that they are living in is a public health hazard.  Hygiene, at all levels, is lacking. The homeless are living surrounded by human waste and garbage. They are living within the Maslow's hierarchy of needs that motivate human behavior. According to Maslow, there are five different kinds of human needs, beginning with the most basic: survival. Physiological needs, such as food and shelter, are followed by requirements related to safety.  The homeless are living in survival mode. It is important to note that some homeless are episodic, some transitional, some chronic.
As our government deals with this issue, we must remember that the homeless have legal rights afforded them by the Constitution.  Briefly, the First Amendment may exempt persons experiencing homelessness from anti-loitering, anti-begging, and anti-food sharing laws. The Fourth Amendment may entitle people experiencing homelessness to be free from the confiscation and destruction of personal property stored in public spaces. The Eighth Amendment, which prohibits cruel and unusual punishment, may entitle persons experiencing homelessness to be free from anti-sleeping, anti-sitting or encampment laws.  The Fourteenth Amendment's Due Process Clause may authorize individuals experiencing homelessness to be free from laws prohibiting them from living in cars and those that prohibit loitering.
So where do we go from here?  To address this problem will take a team effort that should include government, religious organizations, media, schools and charities, as a start.  To borrow a phrase from Hillary Clinton, "It Takes a Village."   There will be a need for adequate housing, medical services that include mental health and substance abuse programs,  education focused on job skills, job placement, and child support and assistance: this is but the tip of the iceberg.
As a start, we must get an ad-hoc committee together as quickly as possible to take ownership and control. While merely finding ways to arrest and confine the homeless to jail is in some eyes a solution, it is not the right one.

Jack D. Howell was elected to the Palm Coast City Council last November. He is the executive director of Teens-In-Flight, the non-profit, and a retired Marine.