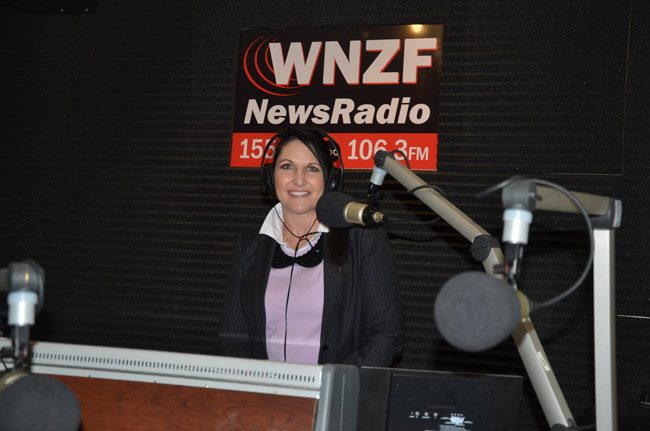 Radio's most famous mayoral moments go back to 1945, when Fiorello LaGuardia, New York's mayor, told his listeners to gather the children around the set so he could read them the funnies: newspaper delivery drivers had gone on strike, innumerable readers were in withdrawal, and LaGuardia, ever the showman, had the solution. "Let's see what Dick Tracy is doing," the Little Flower—as LaGuardia was known—started off, flipping through papers and amplifying his voice and legend.
The mayor had been delivering his weekly "Talk To the People" on WNYC, the city-owned radio station, since 1941, drawing commanding audiences every Sunday at a time when newspapers and radio were the dominant media—and LaGuardia was among the nation's most famous politicians: On the air or off, LaGuardia was as unscripted as he was unpredictable
Late Tuesday evening, the Palm Coast City Council set aside controversy, qualms, bean-counting and Steve Nobile and voted 4-1 to have Mayor Milissa Holland host a half-hour weekly infomercial, paid for by the city, on WNZF and one of its sister radio stations. The show will air at 9:30 a.m. on Saturdays, and will be a paid block by the city, at $250 a show, or $10,000 for 40 weeks.
Council member Bob Cuff moved to approve the show as well as an alternative proposal put forth by the city administration. The alternative was to entail a podcast produced by city staff and disseminated on the city's electronic media platforms, rather than a radio show hosted by the mayor. That alternative also included buying $8,000 worth of advertising. That portion of the alternative was not addressed in Tuesday's motion, but presumably would not be on top of, but rather part of, the spending for Holland's infomercial, called "Discover Palm Coast." (Brad West, a Palm Coast social media specialist, had written council members about better exploiting Facebook Live to do Q&A sessions featuring council members and staff, and to produce short, easily shared behind-the-scenes informative videos.)
The show controversy unraveled when the council discovered late last month that Holland and City Manager Jim Landon had developed the show's concept (after Flagler Broadcasting General Manager David Ayres had proposed it to Holland) out of view of council members until a news article detailed the proposal, less than a week from when Holland was set to air her first show. That caused the administration to pause and come up with an alternative. By Tuesday, and in sharp contrast with their discussion a week earlier, council members' silence betrayed more boredom than excitement over the issue as they hurried to a vote. "Thank God," Nobile said when the mayor moved on to the next item on the agenda.
---
Mayor Fiorello LaGuardia Reads the Funny Papers (1941)
Nobile had been the only ardent opponent of the concept, though every other council member but Holland, in turn, had had some trepidation over the show: there was concern that it would be sheer advertising for the city, that it would be too frequent, that it would be nothing but promotional "propaganda," and that it would be difficult to gauge whether it's being listened to or not: radio audiences are notoriously difficult to measure, and Ayres himself could not provide hard facts on listenership other than to predict that "thousands" would dip into the show at one point or another, without necessarily listening through the half hour.
The turning point was when council member Heidi Shipley declared herself a convert, after initial resistance. Shipley: "My thing would be if we did it, it might bring some business that hears you talking, that likes what they hear, likes what they hear going on here," Shipley said. "I was originally against it, but the more I think about what it can achieve, and we can always after a year if we don't like it we can say it didn't work, hopefully there's some way to gauge whether it actually did something for us. But there are people at home that just listen to the radio, and might just get out and do one of the games or one of the activities because they heard it on there."
Nobile again spoke of his concerns. "Where did this new obsession with the radio come from?" he asked, though he also conceded: "If it's proven successful, I'm all good with it." But he said he preferred the city devoted its energies on in-house videos and podcasts, spending money to draw listeners to those productions.
The discussion that led to the vote Tuesday evening could have filled a half-hour show, though it was taken up mostly by residents addressing the council, most of whom endorsed the idea. "This idea is amazing," Ed Fuller, who runs a political forum of his own and has run campaigns for local Republicans, said. "It's imaginative, it's creative, it's innovative, and I want to hear what's going on."
The show will be taped in advance so will have no call-ins. The extent to which it will be scripted is unclear. Landon referred to a scripted show several times last week, but not Tuesday evening, replacing that word with a more innocuous description of how and whether Holland's message will be controlled by the administration.
"The radio show will take very little staff time and no additional cost because it really is just putting together a list of subjects, bullet points, things that we do all the time for newsletters and week in review, all those things," Landon said.
Holland herself did not address the issue one way or the other–she's been going through a harrowing week because of her daughter's health issues–but spoke at length of her view of the show in an interview this afternoon, and dismissed suggestions that the show would be "scripted."
"This will be pre-recorded, so it won't be live, and I see that as very different from beings scripted," Holland said. "I'm not known for reading speeches, I'm not known for just going in and following a script. I believe I have enough knowledge of local government subject matter and state government subject matter that allows me to have an open conversation with whoever I'm interviewing."
But Holland said she'll draw the line at inserting her opinion on the air, "other than asking pointed questions" of her guests, "to help the public wrap their hands around complex issues."
"I do respect the council as far as the fact that we are a legislative body, and I do very much respect their opinions on different subject matters and issues that are brought forward before council," the mayor continued, "but I don't see that as necessary, as part of this concept." Holland sees the half hour as "an extension of what I do out in the community each and every day, doing presentations, having conversations with residents. I get asked questions all the time, and what can be frustrating in our job as local elected officials is we are dealing with very complex issue. They're not necessarily black and white, there are a lot of gray areas in between. The more time I can get information out there that helps them understand the issue in its entirety, the better is the conversation that we're having."
In other words, don't expect LaGuardia-style radio, necessarily—although how the show might evolve over at least 40 installments is anybody's guess–and the "talking points" the manager will feed the mayor could theoretically borrow a page from LaGuardia's show: derision of local media was an occasional LaGuardia specialty: In an April 1942 show, LaGuardia ripped into the New York Times over an editorial that criticized one of his appointees, and over one of the paper's headlines. The mayor had been at war with City Hall reporters, with whom he hadn't spoken since the beginning of the year, and urged his radio listeners to "watch the radio for complete and accurate information." (Some of the "Talk To the People" episodes are available online, as with this March 25, 1945 show, which WNYC cautions "may contain language which is no longer politically or socially appropriate," a caution that could have applied to last week's city council meeting.)