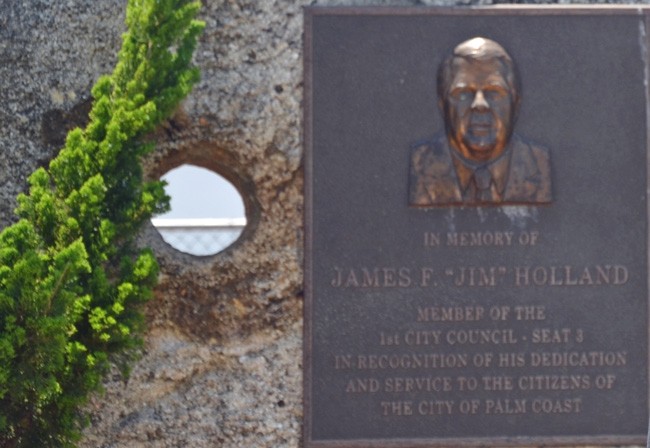 Palm Coast's oldest park – James F. Holland Memorial Park, named after one of the city's founders – will close beginning Monday, Feb. 2, for a major renovation and reconstruction that will enlarge the playground, refurbish all the playing courts and improve the dog park.
The 26.76-acre park at 18 Florida Park Drive will be closed to the public for approximately 15 months during Phase One of the renovation project. It is scheduled to reopen in late spring 2016.
Phase One will include a new loop road for entering and exiting the park, parking and lighting improvements, a perimeter trail, refurbishing the dog park (there'll be one area for large dogs, one area for small dogs), tennis and handball court renovations, the addition of fitness equipment, basketball courts with lighting, volleyball court, horseshoe pits, a larger playground and a new restroom building.
The general contractor for the $4.28 million project will be Tumbleson White Contractors Inc. of Gainesville. The city received five bids, all from outside Flagler County.
While Holland Park is closed, the city recommends residents and visitors use other city and county parks. A full listing of city parks is available at the city's website. Alternate facilities recommended include:
· Bocci ball and shuffleboard – Linear Park
· Tennis – Belle Terre Park, the Palm Coast Tennis Center and Seminole Woods Neighborhood Park
· Dog Park – Wadsworth Park in Flagler Beach
· Playgrounds – Linear Park, Palm Coast Community Center, Waterfront Park and more
· Pavilions – Waterfront Park, Linear Park, Herschel King Park
· Baseball and soccer – the city will work with youth sports teams to find other locations
· Croquet is nowhere available, but easily set up in backyards.
Updates on the progress of renovation of Holland Park will be included in the Week In Review, posted every Friday evening at the city's website. The city asks for the public's patience and understanding as it makes this important and long-delayed park renovation (the Great Recession got in the way of earlier plans). For more information, contact Cindi Lane, communications and marketing manager, at 386/986-3708.