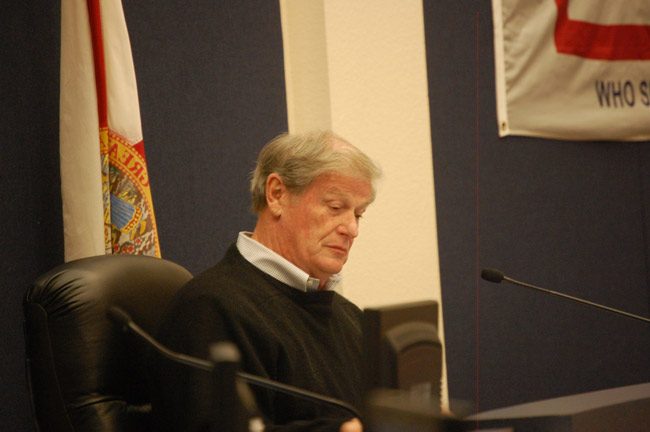 Following the death of a student in a fraternity hazing event in November, Florida State President John Thrasher told the Board of Governors on Wednesday that he and his staff are working on some major changes to prevent future tragedies.
"Our university continues to mourn Andrew Coffey and his loss to Florida State University," Thrasher told the board that oversees Florida's 12 universities.
Coffey, 20, died from alcohol poisoning during an off-campus fraternity initiation on Nov. 3. Nine members of the Pi Kappa Phi fraternity have been arrested and charged with hazing that resulted in a death or injury. Coffey was from Lighthouse Point in South Florida. He was studying civil engineering.
Thrasher suspended all fraternities and sororities on the FSU campus after the incident.
"I pray that his parents can find some comfort in knowing that we are working hard on this and that his death can perhaps serve as a catalyst to change our campus and we believe hopefully elsewhere," Thrasher said.
Thrasher said the FSU effort is being led by Amy Hecht, the school's vice president for student affairs. He said the school was also working with other Florida universities as well as national groups and organizations.
He said the final recommendations are not ready yet but he outlined three "broad" areas where he expects to see changes.
One area is "risk reduction," which Thrasher said is focused on the initiation process for fraternities.
"I'm very interested in understanding and wanting to institute, where we can, some new guidelines about fraternity initiations and the length of time it takes," Thrasher said.
Key issues, he said, are hazing rituals and alcohol.
"Those two things, I believe, are the catalysts that occurred in this particular incident but we know it's much broader than that," Thrasher said.
Another area of emphasis will be staffing, with Thrasher saying FSU is likely to increase its staff to better connect the university administration with the various organizations on the campus.
The third area will be the development of training and education programs that will come from reviewing not only the recent tragedy but also other activities that could put the health and safety of students at risk, Thrasher said.
Thrasher also emphasized that FSU students, student leaders and their organizations are playing a major role in the policy changes.
"That was the premise when I started this," Thrasher said. "It wasn't all going to come from us. It was going to come from the folks that are affected by this. And they have been very cooperative."
Thrasher said the goal is "to be vigilant," knowing it will take time to develop the new guidelines. He said FSU will put a "metric" system in place to measure the progress.
"I think I'm fairly safe in saying that we are bringing and will bring about some cultural change on the campus," Thrasher said. "I'm pleased that our students also seem to be understanding this need for change."
Other groups are working on the issue too, with Kishane Patel, the student representative on the Board of Governors, saying he participated in a forum this week led by the Council for Student Affairs and the Florida Student Association that included student leaders and organizations from around the state.
Patel, a senior at the University of West Florida, said one concept that was discussed was some type of "medical amnesty" that would encourage students to immediately call police or seek medical help if an incident occurred.
"Don't let the fear of your chapter getting in trouble or you getting personally in trouble prevent you from calling for help," Patel said. "The common sense thing to do is call the police. Call an ambulance."
Patel, who is a member of the Sigma Alpha Epsilon fraternity, also said the fraternities provide many positive influences on the campuses.
He said fraternities and sororities provide a "community" that can help foster the changes in the system.
"Hypothetically let's just say we remove Greek life," Patel said. "These students would still likely engage in these activities but there will be no sense of accountability or structure as a community."
–News Service of Florida