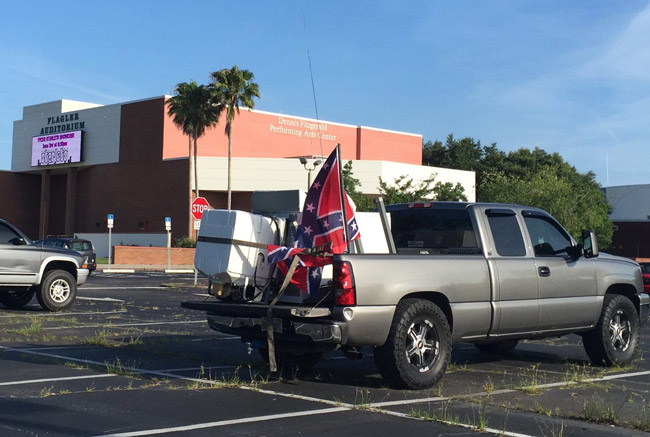 Flagler County bucks trends. As many parts of the nation have strained from tensions between police and communities, Flagler County and Palm Coast have known a long period of calm, free of controversial shootings and underscored by significant community support for police. Likewise, as many more parts of the nation have experienced a surge in hate crimes, this area appears to be largely–but not entirely–avoiding the trend, while even local minorities such as Muslims speak of a spirit of comity and welcome.
Officials and experts in the field cite a variety of reasons: there may well be relatively few hate crimes in the region. But the categorization of crimes as such is highly subjective and dependent on individual decisions, and hate crimes in general overwhelmingly are unreported or under-reported.
"A hate crime is definitely a big deal here, because they are infrequent," Flagler Beach Police Chief Matt Doughney, who spent a large part of his career policing Daytona Beach, said. "I think that it's definitely something we take seriously, but it's a complicated set of factors that go into calling something that."
During the 2016 Presidential campaign, as now-President Donald Trump framed much of his populist message in vitriol, violence-condoning language and "us" versus "them" rhetoric that appealed to white working-class individuals, reports of hate crimes against Muslims, Hispanics, Jews and other minorities across the country soared.
From assaults and violence against individuals or on properties like mosques and synagogues to plain old hate speech at rallies, it would seem that hate crimes are on the rise.
For example, the Southern Poverty Law Center, which tracks hate crimes across the nation, documented nearly 900 reports of bias incidents in the first 10 days after the 2016 election, and 1,094 within the first month. Between Nov. 9 and March 31, the SPLC documented 387 incidents of anti-immigrant bias.
In 2013 the Dept. of Justice's Bureau of Justice Statistics estimated that there are about 260,000 hate crimes committed every year. But only 6,000 are voluntarily reported to the FBI by local law enforcement.
In Florida, things are no different: According to the latest statistics from the Florida attorney general's office, which covered the year 2015, there was a rise in hate crimes in the Sunshine State just as the presidential election campaign was ramping up.
From 2014's total of 73, there were 102 hate crimes reported and classified by state law enforcement agencies in 2015, a 39 percent jump. That doesn't necessarily mean there were more hate crimes. It could mean that jurisdictions are getting better at classifying cases as hate crimes.
---
A combination of greater apparent harmony but also under-reporting or awareness of hate crimes.
---
But in Flagler County, a hate crime seems rare. According to the Flagler County Sheriff's Office, there hasn't been a classified hate crime case since 2013, when a car was vandalized with swastikas. Both the Bunnell and Flagler Beach police departments say they can't remember the last time there was a hate crime in their jurisdiction, though a cursory look at press reports suggests otherwise: in July 2015, swastikas were spray-painted on pavement in front of homes in the L Section. The perpetrators were never found.
And last fall, less than two weeks after Trump's election, two kindergarten students from Imagine School at Town Center in Palm Coast came home with swastikas marked on their skins. There have also been the occasional displays of Confederate flags on public property, such as in the bed of pick-up trucks at Flagler Palm Coast High School's parking lot (from where the flags have been removed, after complaints were lodged). But those acts don't amount to crimes as opposed to school code violations (where the student code of conduct also forbids the wearing of any patterned colors that may be interpreted as gang-related, or the wearing of shirts imprinted with hateful messages).
A few years ago, the Masonic Cemetery off Old Kings Road, where those buried are predominantly black, appeared to have been vandalized, though then, too, it was not clear if the vandalism was an explicit expression of racial hate–or even if it was neglect appearing as vandalism.
"Hate crime classification is nothing that we've stressed to our officers," said Doughney. "We look at our cases and look to see if any of the qualifications are there to classify something as a hate crime. You look at a totality of circumstances, talking to victims, perpetrators and see what occurs."
Doughney and Mark Strobridge, the chief spokesman for the Flagler County Sheriff's Office, said there are several factors to keep in mind when looking at Flagler County's official lack of hate crimes in recent years.
First, calling something a hate crime isn't actually a type of crime officers write up in a police report. The term "hate crime" is an enhancement to an already-existing charge a perpetrator is facing. That enhancement is often added by the state's attorney's office and comes about through further investigation of a case.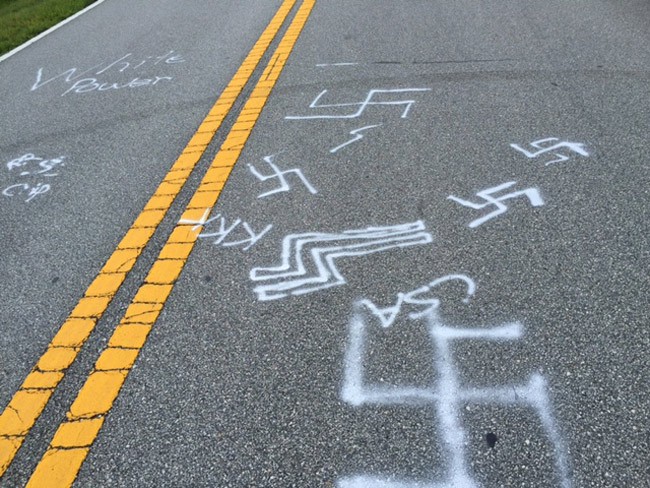 Second, to classify something as a hate crime, the act has to meet the legal definition explained in the Florida and federal hate crime statute. That definition reads:
"A committed or attempted criminal act by any person or group of persons against a person or the property of another person or group, which in any way constitutes an expression of hatred toward the victim because of his/her personal characteristics. Personal characteristics include race/color, gender/gender identity, religion, ethnicity/ancestry/national origin, sexual orientation, advanced age, mental/physical disability, or homeless status."
As explicit as the definition appears to be, it still leaves plenty of room for interpretation, misapplication, or misunderstanding. Law enforcement officials may for example more easily detect cases of outright racism than they may cases of gender hatred, an awareness that only recently has broken out of the shadows but still lacks broader understanding.
Once it has been established that a criminal act has been committed or attempted, then the motivation behind the act is the key element in determining whether an incident is a hate crime. That's where judgment and subjectivity begin to blur with evidence.
The mention of a prejudiced remark such as a racial slur does not necessarily make a criminal incident a hate crime, any more than the absence of such a remark makes it a non-hate crime. Local cops are frequently the target of racial slurs as suspects are investigated or arrested, but the rank racism that cops experience, documented as it often is through their body cameras, doesn't result in hate-related charges for the suspect.
Strobridge said Sheriff's Office officers do sometimes go back through a case and code it as a hate crime, reporting it as part of the UCR's Florida Hate Crime Statistical Reports form.
FDLE's Uniform Crime Reports (UCR) Program has developed the Florida Hate Crime Statistical Reports Form. This form is accessible to all agencies and can be downloaded from CJNet (Criminal Justice Network, law enforcement agencies have access to this system)
When a Hate Crime incident occurs, the local agency should complete the Florida Hate Crime Statistical Reports Form and submit it to FDLE.
Tom Foster, the Bunnell police chief, said his officers have all done training sessions on hate crimes. He isn't surprised the numbers across the state fluctuate from year to year. The last three years' data, 2013-15, contain the three lowest reported years of hate crimes being committed since 2002.
"Different jurisdictions are more up to speed on classifying hate crimes than others, and some are more vigilant about it than others," Foster said. "It's very difficult to have everyone adhere to the exact same standard on a case-by-case basis."
Those are the legal definitions, and explanations why hate-crime reporting was down, and why there have been none officially reported in Flagler County in recent years.
But there are also other factors that may explain the non-reporting. Nancy Abudu, the legal director for the Florida chapter of the American Civil Liberties Association, has some ideas.
"Florida has done a real bad job; they are not a shining example of how things can be done," Abudu said. "Police chiefs and officers need to do better with their classifications, because we know a lot more hate crimes are happening than are classified and being charged.
"If there weren't so many hate crimes being committed," Abudu added, "why would legislation about hate crimes need to exist?"
Abudu added that she fully expects the hate crime numbers in Florida to go up when 2016 is recorded, and that the increase the ACLU is seeing now is "because of a political climate that has emboldened people even more, to say things and do things against certain groups."