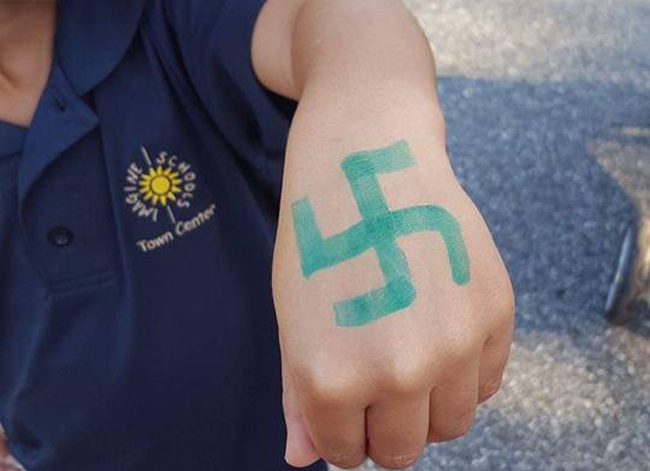 In mid-afternoon Thursday a kindergarten student from Imagine School at Town Center was let off the bus at his stop in Palm Coast's W Section. His mother, Mercedes Owens, and his grandmother, Letty Comin, were there to pick him up.
"We were crossing the street back with him and he showed me his hand," Comin said, "and he said, 'Look, my friend wrote a number on me.' He thought it was a number."
It was not. It was a swastika, the Nazi symbol adopted by white nationalists, supremacists and other hate groups.
The kindergartener is of mixed black and Latino parentage. A white middle school boy, his parents say, had drawn it on the kindergartener's hand.
"That was the saddest part is to see the sadness in his eyes when he realized it's not a friend, when he realized it's not a number or a cute drawing," Comin said of her grandchild, "and it was a very sad conversation to have to have with a 5 year old that really broke my heart. He loves everybody. He doesn't know black from white. He doesn't care. Everybody is equal to him, and that love and that serenity and that peace was attacked in our home and I'm devastated about it. You hear about this happening to other people and it hits you, but when it hits home, it's a very, very, very scary situation."
Around the same time in a different part of town, Priscilla Aponte's son, who's also in kindergarten, had just gotten off the Imagine bus at his grandmother's house, where he usually goes while his mother is at work. He's of Puerto Rican, Panamanian, Greek and Black heritage.
He called his mom and told her that a boy on the bus wanted to "draw a tattoo" on his arm and hand, which the older boy described to him as "a German sign." Aponte immediately intuited what the "German sign" was, and she was right. It was a swastika, drawn by the same boy, with the same pale green marker. In his case her son had tried to rub off the swastikas—still not knowing what the sign was–worried he'd might get in trouble for having had something written on his skin.
The kindergartener was not upset at first, until his mother explained what the sign was. "He was very sad about it," Aponte said. "He would never think anybody would hate him, so he was very hurt by it."
There is an unconfirmed report of a third child being targeted with a swastika on the same bus as well. The incidents have been verified by the school: the student drawing the hate signs is clearly visible in video footage from the bus, as are the apparent acts of drawing the swastikas.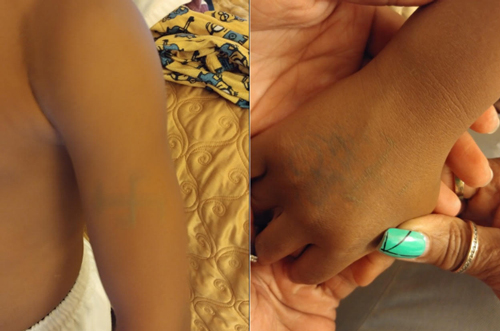 It is the first recorded case of what at least appears to be racism or hate-motivated intimidation in Palm Coast since the election of Donald Trump, but only one of a mounting number of such incidents across the country since then: as of Nov. 15, the Southern Poverty Law Center, which tracks hate crimes, intimidation and attacks, reports 437 case of "hateful intimidation and harassment" since Nov. 9, with 136 incidents targeting immigrants, 89 targeting blacks, and more than 40 each targeting LGBT members or Muslims. "There were many examples of vandalism and epithets directed at individuals," the center reported. "Often times, types of harassment overlapped and many incidents, though not all, involved direct references to the Trump campaign. Every incident could not be immediately independently verified."
This one has been, though the motive behind the drawings has not been determined. Motivation may decide whether the sheriff's office treats this as a minor incident or as a hate crime, and would determine the handling of the offending student by the school.
Thursday afternoon Owens and Comin immediately called the school and the sheriff's office, and both school and sheriff's office responded quickly, though with sharply different outcomes: the sheriff's office quickly concluded that no crime had taken place. The deputy who'd responded advised Comin to contact an attorney (which she has) and request a "sit down meeting with the other child and the other child['s] parents," according to a sheriff's report.
The school launched an investigation that continues today—and caused the sheriff's office late this morning to reopen its own investigation.
"The principal, Mr. [Jimmy] Mernard, he called me three times yesterday," Comin said, "he was very attentive, very supportive and he jumped on it immediately. He said he was going to contact the family of the child that did it, that he was very surprised at who it was. I told him I wanted a meeting with this child's parents and he said he would do his best to make that happen." But Comin is afraid for her grandson's safety, and is seeking to have the offending child expelled, though the offense may not rise to that level of gravity as far as the student code of conduct is concerned.
Menard would not speak with a reporter, emailing the number for Imagine's corporate PR person instead, Rhonda Cagle, who spoke at length from Phoenix, Ariz. She said Menard was focused on issues at the school for now and gave no indication that he would be speaking to media.
Cagle also dismissed the possibility that the incident was conjured up, or a hoax.
"It is my understanding that we do have clear footage, that footage is being reviewed, and that's as far as I can comment," Cagle said of the incident on the bus. "We are conducting an investigation and in light of that we are making sure appropriate steps are followed to provide for not only physical safety but emotional safety of the students that are involved." The offending student was not on the bus this morning, she said.
Imagine is a public, charter school. Its code of conduct aligns with that of the school district. Cagle would not discuss the handling of the case or potential consequences, saying only that there would be consequences.
"For us as a school, we have high expectations for every student when it comes to both their character and their academic performance," Cagle said, "and this kind of behavior is not consistent with the kind of character expectations we set for our students, and we will follow through. Pending the outcome of the investigation, we will take appropriate disciplinary action."
The parents and grandparents of the two children targeted have both had extensive conversations with Jimmy Menard, the principal. "The principal is not happy at all with the whole situation," Aponte said, "he's very disgusted with what's going on, he does not allow that kind of behavior in his school."
This afternoon Menard sent an email to parents of Imagine students, acknowledging the incident and encouraging them to share the information with their children, should they have questions, suggesting the school is trying to use the incident as an educational opportunity. Menard minced no words in his characterization of the swastikas.
"Two of our younger students arrived home yesterday with swastikas, which we consider racially biased images, drawn on their hand and arm," he wrote. "An older student allegedly drew the images on them as they rode the bus home from school." He summarized the sheriff's and school's involvement so far, such as the review of video footage and making "arrangements for an alternate form of transportation for the student in question."
"Pending the outcome of the investigation," he wrote, "appropriate disciplinary action will be taken in accordance with our Code of Conduct, and he echoed Cagle's phrasing about character, stressing that
"We take this seriously," he wrote. "Please use this incident as a way to speak with your child about the kind of character that defines the expectations for our school and broader community. Please also be assured that incidents of this nature will not be tolerated."
Both sets of parents publicized the cases on Facebook, triggering a flood of responses and concern, along with a few skeptical, contrarian or offensive comments. A death threat was texted to a FlaglerLive reporter in conjunction with the same thread.
Late this morning Jim Troiano, the sheriff's office's chief spokesperson, said the school had contacted the office this morning, requesting a deputy, prompting a resumption of the sheriff's investigation into the matter. "We need to do a follow up this morning to ensure that all the bases were covered and the investigation was done properly," Troiano said.
Key to the investigation though would be the motivation behind the drawing of the swastikas. "If it was done with prejudice, then that's the hate crime part," Troiano said, which would then require the incident to be reported to state and federal authorities as a hate crime, and would kick in a different set of penalties. "So this is a first degree misdemeanor, it potentially could be a third degree felony, but again, that's if a crime was charged."
That has not happened.
in early afternoon Friday, Troiano emailed the following statement: "A deputy has conducted a follow up investigation today and has come to the same conclusion the deputy did last night that no crime has occurred. The deputy was able to verify today that the fifth grade student who drew the swastika on the hand of a kindergarten student yesterday while they were on a school bus was only "goofing around" and the kindergarten student did not know what the symbol meant until he arrived at home. In fact, when the deputy asked the fifth grade student today what he drew on the child's hand, he stated he did not know. No crime has occurred and the incident will be handled by the administration at Imagine School."
The parents involved both spoke highly of Imagine School, which has a reputation for being as richly inclusive as it is diverse. Their attention focused on the broader media atmosphere of the past two weeks and the toxic election season, as well as on the parents of the offending student, whose knowledge of swastikas, they say, could not have happened in a vacuum.
"I guess the child that did this horrible act is probably [reacting to] what he's learning at home," Aponte said. "The parents should be held accountable for it because this starts at home. A child should not know what this means. It's a hate sign."
Comin described her grandchild's experience at Imagine in glowing terms: he loves his teacher, he's thriving there, well-adjusted and happy. She was as upset at the swastika drawn on his hand as she was at the possibility that his good experience at the school could now be in jeopardy, as she does not want him risking being intimidated or confronted again. But while at the beginning of the interview she was adamant about wanting the offending student expelled, Comin gradually moderated to being "very amenable to listening to everything that is stated, but I don't know how I feel about that because it's about the safety of my child going forward, and I really believe there has to be some accountability from his parents. Somebody had to teach this child what that meant. In any case at the end of the day his parents are responsible."
Like Aponte, Comin did not disassociate the incident from its broader context. "I really believe that our country is in turmoil right now," Comin said. "I believe that we have a presidential race that was run on hatred, and I believe that all of the things said on TV and kids have been privy to hear has really made an effect on how this country is moving forward. I'm very saddened by this whole incident. Our country has never been more racially divided than it is now since the slavery days, and I'm appalled by the situation. I don't want to blame everything on our president-elect, I want to be responsible about what's printed here, but I honestly feel that this campaign run on hatred and won on hatred is feeding the fires."