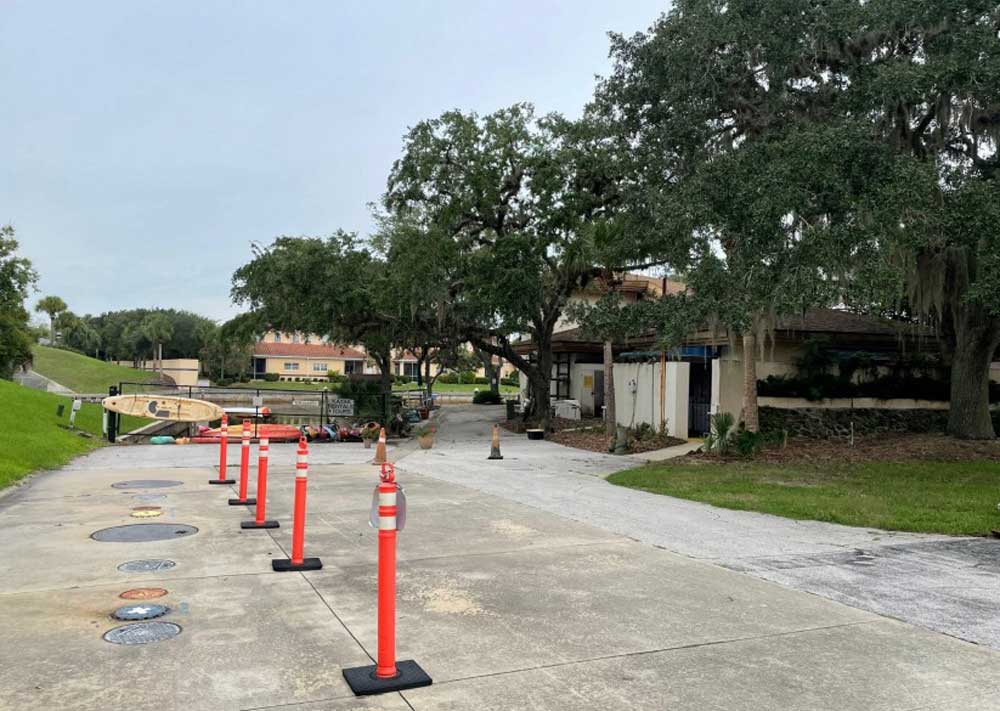 Ending a six-month wrangle over the proposed Harborside redevelopment around the Palm Coast marina, the City Council Tuesday in a 3-2 vote surrendered on key demands, overriding some staff recommendations, and approved the addition of 300 apartments and town houses, a project that will remake the character of one of Palm Coast's original neighborhoods.
The 299 new units approved, to go along with the existing 72-unit apartment tower at Harborside now, are a reduction of 61 units from the developer's request. But the number is 61 units more than city planners had been recommending over the past few months: The city At an impasse, the two sides agreed to split the difference to arrive at the 300 figure.
The developer will be required to re-build a (private) and dilapidated pavilion along the Intracoastal and abide by a set of conditions, such as maintaining the marina and its fuel sales. But marina conditions are predicated on commercial viability, giving the developer an out. Beyond that, the city made a series of substantial concessions to the developer, Jim Jacobi's JDI Palm Coast.
Among the concessions: substantially more housing units allowed than planners originally wished, no requirement to build a hotel, a restaurant, or a public sidewalk, and only a conditional commitment to keep the marina going, rebuild a gazebo, or give access to a boat ramp–or "available dockage"–except in emergencies.
"My concern is trying to force a legal template on top of a business model that either doesn't exist or won't be successful," Mayor David Alfin said. "Building out according to a legal dialogue in the hopes that they would be successful is not I don't think the most prudent way forward."




and Council members Ed Danko and Nick Klufas voted to approve. Council members Teresa Pontieri and Cathy Heighter voted against. Pontieri, after detailing her analysis of the proposal, finding its creativity wanting and its precedence-setting alarming, had sought to table the issue to give the two sides time to ensure, for example, that the agreement's language specifies the developer's commitments, whether it's to fix a gazebo, build a restaurant or provide public slips in the marina. "We don't trust each other. We enter into strict agreements to hold each other accountable," she said.
Curiously, Heighter did not second her motion, and the matter moved on to the vote for approval.
The breakdown in public comments told a story of its own: 15 people spoke against the proposal. Three spoke in favor. The 15 who spoke against were all residents, without additional special interest titles to their name. The three who spoke in favor were the president of the Harborside condominium association, whose board had voted in favor of the project, a local chamber representative who has never opposed a development in any form anywhere in the county, and Alvin Jackson, the Bunnell city manager, who happens to live near Harborside, and who champions economic development in any form.
"I see it as being a great catalyst for great for economic growth and development for the Marina as well as for the neighborhood," Jackson said.




Those who spoke in opposition object to the anticipated traffic,, the density, the lack of access to or disappearance of the marina's amenities, they were concerned about the developer's non-binding commitments, raising issues of trust, and some spoke of the site's history and the proposed development's variance from original intentions there.
While the developer will be required to maintain the marina's designation as such, renovate the marina's ship's store and provide fuel sales, it will have to do so only as long as that's "commercially viable." The agreement does not get into more specifics. Several of the people who addressed the council raised concerns about that.
"I think the Marina is at risk. I think the fuel dock is at risk," Mark Lewis, a C-Section resident, told the council. "The definition of of economically feasible is a nebulous term. They can just determine whatever they want." (Livingston said fuel sales disappearing is "unlikely to happen" because of the number of users along the canal. "That fuel facility will remain open.")
As a condition of approval, city planners had asked that the developer be required to build a paved, 5-foot wide public sidewalk connecting an existing trail on the west side of the Intracoastal Waterway with Palm Harbor Parkway. The developer refused, ceding to existing residents at Harborside, who a developer representatives said simply oppose the sidewalk.
"It was very clear to me at that meeting," JDI representative Tarik Bateh said of a neighborhood meeting, "that those speaking on the topic were opposed to any sort of public access sidewalk on that property next to their building, in their backyard, in their side yard, whatever yard you want to call it. So first and foremost, our neighbors do not want it."




Bateh also raised issues of liability, and compared people walking on a possible sidewalk to trespassing.
But that's a stretch: Harborside is part of the city. It's not a gated community. "Our vision was to have it open to the public, not just private for those residents," Ray Tyner, the city's chief planner, said of a sidewalk or the gazebo on the Intracoastal. "You have the restaurant that would be there, people after they're done eating would have a walk on the Intracoastal Waterway." Tyner noted that numerous city trails are on private property, too.
Despite the city's offer to both seek an easement for the sidewalk, relieving the developer of liability, and adding vegetation as a buffer, Bateh still demurred. "It takes something that is envisioned as simple and beneficial but can potentially morph into something very complicated," he said. Livingston strongly disputed the need for a path. "Nor is it appropriate or fair to impose an obligation on my client when there's a path that's there on somebody else's property that can be rehabilitated," he said. (The path Livingston referred to is rife with problems, Tyner said.)
With Pontieri's exception, Council members did not challenge Bateh ("forget the path. Okay? No path," Danko said) even as Klufas underscored that "one of the most unique aspects of our communities that ability for walkability." Klufas later tried, meekly, to restore the sidewalk requirement, but got nowhere. Council members implicitly conceded what they would never say out loud: if Harborside residents wish to discriminate against fellow Palm Coast residents walking on a sidewalk along the development's confines, so be it.
Some of the many residents who addressed the council belied Bateh's claim. "I use that trail once a day to ride my bike," Peter Johnson said. "So to take away that public access to that trail right there would be detrimental to not only me, but many other people who walk their dog down there, to access that part of the park, to ride their bike, just stay active."
"When I first moved here, we had a hotel, a pool, and as everybody said, you could walk all around the place, no problem," Ron Murphy said. "So I think we have to open the public access and keep it."
Pontieri pointed out the contradiction in Bateh's rationale: the developer is willing to rebuild the gazebo on the Intracoastal, even though it, too, is private property, but not build a sidewalk. Bateh's explanation: The gazebo "is located in a portion of the property that is not readily accessible by the public."




Planners had asked that 75-seat restaurant be part of the plan. The developer never committed to that, arguing that market forces will either make a restaurant viable or not. But the developer agreed that, should the restaurant not be built, its footprint won't be replaced with more housing. "There's no way out of that requirement other than leaving it vacant and making the land useless," Jay Livingston, the Palm Coast attorney representing JDI, said. "That would only be if we can't find a restaurant user. We're not going to build a shell and then have it sit there vacant. There's a really good example of one in Flagler Beach sitting next to the marina that's been there for almost 20 years where no restaurant user's taken it and it's just an empty shell. We don't want that to happen. That's not good for the city. It's not good for the project." (The Flagler Beach restaurant Livingston was referring to has had several users, but none have managed to keep their business going.)
Planners asked that the developer maintain an existing boat ramp for government access in emergencies. The developer agreed only to provide that access in cases of declared local emergencies, even as Livingston said the aim is to have a boat ramp on site. "How it's going to be, where it's going to be located, if it's going to be in its current location or different location, that's something that we can't commit to right now because we haven't had the ability to go to the next level of site planning," Livingston said. "But it is a permitted use and it's not something that we're trying to avoid."
Nevertheless, the city did not seek a commitment for a boat ramp even pending the site plan, absent an actual location.
The development will, naturally, add what Heighter termed "a huge amount of traffic that's going to create some conditions in the area." Livingston conceded the point: "That is an unavoidable reality of development," he said, noting that the latest numbers reduce what that traffic flow would have been under the developer's original proposal. A more specific traffic impact analysis will be required when the developer submits a site plan. That analysis could lead to additional traffic-infrastructure improvements the developer would have to build. (Livingston said the development will have a second entrance, possibly a third, down the line.)
"You can't prevent traffic when there's growth and there's development," Livingston said, "but the city's code, the city's processes, city staff, the review process, your own review of that of that at that level of the development application will allow you all to to see exactly what's going to happen and how it's going to be addressed."
The 3-2 vote just before 10 p.m. took place almost three hours into the Harborside hearing.

harborside-2023

Reader Interactions