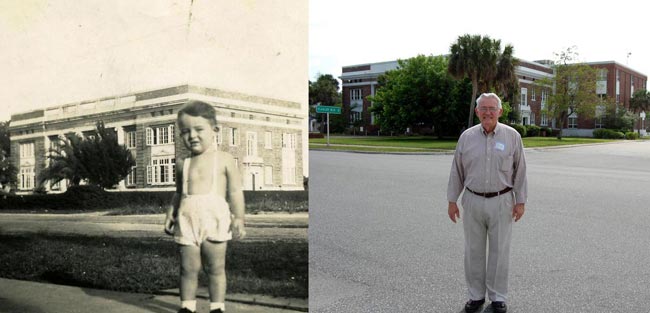 The old photograph says 1941, which means Sisco Deen–the living hard drive of Flagler County's memory and the archive curator for the Flagler County Historical Society–would have been about a year and a half old when he stood in front of the then-not-so-old county courthouse. He was visiting his grandfather that day, in a house across the street that used to belong to Deen's great grandfather, Zeb Booe, Flagler's first school superintendent and one of its earliest big landowners (Booe Street in Bunnell is named after him).
It was probably spring or summer–he's barely in suspenders, the courthouse windows are wide open, the trees and hedges thickly green–very likely weeks or months before the attack on Pearl Harbor. One suspects that even if it'd been after the attack Sisco would not have looked less inquiring about what was happening in his here and now, immediately in front of him: in Bunnell, with an inquiring look he appears to have been born with, and that, much to our benefit, has never left him. It's the look that even then recognized history in the making. He didn't know then, as he wouldn't admit today, that he is an essential part of that history.
Sisco Deen turns 70 today.
He was born 25,567 days ago in Daytona Beach. As always, There's a story behind that: "My wife was born in '41, and she was born in St. Augustine," Deen says. "This is a carriage-driver story, OK? I went to the Baptist church, which was there, it was an old theater at the time. Gloria went to the Methodist church, which is still where the Methodist church is, so the story goes, if you were Baptist, you'd be on that side of the road, you go to Halifax Hospital to be born. If you're Methodist, you go to Flagler Hospital in St. Augustine. It wasn't true, but it was funny."
And how does he intend to spend his birth day? "Sunday School at Central Baptist in Daytona; lunch at Panera's in Ormond Beach; Tai Chi in the afternoon followed by internet research on my family tree."
Happy birthday Sisco.

For a larger look at the photographs above, and a portrait of Deen today, click on the image gallery below, especially with "PicLens."
[nggallery id=8]