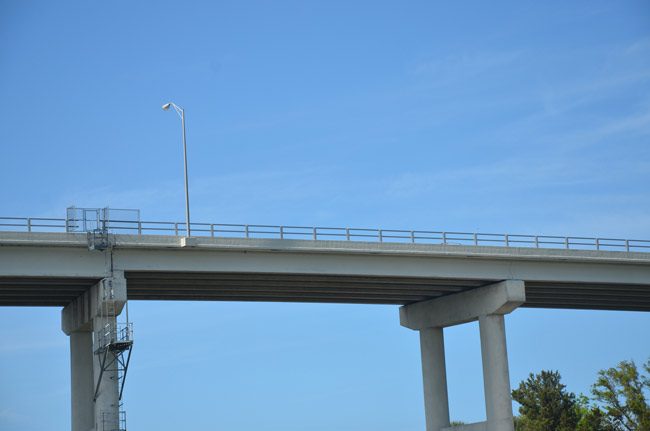 Gov. Rick Scott suspended all tolls on Florida roads and bridges as of 5 p.m. Tuesday. The Hammock Dunes Bridge, however, did not suspend its $2 toll–and does not plan to do so until 6 p.m. Wednesday.
By suspending all tolls, Floridians and visitors will more easily be able to prepare for any potential storm impacts, access important hurricane supplies, and quickly and safely evacuate when necessary, the governor's office said Tuesday.
Sandy Ausbrooks, the bridge's assistant manager, said the governor's order applied to Florida Department of Transportation bridges and roads. The Hammock Dunes Bridge is a "private" bridge, he said, not entirely accurately: Hammock Dunes is a Community Development District, an independent but nevertheless public government with its own elected board, whose proceedings and documents must follow the state's Sunshine law.
The government was originally set up by the ITT Community Development Corporation that built Hammock Dunes. It runs the bridge, along with a water and sewer utility.
ITT paid for the bridge with a $16.3 million bond levy it financed through tolls for drivers to use the bridge, whether they live in Hammock Dunes or not. The bridge was built in 1988. The bonds were paid off about a decade ago.
The bridge has since been, essentially, a cash cow for the district: its 2018 budget projects bridge-toll revenue of $1.62 million, up from a projected revenue of $1.55 million for the year ending this month, with total expenses of $789,000–and much of that expense ($327,000) is to pay the salaries of people employed to run the bridge, including toll collectors. Just $180,000 is budgeted for capital improvements, all of it for a new toll-collection system.
About 15 employees, most of them part time, are employed in toll collection, including supervisors.
Earlier this decade Hammock Dunes and county government agreed on a $1.8 million contribution from Hammock Dunes to various county project, drawn from surplus bridge funds. NO such contribution is budgeted this year, though surplus fund from the bridge does end up in the Dunes' general fund. Overall, the Dunes district has $20 million in non-capital assets, $17 million of it unrestricted: the district is not in the poorhouse.
Dick Ryan, the district manager, did not respond to two calls placed at his office today (he was out to lunch the first time, then in a meeting with his employees after lunch, an office employee said.)
"We will be suspend tolls tonight at six for the duration of the storm," Ausbrooks said, noting that "there's no charge to evacuate," meaning no one is being charged to go west on the bridge. (The bridge ended its westbound tolls several years ago.) But when asked why the suspension hadn't taken place in line with state roads, he said only that the governor's order did not apply to Hammock Dunes, and referred further questions to Ryan.
Most of the district's board members could not be reached.
Richard DeMatteis, one of the board members, spoke by phone from out of town, but was not aware of the toll situation. "I know we've stopped the tolls in the past and opened the gates in prior hurricanes and so on, I'm not so sure what the concern is right now at this point in the storm's process," he said. "I really haven't been involved in any of the discussions." He added: "Normally that's the district manager's responsibility."
In his statement about lifting tolls on roads and b ridges, Scott said: "Ensuring the safety of Florida families and visitors is our top priority and suspending tolls statewide will help people quickly evacuate and make it easier for all Floridians to access important hurricane supplies to ensure they are fully prepared."