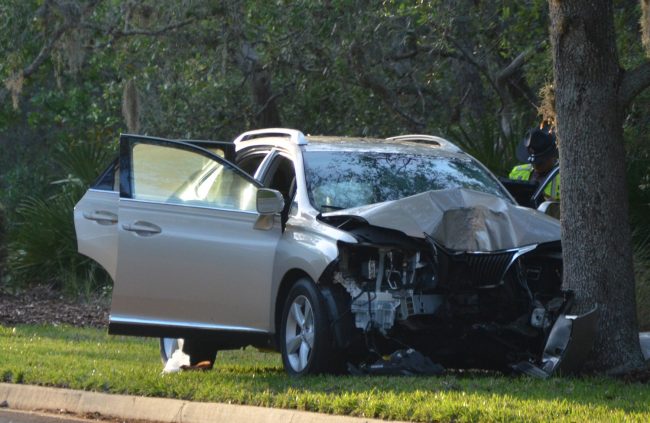 Last Updated: Monday, 1 p.m.
Janjira and James Russo were killed and Arthur Thornton of Palm Coast was in critical condition after a single-vehicle crash on Hammock Dunes Parkway just after 6 p.m. Easter Sunday evening.
The trio was traveling in a Lexus SUV south on the Parkway. Thornton was at the wheel.
For unknown reasons at the moment, the Lexus left the road, jumped the concrete curb, and collided head on, very violently, with an older oak tree. The tree didn't budge. The car's front was unrecognizable.
At the scene, Thornton, 83, at first refused medical attention, but later complained of chest pains, and by the time he reached Florida Hospital Flagler, his condition had worsened, so he was transported to Halifax hospital in Daytona Beach as a trauma alert.
Janjira and James Russo, a married couple from Poinciana, were Thornton's passengers. James, 75, was sitting in the front passenger seat, his wife, 77, was in the back seat. Both were without a pulse when paramedics arrived at the scene. CPR was carried out on both. Paramedics were initially able to revive James, but not Janjira, who was pronounced dead at Florida Hospital Flagler.
Her husband was flown to Halifax hospital by Flagler County Fire Flight, the emergency helicopter. But he died later that evening as well, according to the Florida Highway Patrol.
The Poincianna couple's identities were released Monday afternoon.
All three victims were wearing seat belts. Charges are pending, according to FHP.
The wreck took place just north of Hotel Trace Boulevard. Hammock Dunes Parkway, a lightly traveled two-lane road, which gently curves in the area of the crash. It closely parallels State Road A1A east of it. Road conditions were dry and the sun was out. The force of the wreck was such that a black, softball-size object from the vehicle flew some 30 feet ahead of the point of impact, landing on on the opposite sidewalk.
Flagler County Fire Rescue, the Palm Coast Fire Department, the sheriff's office and the Palm Coast Fire Police responded to the scene, as did the Florida Highway Patrol. An FHP traffic homicide investigator arrived at the scene just after 8 p.m, as then did additional FHP units.