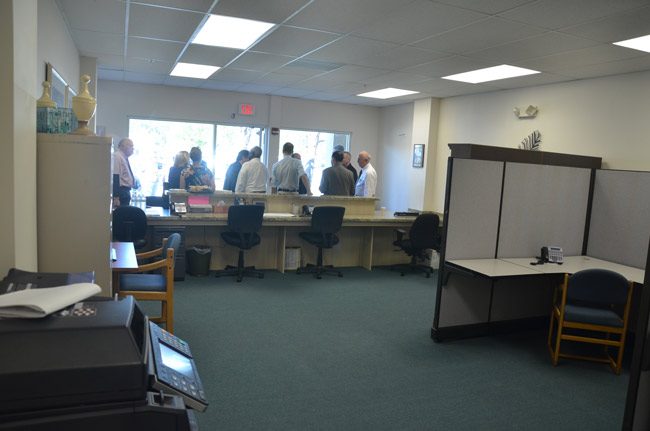 Businesses in Palm Coast's City Market Place were briefly evacuated early this afternoon after a resident who found a grenade in his backyard brought it to the Flagler County Sheriff's Precinct office in the shopping center.
"In an abundance of caution, we took it back outside, evacuated the immediate area and called in St. Johns County to come pick it up," said Mark Strobridge, a sheriff's spokesman. The St. Johns County Sheriff's Office has a bomb and hazmat squad that periodically makes trips to Flagler to respond to such suspicious incidents or discoveries of ordnance.
The squad, which includes a robot among its equipment, usually takes the device and either analyzes it or explodes it in a containment drum. It was last in Palm Coast in January 2016 when it detonated a suspicious package found in a P-Section mailbox. In November 2013, it was called in to detonate what turned out to be a live smoke bomb and a dud grenade discovered at the Flagler County landfill, a month after removing a live grenade discovered in the street, at Belle Terre Parkway and Palm Coast Parkway.
In the case of the grenade brought in to the sheriff's Palm Coast precinct, the bomb squad sent just two of its members with the containment drum rather than the full squad, and claimed the grenade at 2:26 p.m. They took the grenade back to St. Johns.
Businesses at City Market Place reopened at after 3 p.m. (The Sheriff's Office in its Facebook postings about the incident referred to the business center by its old name, City Walk, which changed to City Market Place in 2010 after Universal, which owns the name "City Walk," threatened a lawsuit.)
The Sheriff's Office had not yet disclosed where exactly the grenade had been found in Palm Coast. "It's still part of an open investigation because they still have deputies there combing through the property," Brittany Kershaw, a sheriff's spokesperson, said later this afternoon. They were reluctant to announce the address so as not to draw gawkers.
Shortly after 6 p.m., the deputies' work done ("search revealed no additional munition on the property," Kelshaw texted), the address of the grenade find was revealed: 64 Ryecliff Drive in Palm Coast.
In a separate, unrelated incident, sheriff's deputies responded at 12:46 p.m. to an electrocution at 900 Cinnamon Beach Way in the Hammock, where a contractor was working. The contractor was taken by ambulance to Florida Hospital Flagler in "full code," meaning that he was not responsive all the way to the hospital