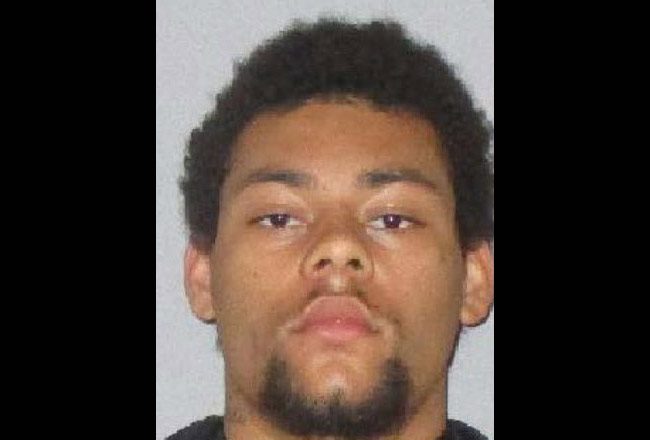 Last Updated: 1:21 p.m.
A Flagler County grand jury on Friday indicted Marion Gavins Jr. on a first-degree murder with a firearm charge, a capital felony, in the death of 18-year-old Curtis Gray on April 13.
R.J. Larizza, the state attorney for the 7th Judicial Circuit, then said he would try Gavins as an adult. Gavins was 17 when he allegedly shot Gray from the backseat of an SUV, as Gray was walking up to the car, unarmed, in a shopping strip parking lot.
Gavins, of 500 North central Avenue, Apartment B., in Flagler Beach, turns 18 on May 16.
He was served his first-degree murder warrant at the Flagler County jail, where he was processed at 9:26 p.m. Friday evening. He was subsequently booked in at Jacksonville's pre-detention jail at 10:20 Saturday morning, pending his 18th birthday. Flagler County does not have a juvenile detention division in its jail. Since the shooting Gavins had been held by the Division of Juvenile Justice He is not eligible for bond. He had his first appearance before Judge Chris France Saturday. A public defender was appointed to represent him.
"It is a somber reality of our job that sometimes requires the charging of juveniles in adult court," Larizza was quoted as saying in a release issued by the Flagler County Sheriff's Office this morning. "But some acts are so violent and have such little regard for the value of human life, that the perpetrator has to be held accountable with adult consequences."
"We fully support the state's decision and applaud the Grand Jury and State Attorney Larizza," Sheriff Rick Staly said in the release. "Sadly, this is a young man who exhibited increasingly violent behavior that ultimately caused another teenager's death. Being tried as an adult is the most appropriate way to prosecute this crime."
The indictment and adult proceedings mean that all of Gavins's records relating to the murder and many of his records as a juvenile are being unsealed. It also sheds additional light on the investigation that led to Gavins being charged in Gray's murder.
The arrest report released Friday includes some information that had been made public before, and some that had not. Gavins had been at the Blaze n Flame Smoke Shop near the intersection of Belle Terre Parkway and Palm Coast Parkway after midnight on April 13 when Gray walked in. Seeing Gavins in there, he quickly walked back out and went to talk with his friends at his car, telling them he wanted to confront Gavins over Gavins "posting disrespectful things on social media." Gray couldn't see Gavins back in the shop, but noticed him back in the SUV, sitting in the rear passenger seat of a GMC Yukon.
"As the SUV began to reverse [Gray] began to approach the SUV," Gavins's arrest report states. Gavins "then pointed a handgun at [Gray] and fired it one time." [Gray] was struck in the abdomen and collapsed to the floor." (The arrest report mistakenly states that "the defendant" was struck in the abdomen.)
Just before the shooting, according to a witness' account investigators, Teresa/Alex Slagado, who was in the SUV with Gavins, asked Gray at one point "if he wanted smoke (street slang for being shot)," the arrest report states. Another witness who was in the car said Gavins told the driver to stop the car as Gray was approaching. After firing the gun, he allegedly told the driver to head for 23 Woodfair Lane, site of a subsequent search by sheriff's deputies, accompanied by the SWAT team.
The arrest report also reveals that a sheriff's deputy spoke to Gray in the ambulance heading to Halifax hospital before Gray died. Gray "stated a light skinned male with a neck tattoo whom he believed was named 'Alex' is the person who shot him," the report states. But it was Gavins, according to the report, who told occupants at the Woodfair home that he had just shot a man at a gas station. (Gavins has a neck tattoo that spells "Ariana.") Gavins allegedly "said the victim was approaching the vehicle and he thought he was reaching for a gun in his pocket, so he shot him," the report states. "It should be noted that no firearm was located on or around the body of the victim on scene."
Gavins eluded police for 36 hours before his mother Krista Maurer turned him in at the sheriff's Palm Coast District Office in mid-afternoon April 14.
One of the more revealing documents released with Gavins's adult status is the original juvenile court warrant charging him with first-degree murder, a 17-page document that fills in Gavins's criminal history through the juvenile justice system. The document traces Gavins's first charge to October 2012 when he faced a battery charge: he was four months past his 11th birthday. The charge was not filed. A year later, he was again charged with battery. The charge was not filed. When he was 13 he faced two marijuana charges, resulting in a sentence of probation. Five months later he was charged with bringing a knife to Indian Trails Middle School which he was attending at the time. That resulted in more probation, which he violated five times. In 2016, when he was 14, he was again charged with battery, and again the charge was not filed. Six weeks later he was charged with assault and got probation, which he followed with five violations. It was during that period when he was first committed to juvenile detention. Upon his release, he was again charged with battery and again returned to detention, though the charge was dropped that October.
The record reveals one other matter salient to his future detentions: in 2016, he was considered a suicide risk. His record indicates no further issues until the April 13 shooting.
The record also reveals that he had himself been the victim of parental neglect.
A first-degree murder charge means the murder was premeditated. Gavins's defense will likely aim for a plea and a reduction to a second-degree murder charge–still a first degree felony that carries the possibility of life in prison, though the mandatory floor of the sentence is lower than for a first-degree murder charge. The case may have close similarities to that of Paul Miller, the former Flagler Beach man who shot and killed his neighbor as the two were arguing across a fence in 2012. Miller, 65 at the time of the shooting, claimed he feared the victim, Dana Mulhall, was reaching for a gun. Mulhall was unarmed. Miller shot him five times, four times in the back. He was sentenced to life in prison. Miller's defense had briefly considered a stand your ground defense, but did not go ahead with it in the end.
Gray was a senior at Flagler Palm Coast High School, and an athlete on its track team, after playing three years on Matanzas High School's football team. Gavins had attended Flagler County schools until his expulsion from Indian Trails Middle School over a gun he'd allegedly stolen but not brought to school, though he'd brought a knife to school.