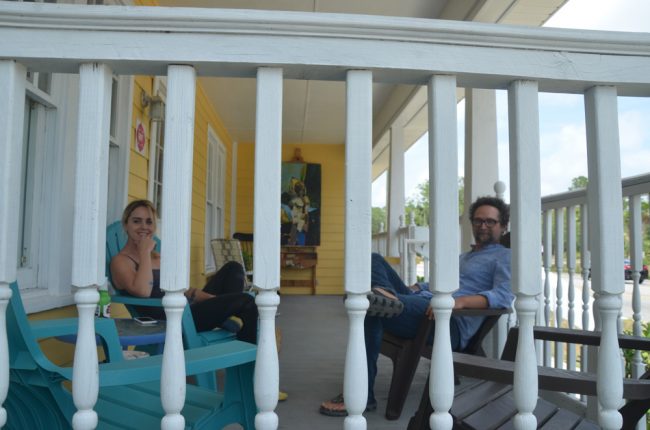 "Ah," says Emma, Jane Austen's heroine, "there is nothing like staying at home, for real comfort."
JJ Graham and Petra Iston had no reason to know—or care—that last Tuesday marked the 200th anniversary of Austen's death, and unless the motif soon finds its way in a painting by either of them—it very well might, or should—nor would they need to know that the word "home" first began building foundations in Old English roughly a millennium ago, when it was spelled "hamum," or "hom," "hamas" (not to be confused with Hamas) and "hames."
All they know is that after an eight-year journey through two rentals in Palm Coast and Bunnell, two names—Hollingsworth Gallery, Salvo Art Project–their art gallery, their studios, their classes, their experiments, their fabulous monthly openings and usually must-see shows finally have a home they can call their own.
They're calling it Salvo Arthouse.
"Calling it an art house says it all: it's going to be a house for artists," Iston says. House, "but also for people who want to come in and learn–for students as well."
"We're going to break all the rules as far as what galleries are supposed to be," Graham says. He's been breaking rules since his arrival in Palm Coast almost a decade ago. Why stop now?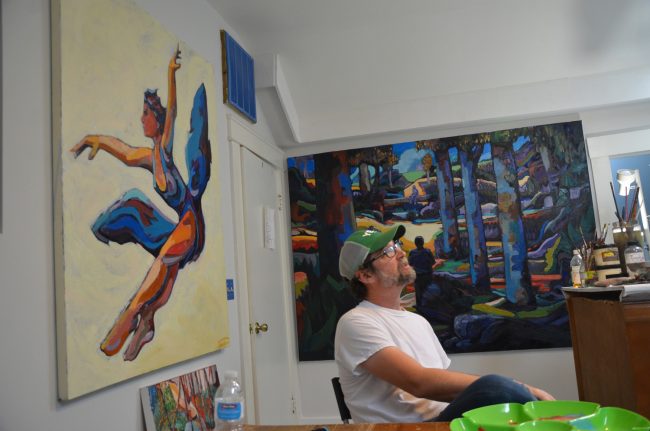 The new Arthouse is that big yellow house that actually looks like a house, or at least the sort of mansion Emma would have felt at home in, on the north side of East Moody Boulevard in Bunnell, not far from the old courthouse and Flagler Playhouse further down. It's not far from opening again for good: classes will resume later this month or in early August, and shows may start happening in fall. For many of Salvo's resident artists, it's been open for more than a couple of months. As far as that's concerned, it's a full a house. A dozen artists have moved in and spread out in their own studios, what used to be individual rooms in what using to be a halfway house for men piecing their lives back together before moving on.
For Graham and Iston, the piecing back together of their last shipwreck—they'd been nearly evicted from Nature Scapes before they agreed to a settlement in an unhappy end to a rearranged and ill-suited marriage with their landlords–took place before they moved in: faster than anyone imagined, they had their sights on the new house the same week they vacated the old, and by March they'd managed to set aside the necessary dollars to buy the $275,000 building on East Moody. They raised money, they got help, they were approved for a loan, Graham sold a gigantic painting at the most opportune time, and the rest was just a matter of turning the place into an art house. Or arthouse, as they prefer: the words join as they do themselves, as their own hovel does, in back of the house, where there's a cottage they'll call their very own as well. They've even worked it out with the Sheriff's Office across the street: on evenings when they have a gallery opening or a major event, they've been granted access to the sheriff's overflow parking lot.
But it all starts, as most American stories do, on the front porch, where Graham has installed a big easel around which the words have as much to do with his understanding of art as does whatever he or any other artist in the house may end up painting on it: "I love this porch," he says, the nod to Bunnell in his voice not always audible over the swishing of two-way traffic on the lanes less poetically known as State Road 100. "I'm happy here. It's not just a stepping-stone to that ever-elusive show at the Guggenheim." But it's not 90 seconds before his mind spirals like Wright's balconies at the Guggenheim toward a next invention, a next imagining, this one taking him to the house groaning with age and blistered siding across the street: "I want to get Hopperesque on that house over there. Look at that house, the rooftops."
He was saying this while still going Hopper on his own house, he and Iston, whose father, who owns a paint company, contributed labor to the enterprise. Blue Crown donated paint Iston was still using on the day of a reporter's visit, in the kitchen, which she had transformed into a common area that will likely be a gravity point during Salvo's monthly party evenings. "She redid the countertops, she painted these gray, look at what she does, all these little details," Graham says, perhaps a touch more condescendingly than he intended.
Inside, there's a sprinkler system, air conditioning, wooden floors. Every studio will have a glass door to create more airiness. "But the studios are private," Graham says. "If the doors are closed that means you can look in, but don't disturb them. But if they open that door, that means they're pretty much welcoming visitors. That's why we call it an art project rather than an art gallery. It's not a gallery. We show work, but it's more of place to make work."
Graham's and Iston's studios are upstairs, Graham's beneath a pair of skylights that play with his works in progress the way he does, depending on the time of day or the weather, or his mood. "I fell in love with it because of the light," he says. "I've never been able to paint with just this natural light in a studio." But every studio in the house has its own sort of light, whether from rooftop or side, through shades or not, and every studio reflects its artists' quirks—Mike Gleason, Betty Jo Sandsbury, Michelle Berg, Andy Sovia, Diana Gilson (who keeps a Milton Avery book on her desk), Sarah Caldwell, who works in encaustic, a form of painting that uses hot wax, most recently, David Ellis, a New York artists, Marylin Leverton, Harrison Huijskens, and Terri Reddington.
Graham feels at home again, painting, planning, dropping in on artists in their studios, and developing an affection for a lot more than the porch and the noises of Moody Boulevard, a street named after his own temperament, after all. He's getting older, he says, he thinks of the places he's been, the places he's traveled, "but in this unlikely place, I have this place where I can grow old and paint."